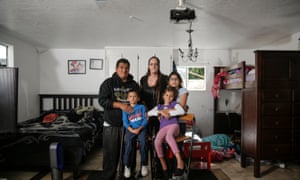 As the Facebook CEO travels across the US to 'learn about people's hopes and challenges', the cafeteria workers at his company struggle to make ends meet
Mark Zuckerberg's travels throughout the United States to fulfill his 2017 "personal challenge" to "learn about people's hopes and challenges" have seen him drive a tractor, meet recovering heroin addicts, don a hard hat and speak out against the staggering wealth inequality that his $68.5bn fortune so clearly represents.
But to Nicole, a worker in one of Facebook's cafeterias, they have also raised an important question: "Is he going to come here?"
"Here" is just a few miles from Zuckerberg's five-house compound in Palo Alto and mere blocks from Facebook's sprawling Menlo Park headquarters. Here, on a quiet street of modest bungalows, Nicole and her husband Victor, who also works at a Facebook cafeteria, live in a two-car garage with their children, aged nine, eight and four.
"He doesn't have to go around the world," said Nicole. "He should learn what's happening in this city."
The family of five have lived in this cramped space next to Victor's parents' house for three years. Three beds crowd the back wall, while a couch and coffee table mark the front of the room as a living area. Clothes are hung neatly from the garage door tracks. The family goes next door to use the bathroom and kitchen. "It's not easy," Victor said on a recent morning. "Especially when it's raining."
"Our daughter continues to ask us when she's going to get her own room, and we don't know what to tell her," added Nicole.
On Friday, the couple were among about 500 Facebook cafeteria workers who elected to join a union, Unite Here Local 19. They are the latest group of tech industry service workers to seek unionization in the hopes of achieving a better standard of living.
Neither Facebook nor the food service contractor, Flagship Facility Services, opposed the union drive.
Working at a Facebook cafeteria is an enviable job in many ways. Nicole earns $19.85 an hour as a shift lead, while Victor makes $17.85 – well above the $15 an hour minimum for contractors that Facebook established in 2015.
But in a region where software engineers earning four times as much complain about "trying to make ends meet", the family is struggling.
They earn too much to qualify for state healthcare, but not enough to afford the health insurance offered by their employer. They frequently struggle to find enough money for basics like food and clothes for their children. Victor recently borrowed money from his mother to hold a birthday party for one of his daughters, and from a friend to pay for a dentist appointment.
"Back in the day, [the wage] would have been a great number," said Victor, "but because of Facebook moving in, everything is so expensive. I have to get payday loans sometimes. We barely make it."
At times, the challenges make the couple nostalgic for the days before Facebook moved to Menlo Park. When Victor was growing up, his father was able to buy a small house there from his earnings as a landscaper. Earlier in their relationship, Nicole and Victor both earned about $12 an hour as managers at Chipotle and were able to afford their own apartment.
"I felt more secure at my other job. You didn't have people looking down at you," Nicole said. Now she works at cafeterias with names like "Epic" and "Living the Dream", and the distance between the two classes of Facebook worker can feel immense.
"They look at us like we're lower, like we don't matter," said Nicole of the Facebook employees. "We don't live the dream. The techies are living the dream. It's for them."
The smaller indignities are numerous. At the end of every shift, Nicole watches large amounts of leftover food go into the compost – food she's not allowed to take home. Cafeteria workers cannot access healthcare from Facebook's medical clinics. Facebook recently held a "Bring your kids to work" day, but cafeteria workers' children were not allowed.
A spokeswoman for Facebook said none of the company's contingent or contract workers have access to facilities such as clinics, gyms, or bring-your-child-to-work days, but that other policies were a matter between the contractor and the workers.
"We are committed to providing a safe, fair, work environment to everyone who helps Facebook bring the world closer together, including contractors," the spokeswoman said in a statement.
A spokesman for Flagship said it "looks forward to a positive and productive relationship with the union". The company declined to comment on its policies for workers at the Facebook campus.
"People think, oh, you're working for Facebook, you're doing great," Victor said.
"I'm supposed to the strong one in the family, and to be pushing off promises to the kids – to go buy clothes or food. We're both working and we still can't provide."
"Our motivation is not to bash either company," said Nicole. "It's for our families. Why do we have to live like this, when the company we work for has the resources to make it better?"
"We're not asking for millions," added Victor. "I just want to not be afraid if I need to go to the doctor. That's the reason we're uniting."
https://www.theguardian.com/technology/2017/jul/24/facebook-cafeteria-workers-wages-zuckerberg-challenges?CMP=share_btn_link