Think you have freedom online in India? Guess again.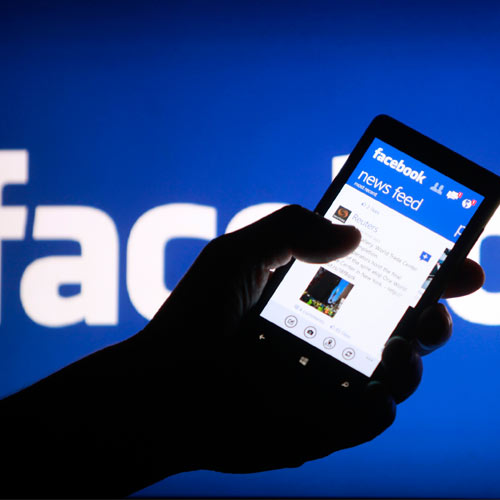 It's hard to agree on the internet. Whether it's on the hilarity or meanness of a prank, the superiority of one superhero over another, or more large-scale (and more controversial) topics like which political leader is most suited to run the country, or what constitutes one's freedom to speak vs what is religious intolerance.
But what all netizens can unanimously agree on is their right to privacy and freedom online. Sure, some will draw the line a little further than others, but you'd be hard-pressed to find someone willing to expose 100 percent of their information online to law enforcement agencies, or let the government solely decide what you can or cannot see on the web. In fact, the recent upswing of Net Neutrality discussions in our own country should be proof enough that people aren't happy when they feel they're being shortchanged.
And we're not the first to have Big Brother concerns either. When NSA whistleblower Edward Snowden blew the top off the agency's online eyeballing, people around the world were furious, holding not only law enforcement agencies and governments responsible, but the service distributors who caved to the snooping as well. And that's why Facebook, among others, now releases a biannual Global Government Request report.
More Snooping All Around
Since December 2014, numbers have gone up across the board. The United States made 14,274 requests for user data in the July to December 2014 time frame, referencing 21,731 accounts. Of those, Facebook provided some information for 79.14 percent of the requests. In comparison the US made 17,577 requests between January and June 2015, referencing 26,579 accounts, with Facebook providing details for 79.85 percent of the requests. The US made the highest number of total requests in both time frames, with India coming in second and the United Kingdom third.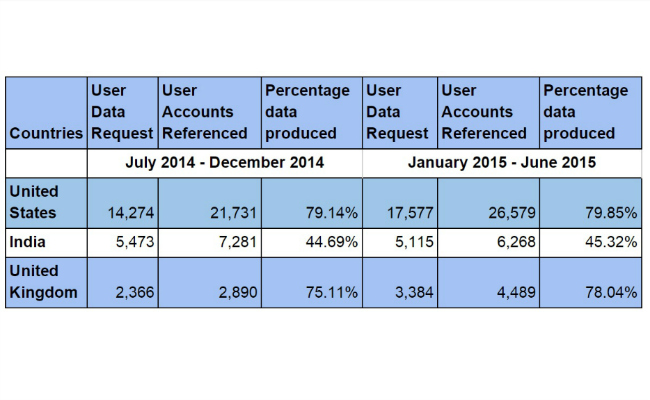 The social media website is clear to state, on the report page, that they judge each information request based on it's legality
"As part of official investigations, government officials sometimes request data about people who use Facebook. The vast majority of these requests relate to criminal cases, such as robberies or kidnappings. In many of these cases, the government is requesting basic subscriber information, such as name and length of service. Requests may also ask for IP address logs or account content. We have strict processes in place to handle these government requests. Every request we receive is checked for legal sufficiency. We require officials to provide a detailed description of the legal and factual basis for their request, and we push back when we find legal deficiencies or overly broad or vague demands for information. We frequently share only basic subscriber information."
Pretty standard stuff right? We can argue for years to come about how much information law enforcement agencies should be given, and both sides would have valid points. But what about blocking content online. Should a government have the power to order access to a piece of content be restricted? If yes, then what validates such an order? Of course, the simplest answer to that is to follow the letter of the law. But the problem arrives when we treat the law like hieroglyphics instead of metaphorical letters, i.e. open to interpretation.
But it's heartening to see that, although India is second highest up there with requests for information, that number has gone down this year, right? Perhaps our law enforcement agencies really do need that information to do their job (ignoring the fact that Facebook feels only about half of those requests from India are validated). So now, allow me to introduce another aspect of the report.
The Numbers Never Lie
Facebook has also released the figures for how many times a government body or court of each country ordered that a piece of content on the social media platform be taken down. Turkey was ranked second in both the July to December 2014 time frame, as well as January to June 2015. That number rose by about 24 percent in the second time period to a very high 4,496 instances. So the number one spot should be at perhaps 6,000, right? 7,000? 8,000? Well…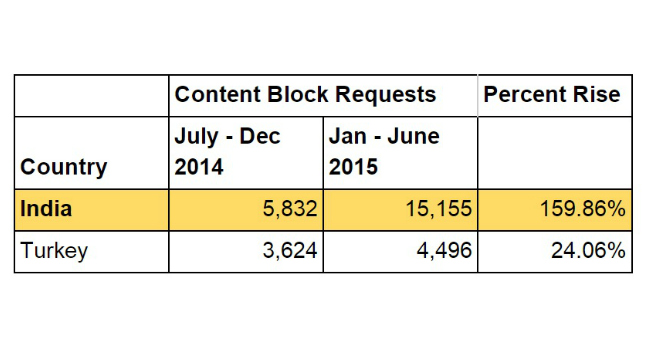 That's right. Not only is India in first place in both instances but, this year, we're leading by a staggering mile. Don't just take our word for it, you can find all the numbers you can possible stomach on Facebook's report page here. And remember, those 15,155 requests to block content were made in just the first half of this year. Sure, the Pew global surveycan say Indians are some of the strongest supporters of religious freedom, but how much can we believe that? Because the content block requests numbered here aren't from individuals. As Facebook says on the report page for India, they only "restricted access in India to content reported primarily by law enforcement agencies and the India Computer Emergency Response Team within the Ministry of Communications and Information Technology because it was anti-religious and hate speech that could cause unrest and disharmony within India."
When we contacted Facebook for a comment on India in particular, the statement they responded with insists they methodically  review each request based on local law. "If, after careful legal review, we find that the content is illegal under local law, then we make it unavailable only in the relevant jurisdiction. We scrutinize each government request we receive for legal sufficiency, no matter which country the request comes from. When we receive such a notice about allegedly illegal content, it must come from a body that is authorized under the laws of that country. If the request is not consistent with local law, then we push back. If we get a request that we're not clear about, we'll work with outside counsel to determine its validity", the statements adds.
The numbers don't lie, and they give us an accurate image of internet freedom in India. Even the online freedom group Freedom House has called our habit of content blocking a bad omen. Facebook may be banning content according to our law but, as we've said before, the law is sometimes interpreted differently. Clearly this interpretation is of the zero-tolerance kind. And that's a very worrying prospect.