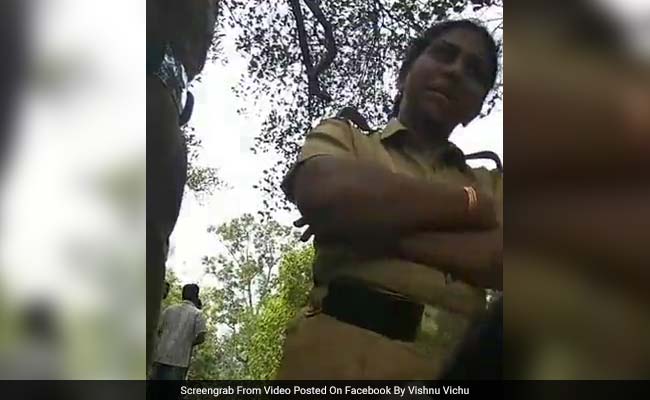 THIRUVANANTHAPURAM: 
HIGHLIGHTS
The couple were questioned and fined at a public park
The police accused them of "vulgarity" in public
The couple streamed a video of the incident live on Facebook
A couple in Kerala has alleged that the state police was taking on the role of the "moral police" after they were accosted, questioned and fined at a public park exactly a week after Valentine's Day. The video of the incident they live-streamed on Facebook triggered a barrage of criticism against the police. Incidents of moral policing and harassment of couples on roads and public parks are reported regularly around Valentines' Day, but most of the perpetrators are found to be local toughs belonging to certain groups. There have been very few instances of police involvement in such incidents.
Around 11 am on Tuesday, Vishnu and Arathy were at a public park in state capital Thiruvananthapuram when a couple of women constables came and asked them to come to the police station. They accused the couple of indulging in "vulgur actions in public space".
But 24-year-old Vishnu started questioning the police Live on Facebook in the park. "Tell us what vulgur activity have we committed? Did we kiss? There are cameras here. Did we hug each other? You can't harass us just because we have our arm on the other's shoulder," he was heard saying.
The police women called two of their male counterparts, who took the couple to the police station, where they were fined Rs. 200 for committing "public nuisance".
"We were anyway exhausted… The police had no answer to our question of what wrong we had committed. We just signed the fine slip and left. We are going to marry soon anyway, so we could take them on," Arathy, 23, told NDTV.
Refusing to see this as an instance of "moral-policing", a senior police officer told NDTV, "The police acted based on the complaint received at the police station, not suo-motto. This is more of a cultural issue which some sections of the public haven't come to terms with. http://www.ndtv.com/kerala-news/facing-moral-policing-by-cops-kerala-couple-switched-to-facebook-live-1662086