---
Fake image of Rihanna holding Pakistan's flag circulates after her tweet supporting the farmers' protest.
New Delhi: Ever since Rihanna voiced her opinion over the Farmer's Protest in India she has been talked about widely. Soon after her tweet, a morphed image of hers holding Pakistan's flag at a cricket stadium has been circulating all over Facebook and Twitter.
According to alt news, BJP Uttar Pradesh spokesperson Shalabh Mani Tripathi was among those who amplified the picture of the pop icon holding the Pakistani flag. He had retweeted BJP UP Yuva Morcha worker Abhishek's tweet. Though several posts and tweets have been removed, Abhishek and Tripathi's retweet are still online. Shalabh Mani Tripathi also retweeted Mia Khalifa's tweet with "By the way, who are these brothers? Looking knowledgeable about agriculture !!" Mia Khalifa had tweeted " What in the human rights violations is going on?! They cut the internet around New Delhi?! #FarmersProtest with the image farmers at protest."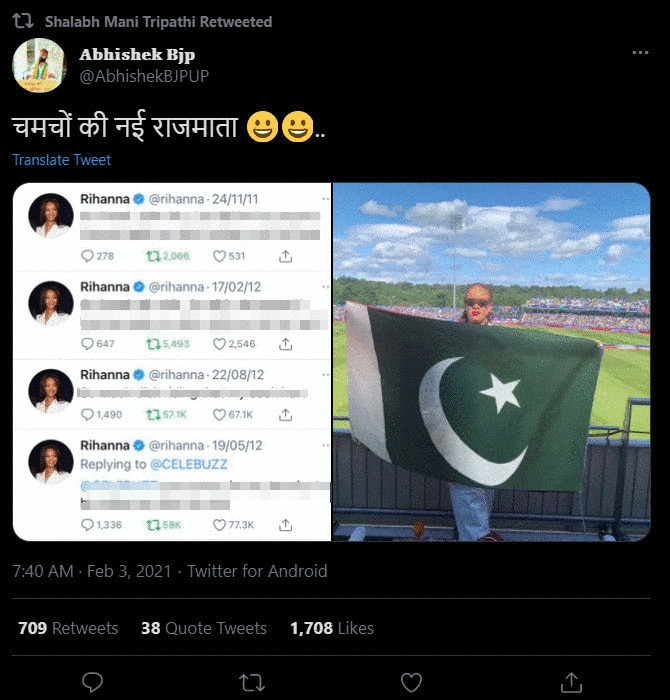 But Rihanna's image was really from 2019 and she was holding a flag with the Cricket West Indies (CWI) crest. The photo was from when she attended the West Indies vs Sri Lanka cricket march in the ICC 2019 World Cup game at Chester-le-Street in Durham. There are several images of her holding the West Indies flag from the day, in fact on her Instagram she had posted picture of herself wearing the baseball cap with the West Indies crest.

On Tuesday, Rihanna shared a story that highlighted the government's latest crackdown on the agitating farmers by cutting off internet services in many regions. Sharing the news report on the ongoing farmers' protest in India, the Umbrella singer Rihanna took to her Twitter and wrote, "Why aren't we talking about this?! #FarmersProtest" which has recieved a lot of backlash from Indian celebrities and supporters of Farm Laws. The Ministry of External Affairs too tweeted with the hashtag #IndianAgainstPropaganda.