Jiten Marandi, the Jharkhand activist whose arrest and trial inspired Chaitanya Tamhane's award-winning film Court, now helps other prisoners seek justice.
Written by 
Dipti Nagpaul
 | Jharkhand | Updated: January 10, 2016 7:30 am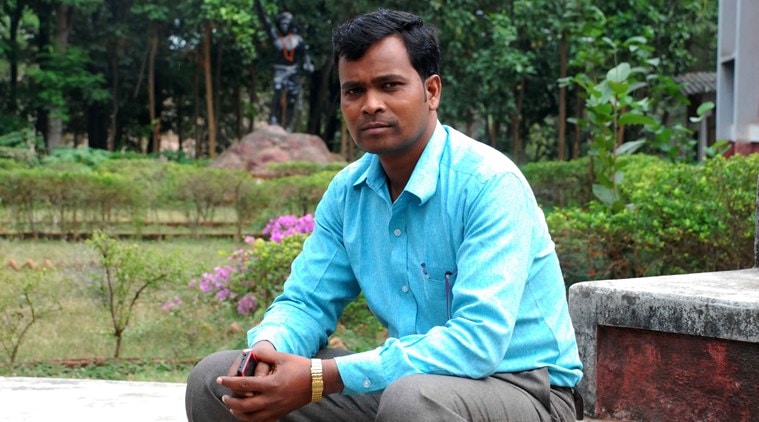 Activist Jiten Marandi (Photo: Manob Chowdhury)Jiten Marandi fiddles with his black Nokia phone as he strides up Ranchi's busy Piska More in a sea-green shirt and trousers. It has been two years since he was freed of charges of being the "key accused" in the Chilkari massacre of October 26, 2007, where 19 people, including the son of former Jharkhand chief minister Babulal Marandi, were gunned down by Naxals at a public function. His arrest and six-year-long incarceration — set aside first by the Ranchi High Court in 2012 and then the Supreme Court in 2013 — was the inspiration for Chaitanya Tamhane's Court, a film that spins an absurdist tale about an omnipotent state and how it smacks down on dissent. (It was India's entry to the Oscars but failed to make it to the longlist.)
The Jharkhand police arrested Jiten along with nine others in 2008 because he shared a name with a Naxal area commander. (All 10 accused have been acquitted.) Like Narayan Kamble, the bard in Court imprisoned on charges of "inciting" a Dalit sweeper to suicide, Jiten had been an open sympathiser of the Leftist cause. He was a part of the large, often loose, network of tribal activists in Jharkhand speaking out against the march of "development" — steel projects by Arcelor-Mittal, Jindal or Essar, or more recently, the Greater Ranchi project, and their costs of displacement —through music, theatre and debates. They occupy a grey area between activist and sympathiser, in states vulnerable to Maoist insurgency like Jharkhand and Chhattisgarh. Jiten hasn't watched Court, which is set in Mumbai, but believes it to be important as it highlights "how those speaking against the system are being hauled in under fake cases".
---
Karando has kachcha roads, a school and gets electricity for a few hours every day, but when Jiten was growing up, this village in Giridih district of then-Bihar was part of the jungle. His adivasi peasant family owned a small piece of land. They farmed for six months a year and took up odd jobs for the remainder of it. He was one among six children and in charge of grazing cattle.
"But I wanted to study," says Jiten, who roughly calculates his age at 30 today. "I must have been around 10 when I first attended a school. I accompanied my elder brother to a gathering of students under a tree outside the government teacher's residence. He dropped out in four days, I continued." Jiten, who spoke in his native Santhali, picked up subjects fast, including Hindi. But, by the time he reached Class IV, he had to stop studying for lack of money.
Music filled that void. "I was a good singer and would perform at every family gathering. There was one song I had learnt from my uncle, sung to a folk tune. It spoke of the exploitation of adivasis at the hands of the rich, and it would always win me praise," he says. So when a group of dancers, performers and singers were passing through his village, he decided to join them. For 10-year-old Jiten, this was "both school and a means for survival." With the members of the Jharkhand Abhiyan, he travelled as far as north Bengal, Tamil Nadu and Andhra Pradesh.
He was 15 when he began to be interested in Left politics and Naxal ideology. "Through the 1990s, the Naxals in Bihar had redistributed the land that the moneyed landlords had tricked the uneducated poor into signing off to them. I began to believe that the movement, away from parliamentary politics, was key to change," says Jiten. He was attracted, he says, to their ideas of equality. His belief in the "movement" has since been dented, but not destroyed. His mistrust of the state and the police has only been confirmed through the years.
---
Even before the Chilkari massacre, Jiten's politics had landed him in trouble. As a cultural activist propagating the Leftist cause, he had been arrested twice in 2000 — while taking part in May Day and International Women's Day celebrations. He was charged with possession of Naxal literature and of planning an attack against the state. He was granted bail 11 months later. But he was rounded up again in 2005, during a raid on the Mazdoor Sangathan Samiti office in Dhanbad, as was a prominent labour leader of the state. "While the cops interrogating me for Maoist links admitted that I didn't seem to know much, it didn't stop them from branding me as one," says Jiten.
He realised he had become a soft target. "In none of the arrests did the police record my statement. So there was no official record that I was a cultural activist," he says.
Having come up against the might of the police, Jiten's music began to reflect what he saw and experienced: the resentment among adivasis at the large-scale displacement caused by projects like the Koel-Karo hydro-electric project, and persistent police harassment.
"Today, there are 7,000 youth languishing in jails across Jharkhand in similar cases," says Jiten, who is now part of the group Utpeedit Bandi Sahyog Samiti, which provides legal aid to such prisoners. The organisation has examined 102 cases in Jharkhand, where young men and women were arrested as alleged Naxalites or Maoists. "Most of them are farmers opposing acquisition of land in some form or another. They were arrested on charges of murder, bomb explosion, possession of illegal weapons. And the same witness has sometimes been used in multiple cases," says Marandi, who has spent the last two years since his release studying the cases, meeting the families of the accused and factchecking the FIRs filed. A compilation of the research will be released as a book in February and also presented to the Supreme Court along with a petition for the release of the prisoners.
---
On the day of the massacre, Jiten was in his village shooting a video for a song, titled Mujhko ugravaadi bana diya tumne (You've made me a terrorist). "Two days later, printed alongside my picture was a report in the local paper Prabhat Khabar, that I was the first to fire shots at Chilkari," says Jiten. Shocked, he called up the newspaper office to object. "The paper followed the report with a corrigendum and a report that included a statement by the police that I wasn't an accused in the case. I found out that the chargesheet submitted by the police named a person called 'Jitan', based on the names the witnesses had heard the Naxals calling each other," he says.
But on April 5, 2008, he was arrested again and this time, the questioning hardly deviated from the Chilkari massacre. Jiten then knew he was in for a long haul.
After a three-year-trial, six were acquitted, and four, including Jiten, were sentenced to death.
Why did he think he was picked on? "I have often been told by the police that I should stick to singing about social issues, not speak against industrialisation or development. Anyone who voices their opinion against land acquisition and for the rights of the poor at janta darbars is looked upon as a 'leader'," he says.
When the death sentence was announced, his wife Aparna, a year or two younger than Jiten, didn't break down but felt rage well up inside her.
It was a year-long struggle of this once-shy woman and the support she managed to garner, that eventually helped him get an acquittal. "If Jiten had been awarded a life sentence, he would have ended up as a mere statistic among the thousands who languish in Jharkhand jails. So with help from other activists, I began to meet and organise press conferences to talk about his wrongful arrest," says Aparna.
Aparna brought on board a retired district and sessions court judge, SK Murari, to fight the case on behalf of Marandi in the high court. "There were many loopholes. For instance, the story of the massacre in the chargesheet was vastly different from what the police had filed in the FIR. In the former, the firing began from the back of the pandal and the masked Naxals then took the mic, took off their disguise, announced that they were after Babulal Marandi's family before resuming the firing. The FIR, however, had not mentioned the mic or announcement," says Murari, who also argued in the court that it was peculiar behaviour on part of the accused to reveal their identity.
The trial resulted in acquittal of all four accused in December 2011 but Jiten spent another year in jail as the government invoked the Jharkhand Crime Control Act (2002) against him. Neither were his legal worries behind him when he walked free.
On December 8, 2012, on her way to Hyderabad for a programme to organise support for her husband, Aparna, with her four-year-old son Alok in tow, was arrested from Hatiya station in Ranchi. In a strikingly similar operation to that of Jiten's, the police claimed she was Santoshini, a Naxal from Dumka in Jharkhand, who had set fire to a police vehicle. She was released on bail six months later.
---
The winter sun is setting and the cold of the cement floor of Aparna and Jiten's house in Janakpura, on the outskirts of Ranchi, is now seeping into the feet. Sparsely done up, with a chair, table and a divan in the living room, it gives a sense of lives in transit.
"Legal fees (to fight his and Aparna's cases) make for a chunk of our expenses," rues Jiten, who does a number of odd jobs to sustain the family, such as selling Ayurveda medicine, keeping poultry hens, running a ration store and renting out a cycle rickshaw.
Jiten knows that his "movement" had fragmented, and that it has not taken people along. He says he does not subscribe to the violence of Naxal ideology. But he believes that it matters, even more than democratic institutions, which he no longer believes in. "They have access to people living in the most dense of the state's jungles. If they don't empower the people living there, no one will be able to stop their displacement. You might think they are terrorists but rebellion is in the blood of the adivasis and Dalits of Jharkhand. Since the time of Birsa Munda, our fight for jal, jangal, jameen has been going on."
As for him, Jiten knows his freedom is precarious. "I know I am constantly under watch. My case exposed the faulty functioning of the police in Jharkhand. I can easily become their target again," he says
See more at: http://indianexpress.com/article/lifestyle/life-style/fight-for-whats-left-the-story-of-jiten-marandi-the-jharkhand-activist/#sthash.F6gH8LAe.dpuf