All India | Edited by Deepshikha Ghosh | Updated: December 04, 2013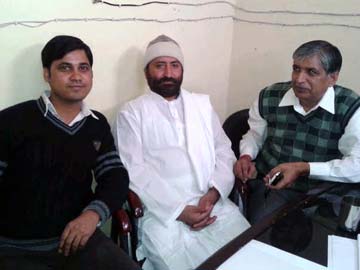 Asaram Bapu's son Narayan Sai in police custody
New Delhi:  Spiritual leader Asaram Bapu's son Narayan Sai, wanted in a rape case in Gujarat, was arrested on Tuesday night after a two-month search by police in many states.
He was reportedly caught along with his aides near the Delhi border at around midnight, while trying to enter from Haryana disguised as a Sikh man. "I am being framed," he said after his arrest.
The police say the 41-year-old stayed in Rajasthan, Delhi and Uttar Pradesh as he hid from the police, changing his appearance frequently.
The Delhi and Gujarat police teamed up to chase him after a tip-off on Monday that he was traveling from Ludhiana in Punjab to Delhi in an SUV. The Gujarat police had camped in Delhi for nearly a month in their hunt for Narayan Sai.
Both Asaram Bapu and Narayan Sai were booked in October for the alleged rape of two sisters from Surat in Gujarat.
The sisters have alleged that the father-son duo raped them at their ashrams in Gujarat. The younger sister says Narayan Sai raped her repeatedly between 2002 and 2005 at Asaram's ashram in Surat. Her older sister says Asaram Bapu raped her between 1997 and 2006 while she was living at his ashram on the outskirts of Ahmedabad.
Asaram Bapu has been in jail in Jodhpur in Rajasthan since he was arrested in September for allegedly sexually assaulting a schoolgirl in his ashram. Asked to respond to his son's arrest, he said on his way to court, "Time will heal everything."
The 75-year-old guru and his son, who teach yoga and meditation at 400 ashrams across India, have denied the allegations.