The push started after, addressing a press conference with Chief Minister Vasundhara Raje, Venkaiah Naidu, then I&B Minister, said he was "disappointed" at Rajasthan's Swachh Bharat figures.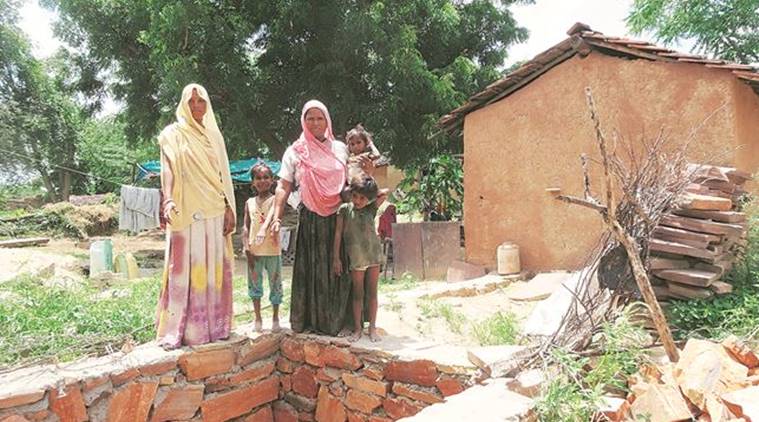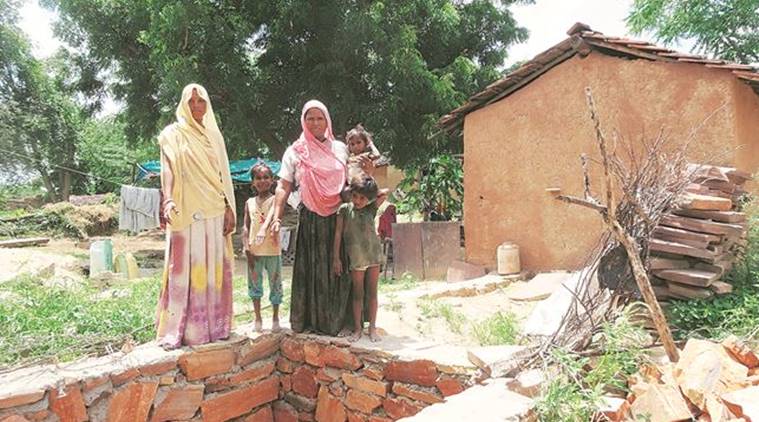 Meeting ODF target: Work begins on a toilet at Gangithala village after a warning to cut power. (Express Photo)
Suspension of subsidised rations, denial of work under the MGNREGA, arrests, threats to disconnect electricity, warnings to take action under the Indian Penal Code (IPC) and imposition of fines, are some of the measures the Rajasthan government is taking in its race to make the state Open Defecation Free (ODF). The push started after May 23, when M Venkaiah Naidu, then Union Minister for Information and Broadcasting, expressed his displeasure over Rajasthan's performance in the Swachh Bharat survey, the results of which had been declared weeks earlier. The state's highest-ranked district was Bundi, at 171. The tourist hotspots fared worse: Jodhpur (209), Jaipur (215) and Udaipur (310).
Addressing a press conference with Chief Minister Vasundhara Raje, Naidu said he was "disappointed" at the figures.
Soon after, the state government ordered an analysis of the poor performance. Later, speaking to The Indian Express, Principal Secretary, Local Self Government department, Manjit Singh, said the lack of ODF was the main reason. "It is not as if Indore (ranked 1) and Bhopal (2) are 'cleaner' than Jaipur, Jodhpur or Udaipur; we have good waste collection systems… Waste Management and ODF account for 45 per cent weightage. In Rajasthan, the construction of toilets under the ODF campaign took off a bit late, but we are well on our way," Singh said. Villagers claim the result has been a "crackdown".
In Rajasthan, the campaign is mainly implemented by the departments of Panchayati Raj and Urban Development and Housing. The minister concerned, Srichand Kriplani, says he "is not aware" of steps such as suspension of services. "There may be one or two issued at the local level, but we have not issued any such orders at the departmental level," he says.
As per the Panchayati Raj Department's latest figures, of the target to make over 83 lakh toilets in rural Rajasthan, about 62 lakh had been built. By mid-July, it had uploaded over 18 lakh photographs of 'completed toilets' on a Union government mobile app.
On August 20, six persons were arrested in Bhilwara's Jahazpur tehsil for open defecation under Section 151 of the CrPC — dealing with "arrest to prevent the commission of cognisable offences". Two days earlier, Jahazpur Sub-Divisional Officer Kartar Singh had given orders to disconnect power supply to Jahazpur's Gangithala village as it had toilet construction lagging at "19 per cent, despite several reminders". District Collector Muktanand Agarwal later withdrew the order, following an outcry.
However, Agarwal insists, "The mentality and habit of people are the major hindrances in convincing people to build toilets." He says the district aims to declare itself ODF by December, though about 1.2 lakh households are still without a toilet.
Bansi Lal Meena, 42, who was among the six arrested, says, "I had built a toilet but it had no water and I ran out of money to build a door. So, I was out in fields when they came and took us." He was kept at the police station for several hours.
Meena's toilet now gets water from a nearby hand-pump while he borrowed money from a neighbour to get a door installed. The villagers are entitled to Rs 12,000 for each toilet. "Still, only about 60 per cent families have toilets here. Rest use their neighbours' toilets or go in the open," says Meena.
Villager Dev Karan, who helped the six get bail, questions the government's priorities. "There is no cement concrete road in our village, there is no nullah, but they find faults in us."
In Jhalarapatan in Jhalawar, rations have been blocked. Admitting this, Jhalarapatan Block Development Officer Jitendra Singh says, "Rations to a couple of villages were stopped to motivate them, as they weren't constructing toilets."
Singh admits construction is not easy, with the tribal Changeri and Bawri Khera villages, for example, being located on a rocky hill. "But the villagers didn't actively seek construction of toilets. As of now, it has been decided to construct toilet pits on the other side of the hill, where it will be easier," Singh says.
Rations have allegedly been stopped in parts of Rajsamand district too. In Saras ka Guda village in the district's Kumbhalgarh block, Bhairu Singh says he has not received rations for months. "When we go to take rations, we are told we must first build toilets. When we ask under which order this 'rule' has been implemented, they give us vague answers."
Another villager, Mahendra Singh, says, "About 15 families here haven't constructed toilets here, and their rations have been suspended."
However, Kumbhalgarh panchayat samiti pradhan Babu Singh argues, "District officials asked ration dealers to 'threaten' suspension of rations, but no actual suspension took place. It may be that the supplies are short or that the ration dealer is doing it on his own."
But a district collector told The Indian Express, on condition of anonymity, "There are hardly any written orders anywhere. Most of the action against people for not building toilets is being conveyed orally."
On the Udaipur-Rajsamand border, the Rama gram panchayat has painted warnings on walls stating that the panchayat has been declared ODF and violators would be charged under IPC Sections 269 (negligent act likely to spread infection of disease dangerous to life), 270 (malignant act likely to spread infection of disease dangerous to life), and 336 (act endangering life or personal safety of others), as well as fined Rs 251.
Amit Punia, the state convenor of the Rajasthan Congress's Rajiv Gandhi Panchayati Raj Organisation, which undertook a survey of several villages in the state, says, "We found people had taken loans at the rate of Rs 2-5 for every Rs 100 borrowed, to construct toilets."
Mohanlal Tiwari, 50, the sarpanch of Bhilwara's Gunar village, says many families hadn't received funds to build toilets for eight months. "About 80 per cent homes in our village have toilets but we didn't get money for them. Many took loans and are in debt."
Kamala Bai of Togi village in Rajsamand's Bhim tehsil says dozens of people in her village, including her, were denied work under MGNREGA. "We were told in May we won't be given MGNREGA work as we didn't have toilets. We contacted the Mazdoor Kisan Shakti Sangathan (MKSS) which mediated and the verbal diktat was withdrawn," Bai says. She still doesn't have a toilet as "we barely have enough money to eat", she adds.
MKSS leader and activist Nikhil Dey claims the "coercion" has been going on for over a year. "The notion that poor 'don't' want to build toilets should be dispelled. It is that they 'can't' build toilets, chiefly due to three reasons: land, money, and — especially in Rajasthan — water. So they take loans and undergo all sorts of troubles. You are forcing them to pay for their misfortunes and the lack of understanding towards their misery is absolutely abhorrent."
Dey also slams clicking photographs and recording videos of people defecating as invasion of privacy and sexual harassment. In June, Zafar Khan, 53, had been assaulted by Pratapgarh's Nagar Parishad officials, when he objected to them clicking photographs of women defecating in the open. He died of a heart attack soon after.
Meanwhile, the CM believes the state is on track to achieve the ODF target. During Prime Minister Narendra Modi's visit to Udaipur on August 29, Raje said, "We have now taken up cleanliness as a movement."
http://indianexpress.com/article/india/for-swachh-bharat-honour-rajasthan-races-with-arrests-ration-cuts-denial-of-nregs-4832257/