A 19 year old Sudanese girl, Noura Hussein, was forcefully married to a man at 16, ran away to her aunt's for 3 years and was tricked by her dad to going back to him. Refusing to consummate their marriage, her husband got his cousins to pin her down while he raped her.
In Sudan,Noura was sentenced to death for defending herself. Forced to marry at 16, when refused to have sex, husband brought brothers to hold her legs & raped her in front of them. Noura killed her husband to defend herself.
The next time he tried to force himself on her, she stabbed and killed him. Noura is now facing the death penalty for murder. Her courtcase is on May 10th.
Based on how her case is being dealt with under Sudanese law and the response of some Sudanese people online – forced marriage & marital rape = acceptable. Self-defense in the face of extreme physical and emotional trauma = punishable by death.
Many people are citing Sharia law and saying that sex with her is his "right by marriage" – forgetting that marriage WITHOUT consent is illegitimate in Islam. Also, allowing other males into your bedroom to assist in raping your wife, is far from anything Islam condones.
Noura's family – the same parents that forced her to marry this man – disowned her after the incident. That's why the letters are important. To show her that she's not alone in the face of a system that has completely dehumanised her. English letters can also be sent to the email
Despite all the evidence brought forth, Noura was still found guilty and is now awaiting sentencing, as the Sudanese law doesn't recognize marital rape as a crime. So, in the eyes of the law, Noura wasn't raped because, simply, the rapist was her husband!!!!
Sudan's flawed system teaches people that when a victim stands up to their oppressors, they are in fact the criminals. Normalising rape is never okay and no person should have to go through what she did for this to be understood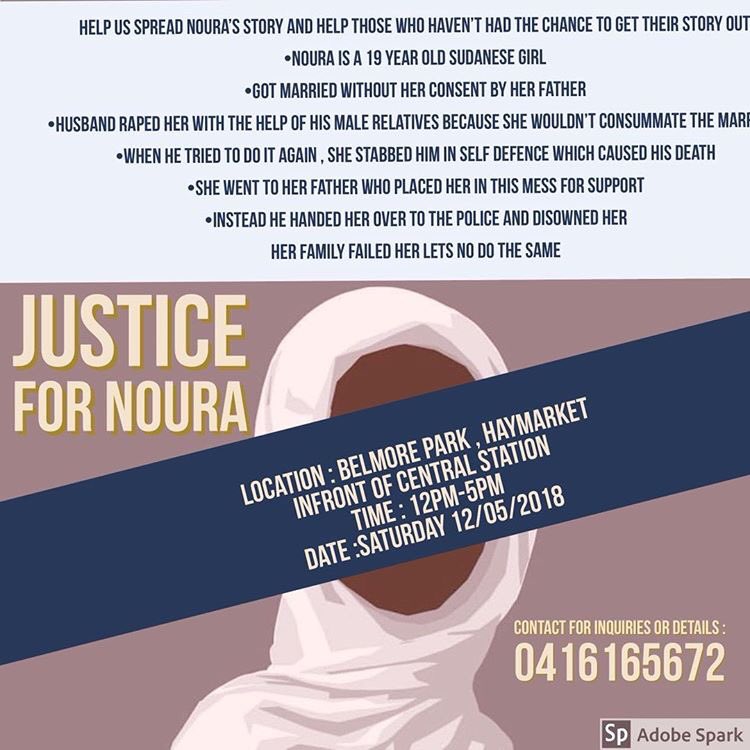 Sudan's judicial system has a very flawed definition of Islam, especially when it comes to a woman's rights in marriage/divorce.
Noura's story is product of a society that demonizes women who seek any type of freedom. The issue is societal, systematic and made sustainable by the Sudanese justice system. Everyone needs to know that this is what the Sudanese government supports.
Say NO to forced marriages and child marriages.
Email letters of support to [email protected] (Arabic preferred, English ok)
PL SIGN ONLIEN PETITION HERE https://secure.avaaz.org/en/petition/LAWYERS_HUMAN_RIGHTS_ACTIVISTS_SAVE_NORA/?