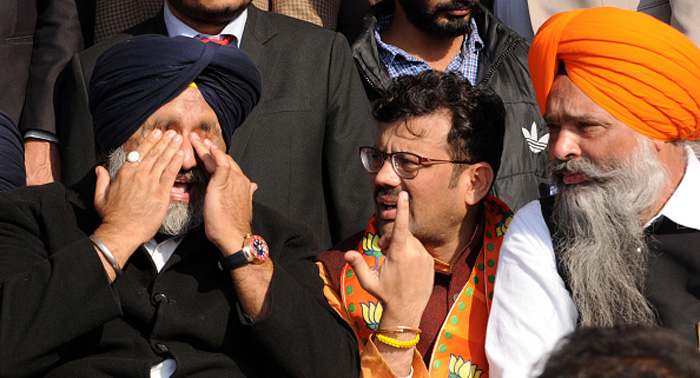 BHARAT BHUSHAN/ HINDUSTAN TIMES VIA GETTY IMAGES
The situation
Punjab is facing a serious agricultural debt crisis
The state's farm debt is a humongous Rs 69,355 crore
An average farming household has a debt of Rs 5.5 lakh
More in the story
The economics behind the crisis
What plagues Punjab's agriculture?
There was a time when Punjabis used to joke about the 'culture' of their state being 'agriculture'. But today Punjab is staring at an agrarian crisis with accumulating farm debt.
Farm debt, in fact, is snowballing into a major political issue ahead of Assembly polls, due in about a year.
Gauging the sentiment in the state's agrarian sector, Chief Minister Parkash Singh Badal approved the introduction of 'Punjab Relief of Agriculture Indebtedness Bill' in the next session of the Assembly.
He blamed the financial distress of farmers on ever-decreasing minimum support prices (MSP) for crops, coupled with escalating costs of inputs such as fertiliser, diesel, seeds, pesticides and insecticides.
The squeeze on margins is rendering agriculture non profitable. The Bill must aim at providing relief to agriculturists, farm labourers and rural artisans by debt settlement, Badal said.
Congress President Capt Amarinder Singh claimed his government proposed an Act to regulate farm debt, but was voted out before enacting it.
Politics apart
A recent survey, 'Indebtedness among Farmers and Agricultural Labourers in Rural Punjab', done for the Indian Council for Social Science Research under Gian Singh of Punjabi University in Patiala pegged the debt on the state's farmers at Rs 69,355 crore.
Of this, Rs 56,481 crore was borrowed from institutions. This includes borrowings of both the defaulters and those are in the process of repaying their loans.
While MSP for crops have been going down, input costs have only risen
Gian Singh's team, comprising Anupama, Gurinder Kaur, Rupinder Kaur and Sukhvir Kaur, surveyed households of farmers and agricultural labourers in three districts: Hoshiarpur, Ludhiana and Mansa.
The survey pointed out that marginal, small and landless labourers have no assets to mortgage and are dependent mainly on non-institutional loans. Here's their assessment for 2014-15:
Average debt per farming household: Rs 5,52,064
Marginal farmers (with up to 2.5 acre land): Rs 2,76,83
Small farmers (up to 5 acre): Rs 5,57,338
Semi-medium farmers (up to 10 acres): Rs 6,84,649
Medium farmers (up to 15 acres): Rs 9,35,608 
Large farmers:(Rs 16,37,473)
Even landless labourers had an average debt of Rs 68,330 per household, with 80% households indebted. Non-institutional sources lent to 92% of them.
The reason behind the burden
"Since 1970, the agricultural pricing policy has been unfavourable to farmers. Since 1991, the policies of the Centre and the state have resulted in agriculture becoming a loss-making vocation," Gian Singh told  Catch.
MSPs have been non remunerative, and price regulation was left to the unregulated markets, he pointed out. Also, fertiliser prices tripled in the last two years.
As successive governments failed to show interest in research and development, private players stepped in. Today, they are exploiting farmers while supplying seeds and other inputs, Giani Singh said. Ever-increasing costs of farm machinery also spurred farmers in seeking more loans. Also, the major portion of the agro-processing industry is today in the hands of corporates who don't share benefits with farmers.
The landless labourers are the worst hit and most removed from quality education or healthcare. "They have no repaying capacity and are further drawn into debt," he said.
In the last couple of years, farmers have been agitating on these issues. Crop failures and less than adequate remuneration for cotton, kinnow and basmati have landed them deeper in a financial mess.
Recently, they concluded a round of agitation, demanding a compensation of Rs 40,000 per acre for the damage to the cotton crop in the Malwa region, besides a compensation of Rs 20,000 for every family of farm labourers. There were reports of 60% of being damaged by a white fly attack and spurious pesticide.
Spurious pesticide, even spurious seeds, have added to farmers' woes
Farmers who grew PB 1509 variety of paddy, considered to be basmati, had a difficult season as both the state and the central government failed to check a price crash – from Rs 4,500 per quintal in 2014 to a mere Rs 1,700 per quintal this season, despite a 38% cut in production.
The story is the same for those who farm kinnows, once called the King of Fruit in Punjab. But in the last two years, disgusted farmers uprooted kinnow orchards as prices remained static at Rs 8-9 per kg while input costs kept climbing over the last 10 years. The state had around 42,795 hectare area under the citrus fruit.
Cotton farmers, on the other hand, were rocked by a Rs 1,700 crore pesticide scam last years. The state's agriculture director Mangal Singh Sandhu was arrested after being indicted by a fact-finding committee set up by Badal to probe spurious pesticide.
Opposition Congress and the Aam Admi Party, though, sought the resignation of Agriculture Minister Tota Singh and a criminal case against him.
The way out
Noted agricultural economist Dr SS Johal wants governments to be more practical while regulating farm debt. "There has to be proper implementation of law … I have been suggesting that a Reconciliation and Settlement Board be set up under a retired judge that cane be approached by an indebted farmer as a last resort," he told Catch.
Another solution, he said, was to apply a variant of a formula suggested by pre-partition farmer leader and politician Sir Chhotu Ram: any farmer who pays 1.5 times of the sum borrowed taken should have his loan waived off — i.e. he should not be charged for the interest on the loan.
Indebtedness is more in areas where agriculture has progressed and farmers have opted for rotation of crops. They are entitled to bigger loans, which they can't utilise properly and fall into a debt trap, Johal said.
Farmer leader Sukhwinder Sekhon advocated for the Swaminathan Commission MSP formula: pay farmers 50% over their input costs. Also, Punjab still had no procuring agency and traders continued to dupe farmers, he pointed out.
As successive govts failed to show interest in research and development, private players stepped in
"We have been seeking that interest rates on loans to farmers should not exceed 4%. Now, it is 11-12%, Sekhon said."
He also pointed out that private sugar mills were yet to to pay Rs 255 crore to sugarcane farmers for the last procurement. "The law says that the mills have to pay an interest on delayed payment, but even the principal amount is outstanding."
Spurious seeds are also a problem, especially in the Doaba region, where pea seeds supposedly supplied by the National Seeds Corporation never bore fruit. "We are seeking a probe into the matter whether such seeds were supplied to benefit some multi-national firms. Farmers should be compensated for these hybrid seeds that were of no use."
Edited by Joyjeet Das
http://www.catchnews.com/business-economy-news/forget-green-revolution-punjab-farmers-face-back-breaking-debt-1454326688.html