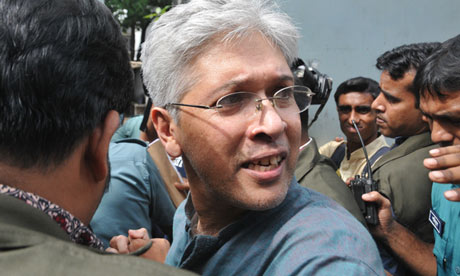 Bangladesh: Free Prominent Rights Activist
Concerns for Critic's Safety, Growing Intolerance of Criticism  
(New York, August 12, 2013) – Bangladeshi authorities should immediately release prominent rights activist Adilur Rahman Khan, who was arrested without warrant at his Dhaka home late on August 10, 2013, Human Rights Watch said today. Bangladesh's donors should press the government to release Khan and end the harassment of human rights defenders and other critics of the government.
Khan, a lawyer and director of Odhikar, one of Bangladesh's leading human rights organizations, was arrested in front of his family by approximately 10 plainclothes members of the Detective Branch. At a hearing on August 11, the court denied bail for Khan without showing that he was a flight risk, and ordered Khan to be held for five days before the next hearing. Khan has long expressed concern that he would be arrested for political reasons, but said that he wanted to stay in the country to do his work despite the risks. 
Human Rights Watch called for Khan to have regular access to counsel while in custody. Khan was not allowed to speak to lawyers before the August 11 hearing.
"The arrest of Adil Khan appears to be an attempt to silence one of the Bangladeshi government's most vocal critics prior to national elections," said Brad Adams, Asia director at Human Rights Watch. "The Awami League government should not respond to its low public approval ratings by making a mockery of its claims to respect the free speech rights of everyone." 
According to Odhikar, police records state that Khan was arrested under section 54 of the Code of Criminal Procedure and section 57 of the Information and Communication Technology Act, for allegedly falsely reporting information about human rights abuses by government security forces during mass demonstrations by the Islamist Hefazat-e-Islami movement in Dhaka on May 5 and 6. Police raided Odhikar's offices on the night of August 11, seizing computers.
An August Human Rights Watch report, Blood on the Streets: The Use of Excessive Force During Bangladesh Protests found that the security forces on May 5 and 6 used excessive force against protesters. While some police efforts at dispersing crowds appeared to adhere to international standards, the police also used unlawful force, leaving at least 50 dead and more than 2,000 injured. The government has not responded to letters sent by Human Rights Watch regarding these events. 
"If the government believes that Khan has made errors in his reporting of the May violence, it should have the courage to debate him in public instead of throwing him in jail," Adams said. 
Khan may be in danger of torture and other ill-treatment from the authorities, Human Rights Watch said. Human Rights Watch and others, including Odhikar, have documented extensive use of torture by the Bangladeshi security forces, including the Detective Branch. Human Rights Watch is not aware of any attempts by the government to hold members of its security forces accountable for torture, despite repeated commitments to do so, including to the United Nations Human Rights Council.
"Khan's prominence suggests that the decision to arrest him was approved at the highest levels," Adams said. "Prime Minister Sheikh Hasina should publicly and personally ensure that Khan does not suffer any abuse while in detention."
For more Human Rights Watch reporting on Bangladesh, please visit:
http://www.hrw.org/asia/bangladesh
For more information, please contact:
In San Francisco, Brad Adams (English): +1-510-926-8443 (mobile); or [email protected]
In Washington, DC, John Sifton (English): +1-646-479-2499 (mobile); or [email protected]. Follow on Twitter @johnsifton
In Mumbai, Meenakshi Ganguly (Bengali, Hindi, English): +91-98-20-036032 (mobile); or [email protected]. Follow on Twitter @mg2411
In The Hague, Tejshree Thapa (Nepali, English): +31-70-306-3817; or +31-6-553-554-63 (mobile); or [email protected]
Related articles