Wife claims first accused K.T. Naveen Kumar was associated with 'Sanatan Dharma Sanstha'
The charge sheet in the Gauri Lankesh murder case, a copy of which is with The Hindu, says the journalist and activist was killed for her 'anti-Hindu views'.
"The accused were angry with her for speaking against Hindu dharma, Gods of Hindu dharma and insulting Hindu dharma," said the Special Investigation Team in the 651-page charge sheet against K.T. Naveen Kumar, the first accused in the case.
However, the confession statements of Naveen Kumar and statements of his three friends from Maddur, made before a magistrate, have not been made public. According to sources, this was done on request by the SIT for fear that the publication of the statements would tip off other accused who are still at large.
'On Dasara, he offered pooja to the pistol'
Though the charge sheet is silent on the organisational affiliations of Naveen Kumar, his wife Roopa C. N., a Group D employee with KPTCL in Birur, in her statement to the SIT, said he was associated with the 'Sanatan Dharma Sanstha' mostly in 2017.
In her statement, Ms. Roopa said that her husband took her for a programme in Shivamogga in 2017 where he introduced her to people from Sanatan Dharma Sanstha. He had procured a pistol and a few bullets, about three months before Dasara. When she complained, he said they were 'dummy' bullets to scare away monkeys.
"On Dasara festival, he offered pooja to the pistol," her statement read.
Ms. Roopa recalled Naveen Kumar inviting a person from Sanatan Dharma to their house after Dasara. He stayed overnight.
She claimed that her husband said he was one of 400 Hindu activists selected for a Dharma Shikshana Sammelana in Goa, which he attended. Two months later, he attended a similar programme in Hubballi.
At one point, he booked an appointment for her at Sanatan Ashram in Mangaluru. The day after they reached the ashram, she saw on TV that Gauri Lankesh had been murdered.
Forensic reports on websites
The charge sheet includes a forensic report of websites sanatan.org and hindujagruti.org. It notes that sanatan.org carried a report of a meeting purportedly held in Maddur on December 10, 2017. Police sources said that Naveen Kumar had attended this meeting.
However, the charge sheet does not name Sanatan Sanstha. "There is no evidence so far to indicate that the organisation itself as a whole was involved in the conspiracy," a senior police officer said.
Bullets procured from Kalasipalya
The charge sheet accuses Naveen Kumar of supplying the bullets that were used to kill Gauri Lankesh in September 2017. It alleges they were from Bangalore Armoury, an ammunition store on N.R. Road. They were procured by Naveen Kumar about eight years ago.
Syed Shabbeer, 30, working in another ammunition store City Gun House in Kalasipalya, claimed to have sold 18 bullets to Naveen Kumar for ₹3,000. "About eight years ago, Naveen Kumar came to our shop and bought two air guns in a week for ₹3,500 each. He asked me to sell a pistol and bullets, though he did not have a licence. When I refused, he pleaded with me to sell at least the bullets, which he said he would only use to make a locket around his neck. I was in need of money. So, I asked my friend Amjad, working at Bangalore Armoury, to give me some testing wastage bullets. Three days later, Amjad gave me 18 bullets of 0.32 calibre wrapped in paper. I sold them to Naveen Kumar for ₹3,000," Syed Shabbeer has told the SIT.
Maintaining notes on surveillance, using fake names and feature phones and multiple SIM cards and handsets — here's what the four men arrested in connection with the murder of journalist Gauri Lankesh did to hide their identities.
Written by 
Johnson T A
 | Bengaluru | Updated: June 2, 2018 7:09:44 am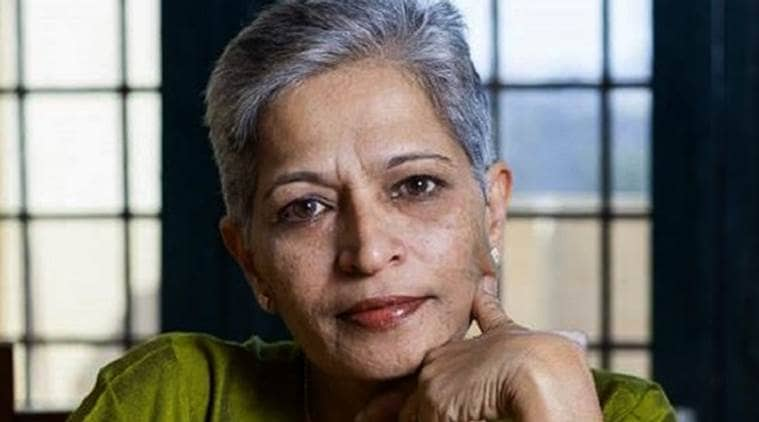 Lankesh was killed after four bullets were fired at her by an unidentified man wearing a helmet while she was opening the gate to her home after returning from work.From maintaining notes on surveillance to using fake names, feature phones and multiple SIM cards and handsets. The four men arrested in connection with the murder last year of journalist Gauri Lankesh, and for plotting the murder of Kannada writer and critic K S Bhagwan this year, made elaborate efforts to hide their identities, investigations have revealed.
The four, who are linked to a radical Hindutva organisation, were taken into custody Thursday by a Special Investigation Team (SIT) of Karnataka Police, which is probing the shooting of 55-year-old Lankesh outside her home in Bengaluru on September 5, 2017.
Police have identified the four as Sujeet Kumar alias Praveen alias Manjunath alias Sujeet S R, 37, from Udupi in Karnataka; Amol Kale alias Bhaisab alias Sanjay Bhansare, 37, from Pune; Amit Degwekar alias Amit alias Pradeep Mahajan, 38, from Ponda in Goa; and, Manohar Edave alias Manoj, 28, from Vijayapura in Karnataka.
Kale and Degwekar were linked to the Goa-based Sanatan Sanstha and its affiliate the Hindu Janajagruti Samiti (HJS) a few years ago. Kale is reported to have been involved in HJS campaigns against the celebration of Valentine's Day in colleges in Pune.
Degwekar is reported to have worked in a Sanatan Sanstha publication and was a roommate of Malgonda Patil, one of two activists of the outfit who died in a 2009 blast in Madgaon in Goa while trying to plant a bomb at the site of a religious celebration. Degwekar was initially detained by Goa Police in connection with the blast but then not charged.
Sujeet Kumar is reported to have attended annual conferences of the HJS in Goa. "In recent times, the four were not seen during routine activities and events of the outfit but they are suspected to have been engaged in some underground work,'' police sources said.
Asked about the HJS links of some of the men accused in the Lankesh case, the outfit's Karnataka spokesperson, Mohan Gowda, had said: "Some of the arrested men may have attended HJS programmes but hundreds of people come for our events.''
According to investigators, detailed notes in code and regular language were found in diaries at the homes of three of the arrested, including on measures and precautions to be taken while carrying out surveillance and reconnaissance on targets.
A diary found at the home of Edave from Vijayapura, for instance, contains notes about steps to be taken during reconnaissance. The jottings suggest that among the tasks involved in reconnaissance is tracking CCTV cameras. Diary entries by two of the suspects refer to CCTV cameras in code language as "bulbs".
The jottings also suggest that fake number plates have to be used on vehicles while carrying out surveillance, and that entry and exit points into a locality must be noted and sketched. The SIT has found the sketch of a map, in one of the seized diaries, that is suspected to indicate the location of Lankesh's home in the Rajarajeshwari Nagar area of west Bengaluru.
The four also seem to have used fake names to identify themselves to strangers and newcomers as part of their covert activities. Sujeet Kumar alias Praveen, suspected to be the head of the covert operations in Karnataka, identified himself only as Praveen to K T Naveen Kumar, 37, a Hindu Yuva Sena activist who is suspected to have provided logistics for the murder of Lankesh. Praveen was identified as Sujeet Kumar only after his arrest on May 19 in connection with the Bhagwan plot.
The SIT found that Naveen Kumar's handler "Praveen" would call only from public pay phones and never from a personal phone making it difficult to ascertain his true identity.
Following the arrest of Sujeet Kumar, the SIT found in his possession four feature phones made by Y King, Itel, Hitech and Karbon, and seven SIM cards. The SIT has reported finding a total of 43 mobile phones from Sujeet Kumar (22 phones) and Kale (21 phones) since their arrests on May 19 and 20.
"All the phones are low cost feature phones which they seem to be using in a disposable manner to make only a few select calls,'' police sources said.
SIT sources said they were now hopeful of finding the truth behind the Lankesh murder since investigators have been able to understand the modus operandi of the group after the recent arrests.
In a chargesheet filed against Naveen Kumar on May 30, the SIT quoted him as saying that the journalist-activist was killed for her "anti-Hindu views'' and "criticism of Hindu Gods''. The SIT in its chargesheet also said Naveen Kumar was part of a larger conspiracy. "There is a bigger network,'' the SIT said in court documents.
Sources described the arrest of the four as a major breakthrough in investigations into the killings of rationalists and progressive thinkers since 2013 in Maharashtra and Karnataka. At least one key suspect involved in the murder plots in Karnataka, identified only as Dada and Nihal by the suspects arrested so far, is believed to be at large, said sources.
Lankesh was killed after four bullets were fired at her by an unidentified man wearing a helmet while she was opening the gate to her home after returning from work. The killer is suspected to have arrived on a motorcycle with an accomplice.
The Hindu, Indian Express