The SIT conducted searches at over eight places in Karnataka, Maharashtra and Goa on May 22 leading to the discovery of key evidence.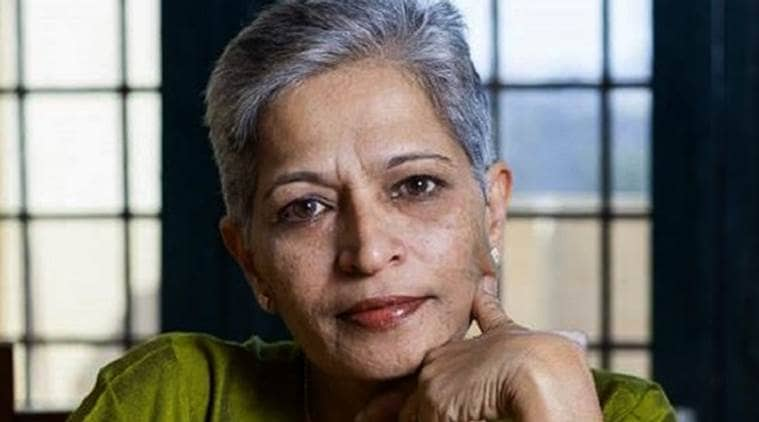 Gauri Lankesh. Source Twitter
A Special Investigation Team of the Karnataka police has inched closer to cracking the September 5, 2017 murder of journalist-activist Gauri Lankesh outside her home in West Bengaluru following the arrest of four persons linked to radical right wing outfit Sanatan Sanstha for a January 2018 plot to kill writer K S Bhagwan in Mysuru.
The four persons linked to the Sanatan Sanstha, and its sister concern the Hindu Janajagruti Samiti, arrested last week by the SIT are also linked to K T Naveen Kumar, 37, an activist of the Hindu Yuva Sena, who attended several meetings of the HJS and Sanatan Sanstha in 2017, and was arrested in March 2018 in the Gauri Lankesh murder case.
The four arrested are: Amol Kale alias Bhaisab, 39, an activist of the HJS from Maharashtra; Amit Degwekar alias Pradeep, 39, a Sanatan Sanstha activist and resident of Goa; Manohar Edave, 28, a resident of Vijayapura in Karnataka; and Sujeet Kumar alias Praveen, 37, a HJS and Sanatan Sanstha activist from Mangalore alleged to have been guiding operations in Karnataka to plan the murder of Bhagwan.
Sujeet Kumar was arrested first and produced before a magistrate on May 20 while the other three were produced on May 21. They are scheduled to be in police custody until June 1.
The SIT conducted searches at over eight places in Karnataka, Maharashtra and Goa on May 22 leading to the discovery of key evidence.
Degwekar is a former room mate of Malgonda Patil, one of two Sanatan Sanstha activists who died in a 2009 Madgaon blast while trying to plant a bomb at the site of a religious celebration. Degwekar was initially detained by the Goa police in connection with the bomb blast but was not charged.
Amol Kale, involved with HJS activities in Pune a few years ago, is considered to be a key figure in a covert activities unit which picks radically minded cadre from various right wing outfits.
The plot to kill Bhagwan emerged earlier this year following the arrest on February 18 of Hindu Yuva Sena leader K T Naveen Kumar for possession of illegal arms. The probe revealed that a group of people, including Naveen Kumar, were surveying Bhagwan's home to carry out a killing on the lines of the Lankesh murder. Naveen Kumar was also suspected to have surveyed and pointed out her home to a group of killers who came from outside Karnataka.
He was named as an accused in the Lankesh murder case after he was taken into custody by the SIT on March 2 on the basis of findings in the plot to kill Bhagwan.
After he helped execute the Lankesh killing, Naveen Kumar was allegedly roped in by his handlers to facilitate the killing of Bhagwan around December 2017, police sources said.
Naveen Kumar is said to have told investigators he received instructions in the plot to kill Lankesh and Bhagwan from a Mangalore-based man he could identify only as Praveen. The HJS activist Sujeet Kumar has now been identified as that Praveen.
The SIT is likely to secure his custody on Wednesday and will file a chargesheet against Naveen Kumar in the Gauri Lankesh murder case Wednesday.
http://indianexpress.com/article/india/gauri-lankesh-murder-case-cops-close-in-four-held-in-plot-to-kill-writer-5196407/