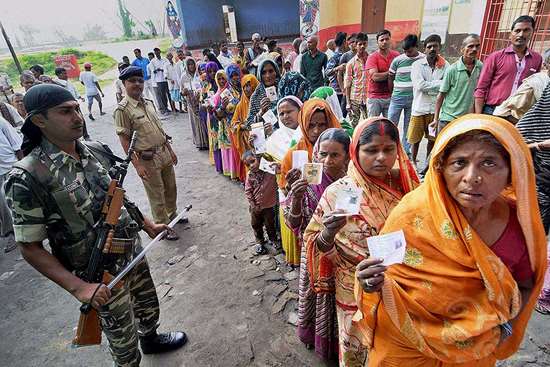 FILE – PTI PHOTO
OPINION
Gender Bender In Bihar
Why women voted against Modi in the recent Bihar elections…
For 20-year-old Nageena, a college student in Patna, life is about possibilities. She dreams of becoming an engineer.
For the first ten years of her life, she ran ragged on the dirt path of a red-light district in Forbesganj, Bihar. Her home, a mud hut had no doors, no roof, no toilet, no drinking water and no electricity. She could not read right or write, used to feel hungry all the time, was scared to go to the local school.
Her mother, Savita, could not get the police to rescue her other daughter from a brothel in the neighbouring district of Katihar. Savita would tremble with fear when a trafficker passed by. She was invisible to government authorities.
Today, Nageena is a graduate of Chief Minister Nitish Kumar's famous pink boarding schools. She is also a beneficiary of the free bicycle, school uniforms, text books and college incentives that the JD(U) government ensured for marginalised girls since it came to power 10 years ago.
Her mother, Savita, has government ID cards, accesses subsidised rations, has bought her own plot of land and built her house. She has electricity and a hand pump in her courtyard for water. She sometimes talks about fighting elections.
Both mother and daughter cast their vote in this election. Both voted for the Grand Alliance of JD(U), RJD and Congress(I).
They voted for a government and a Chief Minister, who had helped them from destitution to social and economic stability.
Savita remembered how the Chief Minister had personally visited the Kasturba Gandhi Balika Vidyalaya boarding school her daughter and her friends studied in, in a public show of support to girls from the red-light area.
Nageena remembered how the education ministry in Patna had sent down a team to mobilise the local police to protect the girls from the traffickers besieging their hostel. She saw how the administration responded to her mother's Mahila Mandal's petitions for BPL cards, voter ID cards and later to getting subsidised food, health care and even land. She saw how life changed.
Her mother was able to open a bank account. They were able to wear proper clothes, go to school, eat something, study in the evening. They had water and toilets at home. They did not feel scared of traffickers anymore. Her mother was no longer invisible. She had a political and social identity and their family had some economic and social stability.
She saw the red-light area become a non-red light area as woman after woman got govt IDs and subsidies and girls got educated, traffickers got arrested. She saw other women from the neighboring panchayats get more power, more girls passing out from her school get jobs, better health care. She too began to have dreams. That she would be an engineer. Her friends felt for the first time in generations that they too could get out of their cycle of poverty-become doctors, lawyers, nurses, teachers, politicians. After all, other women in Bihar were achieving all this.
Nageena and Savita are just two of the 60.57 % of women who have voted in Bihar.
The emphasis on girls education and women's safety has paved the way for a great social change in Bihar. Two out of every three women have voted in Bihar. They have turned out in such large numbers to hold on to their newly found social, political and economic independence. To keep the public spaces now available to them through the 50 % reservation in government jobs and women-only seats for Mahila Mukhiyas in village councils.
These newly-educated women in the public space were alarmed by the implications of the BJP's national annual budget presented 8 month ago.
The Modi government had phased out shelter homes for single women, one stop crisis centres, hostels for working women, cut the Sarva Shiksha Abhiyan Kasturba Gandhi Balika Vidyalaya boarding school budget by 9.5 percent, reduced allocations to the ICDS and Midday Meal Schemes and to the gender budget for school education by 8.3 percent. To add insult to injury he spent Rs 100 crore on an international branding exercise called Beti Bachao, Beti Padhao Abhiyan with no money spent on actually educating the girl child. These were the very schemes that helped them out of destitution and deprivation.
The budgetary allocations in absolute terms has decreased by almost 49.3 percent to the Ministry of Women and Child Development.
In addition the increase in indirect taxes led to a sharp price increase in their daily consumables like daal creating more difficulty for working women. One of the most popular slogans doing the rounds in the last two phases was Har Har Modi se Arhar Modi (Arhar is a daal, which is a staple diet for all Biharis with rice).
The last straw on the camel's bank for poor, marginalised mothers was when they heard that the BJP Cabinet had approved a Bill to legalise child labour and his National Commission for Women wanted to legalise pimping and brothel keeping.They wondered how they would protect their children from those who wanted to exploit them and how would they educate their daughters if schools shut down, mid-day meals were not available. They were relieved to see that that state of Bihar kept the mid-day meals, boarding, schools, cycles, uniforms and reservations going against all odds.
They, therefore, refused to be drawn into the BJP's attempts to fuel religious and caste hatred over beef, cow-dung, pork, toilets, tantriks, and urine. They voted for harmony and peace, and for economic and social incentives for the poor and marginalised. The overall turnout of women voters in this Assembly elections was 60.57 per cent, whereas that for men was 53.41 per cent.
Women understood that a government that allocates big money to weaponry, smart cities, superhighways, international public relations contracts but peanuts to increasing literacy and lowering infant mortality values them less as citizens.
Tax money is being spent on Modi's international tours, fancy suits, grandiose meetings with Facebook and Google, while government aided schools are being closed, child labour is being legalised to address shortage of wages, pimping and brothel keeping are being legitimised to address the lack of sustainable and dignified work for women, formerly self-sufficient groups are being pushed out by land acquisition for mines, factories, multi-national agro-businesses and a non-cash economy for women's productive or reproductive work is becoming justified in the name of "Hindu" values.
Bihar has shown that women are not buying it