A German professor is apologetic about an email she sent a male Indian student seeking an internship in her lab, in which she cited India's "rape problem" as the reason why he was rejecting his candidature.
"Unfortunately I don't accept any Indian male students for internships. We hear a lot about the rape problem in India which I cannot support. I have many female friends in my group, so i think this attitude is something I cannot support," Prof Annette G. Beck-Sickinger at the Institute of Biochemistry at Leipzig University wrote in an email to an Indian student.
The email blew up on social media over the weekend as the recipient put up screenshots of the email on Quora.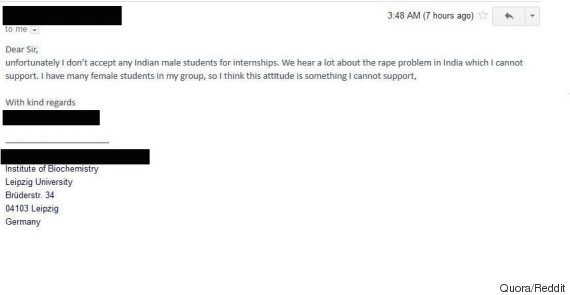 The email was so shocking that many claimed that it was a hoax. Turns out it isn't.
In a response to questions from HuffPost India, the professor confirmed the authenticity of the email. She said her lab was full and that had led to an "unpleasant discussion" with one student.
"I apologize if this caused any misunderstanding, but the e-Mail was taken out of the context," she wrote.
But the email thread is quite clear about what her thoughts on the subject are.
In the second mail, written to the student, the professor states that weekly news reports about "multi-rape crimes" and tourists being kidnapped by groups of males demonstrated the country's attitude towards women.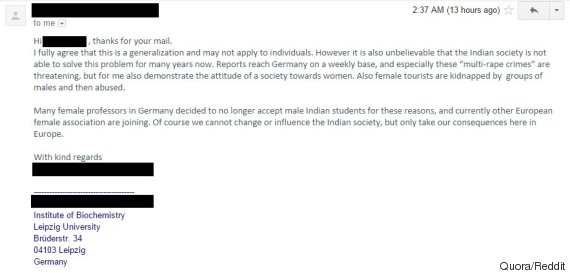 "Many female professors in Germany decided to no longer accept male students for these reasons, and currently other European female association are joining. Of course we cannot change or influence the Indian society, but only take our consequences here in Europe."
In her response to HuffPost India, professor Beck-Sickinger said she was sorry about the email.
"Of course I have nothing against male Indians and I have accepted several Indian students in the past." Beck-Sickinger wrote.
"However my lab is full and I currently cannot take any student. This led to an unpleasant discussion with one of the Indian student." she said.
Update: Michael Steiner, Germany's ambassador to India has sent a mail to Professor Beck-Sickinger which has been uploaded on the German Embassy in India website.
"I would encourage you to learn more about the diverse, dynamic and fascinating country and the many welcoming and open-minded people of India so that you could correct a simplistic image, which – in my opinion – is particularly unsuitable for a professor and teacher." Steiner wrote.