International Labour Organization warns of mounting social unrest amid income inequality and high youth unemployment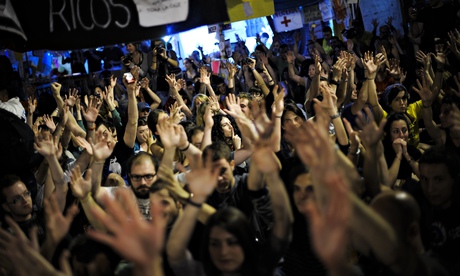 The global jobs market will continue to deteriorate in the coming years,, while rising income inequality and high youth unemployment will stoke more social unrest, a new report warns today.
The International Labour Organization (ILO) says a slowdown in economic growth means more jobs will be lost this year with young people again bearing the brunt of the financial crisis and its aftermath.
Releasing its latest forecasts, the ILO said the challenge of bringing unemployment back to pre-crisis levels "now appears as daunting a task as ever".
ILO director general Guy Ryder said: "More than 61 million jobs have been lost since the start of the global crisis in 2008 and our projections show that unemployment will continue to rise until the end of the decade. This means the jobs crisis is far from over so there is no place for complacency."
By 2019, more than 212 million people will be out of work, up from 201 million now, according to the ILO's report, World Employment and Social Outlook – Trends 2015.
The employment situation has improved in the US and Japan, the report finds, but remains difficult in many advanced economies, particularly in the eurozone. The ILO has previously forecast a global unemployment rate of 5.9% this year and next, compared with 5.5% before the global financial crisis in 2007.
Its jobs market outlook is the latest in a string of reports to warn of rising inequality and the risks the pattern poses for economic growth and political stability.
The ILO predicts income inequality will continue to widen and that already the richest 10% earn 30-40% of total income while the poorest 10% earn around 2% of total income.
The report highlights a worrying new trend in richer countries as well as a disappointing slowdown in poorer countries at tackling inequality.
"In several advanced economies, where inequalities historically have been much lower than in developing countries, income inequalities have worsened rapidly in the aftermath of the crisis and in some instance are approaching levels observed in some emerging economies.
"In emerging and developing economies, where overall inequalities have typically fallen, levels remain high and the pace of improvement has slowed considerably," the ILO says.
It warns that if low wages lead people to consume less, and investment remains subdued, growth rates will suffer. The organisation also warns of rising social unrest as rising inequality undermines trust in government and young people are left frustrated as pay trends fail to match a general improvement in educational attainment.
The report says: "Social unrest has gradually increased as joblessness persists. It tended to decline before the global crisis and has increased since then. Countries facing high or rapidly rising youth unemployment are especially vulnerable to social unrest."
The report highlights that young people, especially young women, continue to be disproportionately affected by unemployment across all regions of the world. Almost 74 million young people, aged 15–24, were looking for work in 2014 and the youth unemployment rate "is practically three times higher" than for their adult counterparts, the ILO found.