Relatives of foreigners whose deaths were classified as natural or accidental say some cases could be the result of foul play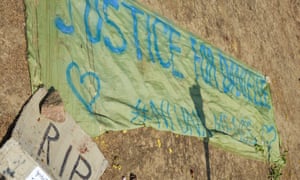 An Irish-British dual national whom police believe was murdered in Goa was one of more than 245 foreigners to die in four districts of the Indian state in the past 12 years, according to police records obtained by the Guardian.
A postmortem on the body of Danielle McLaughlin has revealed the 28-year-old had been sexually assaulted and strangled in the hours after leaving a party on Monday at Palolem beach, a popular spot in the south of the state.
Police say they have arrested and will charge a local man they have identified as Vikat Bhagat with her rape and murder. Bhagat, described as a local gang member, was seen with McLaughlin on CCTV footage the day before her death.
Records from the Goa police, obtained under India's freedom of information laws, show that six other foreigners' deaths were classified as murders in the Anjuna, Pernem, Mapusa and Canacona districts in the decade leading to August 2015.
Another 157 foreigner deaths were classified as natural or accidental, but a group of relatives of some of the tourists who died in the western Indian state say authorities have overlooked crucial clues in some cases that could point to foul play.
The statistics reveal a darker picture of the coastal paradise that more than 5 million tourists visited in 2016. There were 20 suicides in Pernem district. About 23 people drowned, while the cause of death for another 39 people is listed as "not known or pending". Foreign men aged between 30 and 49 are most at risk of dying in the districts, the records show.
The families of at least six foreigners who died while holidaying in Goa have told the Guardian they question initial rulings that the deaths of their loved ones were natural or accidental.
One of those listed as a natural death is 22-year-old Felix Dahl, a Finnish national who was found dead in Patnem, Canacona, in January 2015. Dahl was found with skull wounds – a postmortem carried out in Goa attributed his death to an accidental fall. However, a second autopsy conducted in Finland showed "that was impossible", his mother Manni Pirhonen said. "The doctors say his damages resulted from high impact force of some sort and falling is excluded," she said.
A man known to have been in contact with her son is an associate of Bhagat, the man arrested in the McLaughlin case, and the pair were among a group arrested in the past for a series of burglaries in Canacona.
Sixteen days after Dahl's death, the body of James Durkin also washed up on a beach in Canacona after he went missing for more than a month. The body of the 34-year-old from south London was badly decomposed and showed possible signs of mutilation.
His death is listed in the records as a drowning but a coroner in the UK reached an open conclusion. "Has he come to some sort of harm at the hands of a third party or has there been an accident? I just don't know," she said, according to news reports.
Sara Neighbour's brother Martin was found dead on Arambol beach in February 2008 in a case that was also classified as a drowning. But Neighbour told an inquest in London her brother "looked like he had been beaten up".
One of those listed as murdered was 15-year-old Scarlett Keeling from Devon, whose bruised body was found in the shallows of Anjuna beach in February 2008. The documents list her cause of death as "drowning in the beach sand water (murder)". Keeling's death was initially ruled an accidental drowning, before pressure from her mother forced a second autopsy, which revealed evidence of drugs in her system, more than 50 cuts and bruises and signs of sexual assault.
The death of Denyse Sweeney was initially ruled by police as a drug overdose, but an inquest found no illegal substances in her body and the initial investigation reportedly overlooked evidence of injuries on her body. The case has since been listed as a murder.
Speaking on behalf of the families, Pirhonen said they felt it was unlikely that so many young people were dying natural deaths in the state. "[We] suspect that murders of tourists are actually very common in Goa," she said. "Nothing is properly investigated except maybe now [with the McLaughlin case]. This was too obviously a murder, so they could not say she fell or drowned. Anybody who's found in the water, they say has drowned."
https://www.theguardian.com/world/2017/mar/17/goa-irish-british-danielle-mclaughlin-murder-palolem/