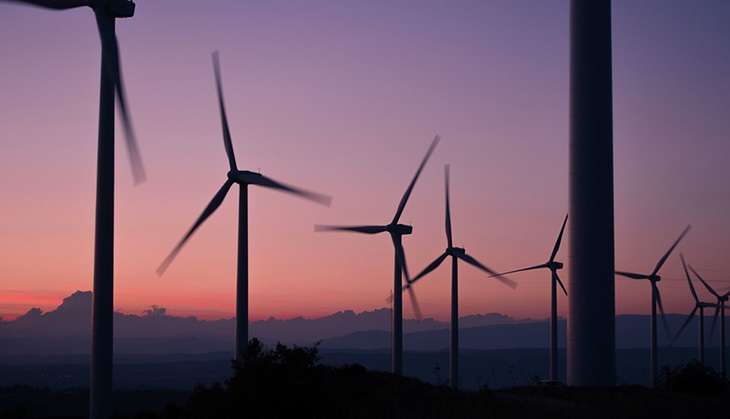 100% renewable energy is possible (File photo)
Recently, in conversation with David Letterman, India's Prime Minister, Narendra Modi, said, "If the world helps me with technology, helps me with resources I will be the very first person to switch over to clean energy completely." A couple of years ago you would have thought it wasn't possible, but today it has become a reality. Many countries are running at or near 100% renewable energy.
A country is carbon neutral when it has "zero carbon footprint". A country is 100 percent renewable when it is using energy sources that will never run out and doesn't use fossil fuels.
In 2004, Costa Rica was at almost 47 percent renewable energy. Last year, however, the country ran completely on renewable energy – a combination of wind, solar, hydro and geothermal – for 75 days straight. According to the government, through all of 2015, the country ran on 99% renewable energy and only 1% fossil fuel.
This year, it ran for 76 days straight. In the past two years, it was 299 days. Impressive by any standards. By 2021, it plans to be completely carbon neutral.
Costa Rica was able to achieve this because of two reasons. Firstly, it has a population of under five million. Secondly, it's primary industries are tourism and agriculture – not energy intensive industries.
But Costa Rica isn't alone, here are the other countries that are at or close to being 100 percent renewable:
Iceland produces the most clean electricity per person on Earth. In fact, Iceland produces nine times the European Union average. Natural resources are in abundance and Iceland is making the most of it. Geothermal and hydroelectric plants have been a boon for Iceland. As The Guardian puts it, "The glaciers and rivers of the interior of the country are harnessed to generate 80% of the country's electricity needs through hydropower, while the geothermal fields provide up to 20% of the country's electricity needs".
They've saved over eight billion dollars between 1970 and 2000 by not relying on oil. In that time frame, the carbon emissions have been lowered by one-third.
Scotland is the most recent of the countries to manage a completely renewable energy-powered day.
106 percent. That's how much energy Scotland's wind turbines produced on an extremely windy day in August thus year; more than enough energy to cover the entire country's electricity needs. Turbines provided 39,545 megawatt-hours (MWh) of electricity to the national grid. Only 37,202 MWh were consumed.
WWF Scotland's director Lang Banks had this to say: "While Sunday's weather caused disruption for many people, it also proved to be a good day for wind power output, with wind turbines alone providing the equivalent of all Scotland's total electricity needs". He did clarify to say that this may have happened before but only from last year did they have enough information to calculate accurate figures.
Scotland wants to be the European Union's first fully renewable electricity nation by 2030.
As of December, 2015, Uruguay was producing 95% of its electricity from clean energy. Within a period of ten years, the tiny nation of Uruguay slashed its carbon footprint and went from virtually no wind energy to installing the most wind per capita of any country.
Taken together with other energy resources such as solar power, hydropower, and biomass, renewable energy makes up 55% of Uruguay's energy mix, reports The Guardian. This is far ahead of the global average of 12%.
The most impressive part of this change is that the shift to renewable energy hasn't resulted in consumers having to pay higher prices. In fact, inflation-adjusted prices are lower than they were before, according to Quartz who spoke to the country's head of climate change policy, Ramón Méndez.
On 9 and 10 July, 2015, Denmark produced a massive amount of energy through its wind farms thanks to unusually strong winds. Denmark found that its turbines were cranking out 140 percent of the country's electricity needs – way too much for the nation to handle.
The enterprising nation sold 80 percent of the surplus renewable energy to Norway and Germany, while the remaining 20 percent went to Sweden. One thing of note is that during the wind's peak force, these turbines weren't even operating at their peak capacity of 4.8 gigawatts.
Denmark wants to produce half its electricity needs with renewable sources by 2020 and 84% by 2035.
In early 2016, Portugal ran for four days – 107 hours to be exact – straight on renewable energy. This was a clean energy milestone for the country. The consumption of electricity was fully covered by wind, solar and hydro power.
In 2015, wind had provided just 22 percent of electricity while all renewable sources together account for 48 percent, this according to the Portuguese renewable energy association. The transformation in just one year has been phenomenal.
One of the world's largest dams, the Itaipu dam, resides in Paraguay. The citizens are lucky as this dam provides 90% of Paraguay's electricity. The dam came at a cost of $20 billion and took 30 years to build. It displaces 67.5 million tonnes of CO2 a year, which is a significant amount.
Germany may not have managed 100% energy from renewable energy, but as one of the largest economies, it deserves a mention. On Saturday, 25 July, Germany met 78 percent of the electricity demands for the day from renewable energy. According to ThinkProgress from 2015, "2014 was a big year for Germany's renewable energy transition, known as Energiewende, which requires the phasing out of nuclear energy by 2022 and reducing greenhouse gases at least 80 percent by 2050. The government also wants the at least double the percentage of renewables in the energy mix by 2035."
This year, Germany got almost all of its power from renewable sources. Demand was 45.8 gigawatts on 15 May and supply was just under that at 45.5 gigawatts. During several 15-minute periods, power supply turned negative. This progress is in line with Merkel's "Energiewende" policy to eventually phase out fossil fuels.
A number of other cities and countries have pledged to go 100% renewable within the next decade or two. Pledging is one thing. Achieving it, is another.
http://www.catchnews.com/international-news/going-100-renewable-energy-is-possible-and-these-countries-prove-it-1476725801.html