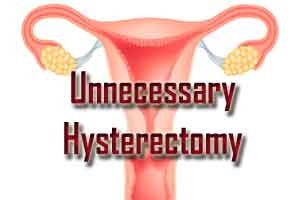 Two doctors from Himachal Pradesh have been recently directed by the National Consumer Disputes Redressal forum to pay Rs 10 Lakhs as a compensation to the family of the deceased patient, who died after the doctors performed an "Unwanted" Hysterectomy on her.
The case goes back to year 2003, when the deceased consulted Dr.Chaudhary (Surgeon) and Dr.Veena Choudhary (Gynaecologist) at R.K.Nursing Home,Kangra ( Himachal Pradesh) for pain in abdomen. Post the diagnostic testing of ultrasonography, that said doctors performed Total abdominal hysterectomy operation (TAH for removal of uterus). It was alleged that the anaesthesia was not given by anaesthetist but it was given by the operating doctor, when they were not competent to do so. The patient's condition started deteriorating, whereby she was referred to CMC Ludhiana. The complainant took the patient to Govt. Medical Hospital, Chandigarh, where she expired soon after.
The doctors at that hospital informed the complainant that due to acute loss of blood in the patient, three units of blood were transfused.  Complainant alleged that, the death of his wife was due to negligence of OP-1 and OP-2. The OP hospital had no adequate facilities like technical staff, anaesthetist, blood bank, modern lab, and oxygen facilities.  Therefore, complainant filed a complaint before District Forum, Kangra at Dharmshala for claiming compensation for Rs. 10 Lakhs along with 12% interest.
While the district forum and the consequent appeal to the State commission was dismissed, it was in the National Commission where the complainant alleged that the surgery was unnecessary.
The National commission perused the ultrasound reports done by one Dr Meenakshi Makkar and noted that
"..as per USG report issued by Dr. Meenakshi Makkar,  the uterus was of normal size  –  5 x 3.3 cms. It was specifically mentioned as "to correlate clinically". Nothing was mentioned in the report about uterine fibroid or endometrial hyperplasia. The OPs performed the TAH unnecessarily, along with removal of one ovary. It may lead to pre-mature menopause and the patient needed hormone replacement therapy (HRT) throughout …"
Moreover, a number of expert opinions were sought, which also pointed out to medical negligence by the doctors. The court finally concluded
"….it is pertinent to note that OP1 is a surgeon whereas, OP2 is a gynaecologist. In a haste and in the pretext of menorrhagia and fibroid , OPs   decided to perform TAH. In fact, the patient was suffering from abdominal pain therefore, approached OP.  Patient was not properly examined by the OP, but directly jumped into the diagnosis of fibroid uterus.  No doubt, post operative Pancreatitis is a known entity, but in the instant case, OP did not advise any relevant investigations to ascertain the cause of abdominal pain in the patient. In our view, OP missed to make diagnosis of pancreatitis at initial stage only. The unwanted TAH surgery further aggravated pancreatitis, which was fatal in the instant case. Therefore, it was the failure and the negligence of OP1……"
Considering the facts and circumstances of instant case  and on the basis of forgoing discussion, NCDRC allowed  this revision petition and direct the doctors to pay total lump sum compensation of Rs.10,00,000/-(Ten lacs) to the complainants as a penalty for Medical Negligence
You can read the full judgement by clicking on the following link
http://cms.nic.in/ncdrcusersWeb/GetJudgement.do?method=GetJudgement&caseidin=0%2F0%2FRP%2F3812%2F2011&dtofhearing=2016-04-01