More than 100 companies sign letter to US regulator warning that plan for fast lanes is 'grave threat to internet'
Staff and agencies in Washington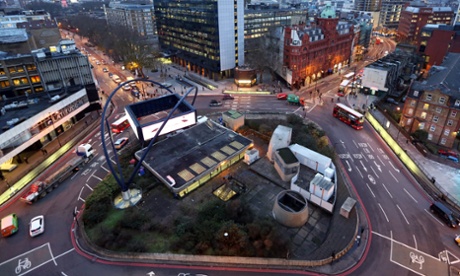 More than 100 technology companies including Google, Facebook, Twitter and Amazon have written to US regulators to warn that proposed net neutrality rules pose a "grave threat to the internet".
The intervention comes against a backdrop of protest at Federal Communications Commission plans that opponents say will create a two-tier internet where big corporations are able to transmit their content to recipients at much higher speed, disadvantaging smaller competitors and other users.
The internet companies' letter to the FCC chairman, Tom Wheeler, and the agency's four commissioners comes amid calls for a delay in a vote on the plan that is scheduled for 15 May. The letter says FCC rules should not permit "individualised bargaining and discrimination," the companies said.
"[The FCC must] take the necessary steps to ensure that the internet remains an open platform for speech and commerce," the letter says.
One of the FCC commissioners, Jessica Rosenworcel, has called for a delay of "at least a month" on Wheeler's plan. "Rushing headlong into a rulemaking next week fails to respect the public response to his (Wheeler's) proposal," she said.
With two Republican commissioners broadly opposed to regulation of Internet traffic, the support of two Democrats on the panel – Rosenworcel and Mignon Clyburn – is critical.
Critics argue the plan, rather than enshrining net neutrality, simply formalise plans for higher speed internet for those able to pay for it.
Neil Grace, an FCC spokesman, said Wheeler still intended to put forward his proposals for public comment next week, as planned, as part of a "robust public debate" on the internet. "Moving forward will allow the American people to review and comment on the proposed plan without delay, and bring us one step closer to putting rules on the books to protect consumers and entrepreneurs online," Grace said.
Tens of thousands of public comments have been received by the FCC on Wheeler's plan over the past two weeks and commission staff have met with nearly 100 stakeholders including public interest groups and iInternet content providers.
Engine Advocacy and New America's Open Technology Institute, longtime supporters of "open internet" policies, helped organise the effort.
Reuters contributed to this report
Read mor ehere — http://www.theguardian.com/technology/2014/may/08/google-facebook-and-amazon-sign-letter-criticising-fcc-net-neutrality-plan