Dr Kafeel Ahmad Khan, who was lauded as the "hero" for saving lives of many children during the BRD Medical College tragedy in Uttar Pradesh last year—that killed over 30 children due to oxygen shortage on the intervening night of August 10-11—has been languishing in Gorakhpur prison for the past eight months. He has been denied bail by the lower court and Allahabad High Court has not been hearing his matter because of one reason or the other.
Dr Kafeel was arrested and sent to jail on September 2 last year after an FIR was filed against him on August 23. He has been charged under Sections 120B (criminal conspiracy), 308 (attempt to commit culpable homicide) and 409 (Criminal breach of trust by public servant) of the Indian Penal Code (IPC).
The young doctor has penned a 10-page letter to the media from the prison, describing why his arrest is unjust.
Was extending a helping hand my crime, he asks.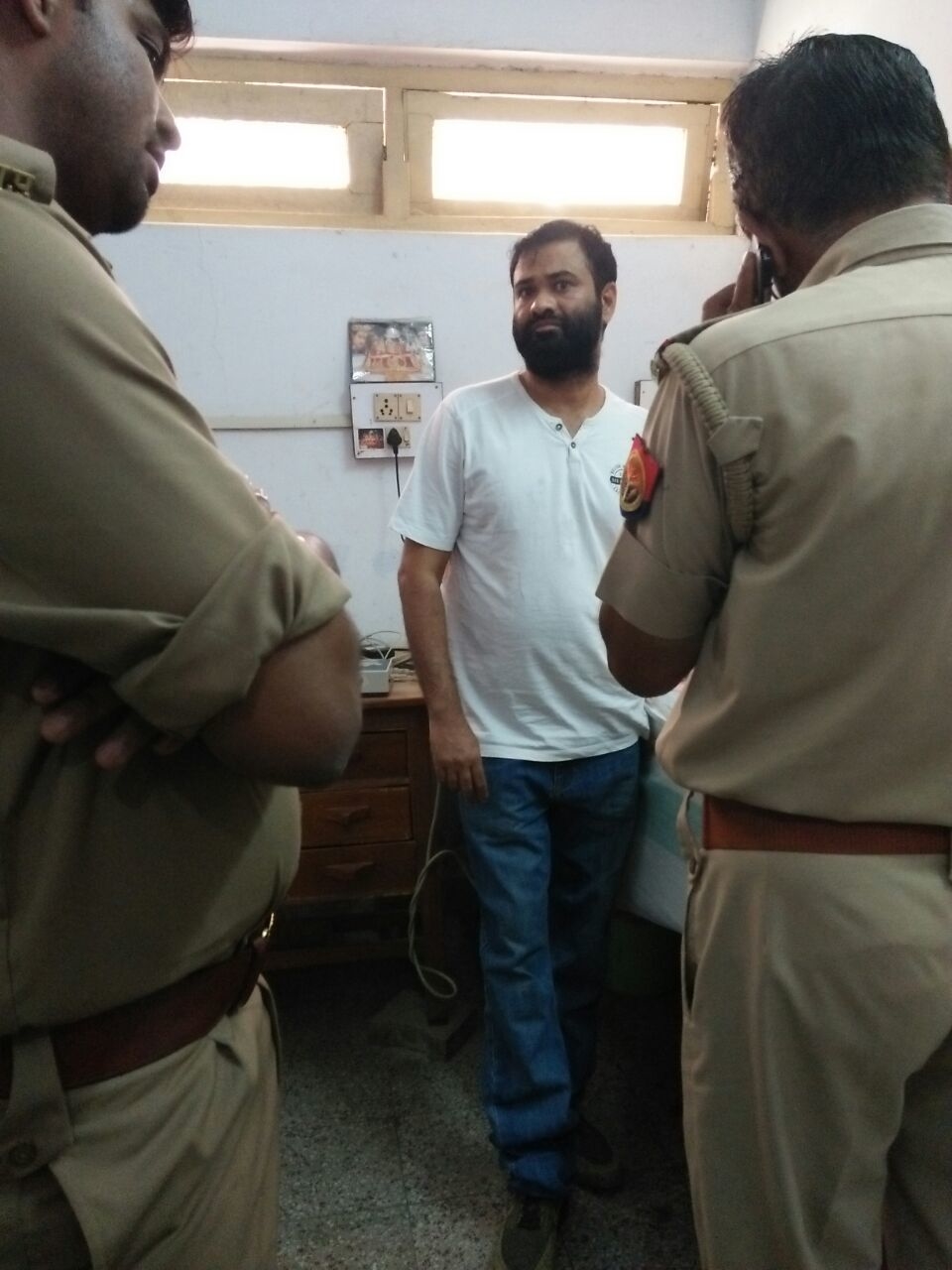 I cherished each moment, every scene is still alive like it's happening right now in front of my eyes, even after 8 months of unbearable torture, humiliation behind the bars. Sometime, I ask myself, "Am I really guilty?" And the answer pops out from the core of my heart – a big NO.
The moment I got that WhatsApp message on that fateful 10 August 2017 night, I did everything a doctor, a father, a responsible citizen of India would/should do.
I tried to save each and every life which was in danger due to sudden stoppage of liquid oxygen. I did my level best to save those innocent kids who were dying because of lack of oxygen. I frantically called everyone, I begged, I talked, I ran, I drove, I ordered, I yelled, I screamed, I consoled, I counseled, I spent, I borrowed, I cried. I did all what is humanely possible.
I called my Head of the Department, my colleagues, principal BRD, acting principal BRD, DM (district magistrate) Gorakhpur, AD (additional director) Health Gorakhpur, CMS/SIC Gorakhpur, CMS/SIC BRD and informed them about the grave situation arising due to sudden stoppage of liquid oxygen and how kids' lives are in danger due to lack of oxygen supply. (I have all the call records)
I begged gas suppliers – Modi Gas, Balaji, Imperial Gas, Mayur Gas Agency, all the hospitals around around BRD Medical College – after arranging their contact numbers for jumbo cylinders to save hundreds of lives of innocent kids.
I paid them in (against) cash and assured them (that I) will pay (the) rest on delivery. (We arranged 250 cylinders/day until liquid oxygen tank arrived. One jumbo cylinder cost Rs 216/-)
I ran from one cubical to another, from Ward 100 to Ward 12 to emergency ward, from point of oxygen supply to the point of delivery to make sure uninterrupted oxygen delivery.
I drove to get cylinders from nearby hospitals in my car. When I realised that was not sufficient, I drove to SSB (Seema Suraksha Bal) and met its DIG (deputy inspector general) and explained (to) him the unprecedented situation. Their response was very quick and supporting. They arranged a big truck and (a) group of soldiers to carry empty cylinders from BRD to gas agency, filled it, brought to BRD and ran again to refill.
They worked for continuous 48 hours. Their sprit boost ours. I salute (the) SSB and (am) very thankful for their help.
JAI HIND
I spoke to my junior/senior doctors, I ordered my staff, "Don't get panic(ed), don't be disheartened, don't get angry with agitated parents, don't take break. We had to work as a team to treat efficiently to save every life."
I consoled grieving parents who had lost their kids, I counseled those agitated parents who were getting angry after losing their kids. There was so much chaos. I explained them – liquid O2 (oxygen) is finished but we are trying to make it with jumbo cylinders.
I yelled/screamed to everyone to focus on saving lives. I cried, actually everyone in the team cried, to see the havoc created by the administrative failure to pay the dues to the oxygen suppliers – resulting in such a grave situation.
We did not stop trying until liquid oxygen tank arrived around 1:30 am on 13-08-2017.
But my life turned upside down when CM Yogiji Maharaj arrived next morning on 13-08-17. He asked – so you are Dr Kafeel? You arranged cylinders?
I was like – yes sir.
He got angry – so you think by arranging cylinders, you became hero, I will see it.
Yogiji was angry because – how this incident came into the media. I swear to my Allah, I did not inform any media person that night. They were already there that night itself.
Then police started coming to our home – hounding, threatening, torturing my family. People warned they would kill me in an encounter. My family, my mother, my wife, my kids were so scared that I do not have words.
I surrendered to save my family from the humiliation, misery – thinking when I have not done anything wrong, I should get justice.
But numbers of days, weeks and months passed – August, 2017 to April, 2018. Holi came, Dussehra came, Christmas gone, New Year came, Diwali came – every date – Tareekh Par Tareekh (date after dates) hoping will get bail. Then we realised that judiciary is also working under pressure. (Even they acknowledged the same)
Sleeping on floor with more than 150 prisoners in a cramped barrack with millions of mosquito at night and thousands of flies in the day. Trying to swallow food to live, bath half naked in the field and sit in a toilet with broken door. Waiting for Sunday, Tuesday, Thursday to meet my family.
Life is hell, miserable not only for me but for my whole family. They had to run from one pillar to another – from police station to court, from Gorakhpur to Allahabad – in hope of justice. But all in vain.
My daughter whose first bithday I could not celebrate is now 1 year 7 months old. As a pediatrician, it is very painful, disheartening not to see his child to grow. As a pediatrician, I used to taught parents importance of milestones and myself do not know when my daughter started walking, speaking and running.
So now again that question haunts me – am I really guilty? No, no – NO.
I was on leave on 10th August 2017. (It was sanctioned by my HoD). Still, I rushed to do my duties – is that wrong?
They made me head of the department, vice chancellor of BRD, prabhari (in-charge) of 100-bed acute encephalitis syndrome (AEH) ward. I am a junior most doctor and joined only on 08-08-2016 as a permanent employee. I was working as nodal officer with NRHM and lecturer pediatrics. My whole work is to teach students, treat kids. I was nowhere involved with purchase/tender/order/maintenance/supply/payment of liquid oxygen/jumbo cylinders.
If Pushpa Sales (the official supplier) stopped liquid oxygen supply, how am I responsible for that? Even non medico could tell doctors' work is to treat, not to buy oxygen.
The guilty are DM Gorakhpur, DGME (director general of medical education), principal secretary health education for not taking any action against 14 reminders sent by Pushpa Sales for its Rs 68 lakh dues.
It was a total administrative failure at higher level, they did not realise the gravity and just to save themselves, they made us scapegoat and put us behind the bars so that truth will remain inside Gorakhpur jail.
When Manish Bhandari (director of Pushpa Sales) got bail, we same same light that may be now we would also get justice and come out to live with my family and to serve again.
But No – we are still waiting.
Supreme Court says – bail is the right, prison is exception. This is a classical example of miscarriage of justice.
I hope time would come and I would be free with my family and my daughter. Truth will prevail. Justice would be served.
A helpless, broken heart father, husband, brother, son and friend
Dr Kafeel Khan
18-04-201