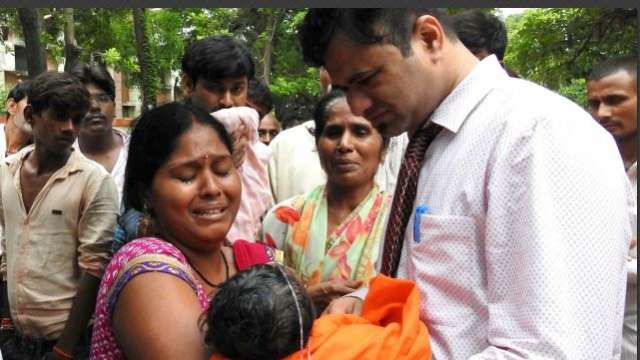 Eyewitnesses say that had it not been for Dr Kafeel Khan's presence of mind, more children would have died in the hospital (AFP)
He has been hailed as a hero by eye-witnesses.
In the midst of the Gorakhpur tragedy, a paediatrician at Baba Raghav Das (BRD) Medical College has been hailed a hero saving as many children as possible.
Dr Kafeel Khan, the head of the encephalitis ward and a paediatrician, managed to save many lives and the parents in the hospital had said that had it not been for Khan's work, the number of deaths in the past 48 hours would be more than 36.
On the night of August 10, the central oxygen pipeline in the college premises started beeping, indicating low supply of the gas. The doctors and hospital staff knew that the supply could be maintained through emergency cylinders, but only for two hours. They did not know what to do after that.
Khan knew that uninterrupted oxygen to critically ill children, was the only life-saving medicine, to save lives of those suffering from encephalitis.
A few called up the supplier, only to be told that they will send fresh supplies only after clearance of their dues. Refusal from other suppliers caused more panic in the hospital. But Khan did not lose hope. He drove two hospitals employees in his car to his friend's private nursing home and borrowed three oxygen cylinders.
Before leaving the hospital, he had given standing instructions to junior doctors on duty and paramedical staff to keep pumping Ambu bags if the oxygen supply further reduced in the central pipeline.
Khan loaded the three cylinders in his car and rushed back to BRD Hospital. However, the oxygen content in the cylinders was enough only to provide half an hour of supply in the central pipeline.
By now, it was 6 am and several critical children were developing convulsions for want of oxygen. Khan left the hospital again and made a round to other nursing homes known to him.
He collected as many as 12 oxygen cylinders. The child specialist made four trips to the hospital to ferry these cylinders for children admitted in his ward.
When he returned to the hospital, he was informed that a local supplier was ready to supply oxygen cylinders on cash payment. Dr Khan gave his ATM debit card to one of his employees and withdrew Rs 10,000 to bring in more oxygen for patients. He also paid for diesel and other expenses to truck drivers who brought fresh supplies from Faizabad.
"While others doctors gave up hope, Dr Khan managed the situation well by arranging oxygen cylinders from private nursing homes. He saved many lives by his efforts and presence of mind," said Gaurav Tripathi, an eyewitness.
http://www.dnaindia.com/india/report-gorakhpur-tragedy-meet-dr-kafeel-khan-the-hero-who-saved-the-lives-of-countless-children-2528035