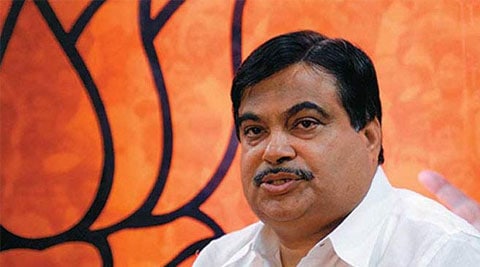 Union Rural Development Minister Nitin Gadkari had said a report would be submitted to the PM in 10 days, based on inputs received from the states. (Source: Reuters )
SUMMARY
19 PROPOSALS z Scrap 'consent clause' for PPP projects, limit SIA study, ministry tells PM
From scrapping the "consent clause" for Public Private Partnership (PPP) projects to narrowing the definition of "affected families" eligible for rehabilitation and resettlement, the Rural Development Ministry has proposed a number of amendments which, if cleared, could lead to large scale dilution of the new Land Acquisition Act, making the process of acquiring land easier.
The proposals, sent to Prime Minister Narendra Modi, follow a meeting of state revenue ministers last month to discuss the Act. Union Rural Development Minister Nitin Gadkari had said a report would be submitted to the PM in 10 days, based on inputs received from the states. The report, which has been accessed by The Indian Express, lists 19 proposed amendments, represented as a "summary of suggestions" on the Act made during the meeting.
These include:
"Re-examining" the consent clause, which currently states that prior consent must be obtained from 70 per cent of the affected families if land is being acquired for PPP projects and from 80 per cent in case of private projects. "The consent clause should be removed from PPP projects.
Alternatively, consent requirement may be brought down to 50 per cent," says the report.
At the meeting last month, many states, both BJP-ruled and Congress-ruled, are reported to have demanded that this clause should be reviewed.
* The ministry has also proposed that the mandatory Social Impact Assessment (SIA) study should be confined to only large projects or PPP projects "as it may delay the acquisition process". Under the current Act, SIA is mandatory and has to be completed within six months. If cleared, this proposal would reduce the timelines for all land acquisitions.
* The report proposes a "re-examination" of the "elaborate" definition of "affected families" eligible for rehabilitation and resettlement benefits under the Act. The proposal seeks to exclude "livelihood losers", who have been working in the affected area for three years and whose primary source of livelihood is affected, from the purview of the Act.
* Modification of the controversial "retrospective clause", that stipulates that land acquisition proceedings would lapse if compensation is not paid or physical possession is not taken, has also been proposed.
This clause currently applies to any land acquisition where no awards have been made or where awards were made five years or more before the commencement of the new Act but no compensation has been paid or possession has not been taken. The ministry has said that besides causing "increased burden on the state exchequer", this clause also leaves the door open for litigations.
* The other proposals include excluding the litigation period while calculating the prescribed time limits for completing various proceedings under the Act, and ensuring the powers to determine "any other emergency" under the urgency clause are also exercised by the state government.
When it was enacted by the UPA government last year, the Right to Fair Compensation and Transparency in Land Acquisition, Rehabilitation and Resettlement Bill was touted as a landmark legislation.
Read more here – http://indianexpress.com/article/india/india-others/govt-seeks-to-make-it-easier-to-acquire-land/99/