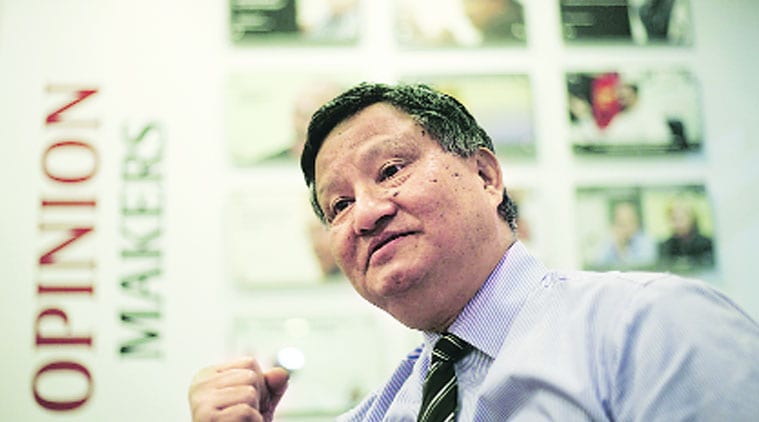 In the general elections held six months ago, only 55.38 crore out of the 83.41 crore registered voters cast their votes — which means some 28 crore stayed away from polling stations.
Written by 
Maneesh Chhibber
 | New Delhi | Posted: November 11, 2014 4:24 am | Updated: November 11, 2014 8:14 am
Election Commissioner H S Brahma told The Indian Express on Monday that in his view, the Gujarat government's move to make voting compulsory in elections to local bodies "may not be correct".
Several legal experts questioned the constitutionality and workability of the law that was blocked by former Gujarat governor Kamla Beniwal for several years before it was cleared by Governor O P Kohli recently, and was notified in the state gazette on November 5.
Rules under the amended law are, however, yet to be framed, and the penalty for not voting is still to be notified.
"While the Election Commission doesn't have a concrete view since these amendments pertain only to local body elections in the state of Gujarat, my own view is that such a provision may not be correct," Brahma said.
"Let me ask you, what if we have a similar law at the Centre, and out of 83 crore-plus voters, 10 per cent choose not to vote? Will you put eight crore voters in jail or impose fines on them? Do we have jails to accommodate eight crore voters?" Brahma asked.
In the general elections held six months ago, only 55.38 crore out of the 83.41 crore registered voters cast their votes — which means some 28 crore stayed away from polling stations.
Former solicitor general of India Mohan Parasaran said the Gujarat law was "too much", and may be stopped by the courts. "Democracy is all about choices. While in an ideal situation, every citizen should vote, to force people to vote is too much. I feel the Gujarat law may not stand the test of judicial scrutiny," Parasaran said.
A senior Election Commission official told The Indian Express that the EC's view on making voting compulsory, as sought in a PIL pending in the Supreme Court, was being firmed up. The court had in August sought responses of the Centre and the EC on a PIL seeking mandatory voting so that results were not skewed by low voter turnouts.
"But, we feel forcible voting is against the Constitution," the official said. "Right to vote is a statutory provision, and compelling (voters) may not work. The basic feature of our electoral system is free and fair elections. Compulsory voting is not free. You can't herd people into polling booths and make them vote," the official said.
He disclosed that even in earlier discussions with the Law Commission on this matter, the EC had opposed any move to make voting compulsory.
Jagdeep S Chhokar, founder-trustee of the non-partisan Association for Democratic Reforms, said governments should perhaps make voting compulsory for lawmakers before imposing it on the people.
"Our parliamentarians are allowed the choice of abstaining during voting inside the House. Why doesn't the government first make it compulsory for MPs to vote and then force the common citizens to follow suit? I fail to understand how this law, as claimed by Prime Minister Narendra Modi when his government in Gujarat got the law passed, will strengthen democracy. Isn't dissent one of the main features of democracy?" Chhokar said.
Senior Supreme Court lawyer Sunil Gupta criticised the Gujarat law in stronger language.
"There can scarcely be a more dastardly onslaught on the Fundamental Right to silence and the Fundamental Right to be left alone than this piece of legislation. Both these rights are acknowledged in all liberal democracies as concomitant rights of the Right to Freedom of Speech and Expression and Right to Life and Liberty guaranteed by the Constitution.
"In the judgment on NOTA (None of the Above), the Supreme Court had held that in a democracy every citizen has the right to express his opinion even by expressing no opinion whatsoever. The legislation will not only be dogmatic and dictatorial, but will completely fail the test of constitutional scrutiny," Gupta said.
– See more at: http://indianexpress.com/article/india/india-others/gujarat-compulsory-vote-law-ec-brahma-asks-will-you-jail-all-those-who-dont/99/#sthash.fB6YHT2e.dpuf