Lakshmipura-Bhandu is a small village of Visnagar taluka in Mehsana, home district of CM Anandiben Patel.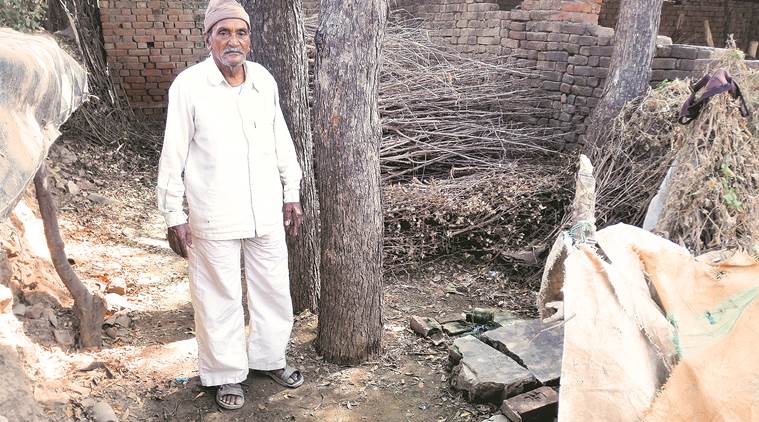 Bhikhabhai Senma. Express
Written by Parimal A Dabhi | Mehsana |
For over two years, a Dalit family at Lakshmipura-Bhandu village in Mehsana district has been struggling to build a toilet for itself but can't do so, owing to the alleged opposition to it by some local upper-caste people. With no toilet, the family is forced to defecate in the open, sometimes as far as half-a- kilometre away from where they live.
Lakshmipura-Bhandu is a small village of Visnagar taluka in Mehsana, home district of CM Anandiben Patel.
With total population of around 500 people, the village is dominated by financially and politically influential Chaudhary community. The village has only one Dalit family — of Bhikhabhai Senma, 65, a landless farmer.
Senma's house is at the entrance of the village and his family has 13 members. "We want to construct a toilet outside our house. However, some locals have not been allowing us to do it by raising an issue of encroachment on village gauchar (pasture land)," Senma said.
According to Senma, the alleged encroachment of gauchar land is only a pretext under which some locals, led by a school teacher named Vijay Chaudhary whose house is behind Senma's, are trying to prevent him. Senma said, "The reason behind the opposition is that there is an open piece of government wasteland next to our home. Vijay wants to open the road from the backyard of his home passing through the government wasteland.
Though there is already pucca road that leads to the entrance of his house. "The issue of alleged encroachment on village gauchar land was raised after I objected to Chaudhary's plan," he added. According to Senma, the Chaudharys always try to intimidate his family by using their "influence". He said, "They even pick a fight if we try to begin the construction work for toilet. So, now we have dropped the idea since we cannot fight with them.
We have approached a number of authorities, including the State Human Rights Commission, but nothing has happened." Vijay Chaudhary, however, denied Senma's allegation. He said, "One of us moved a PIL before Gujarat HC in 2015 for vacating encroachment on around 42 bigha village gauchar land and the court has prohibited any fresh work on the land while also ordering a survey of the village land. We will abide by the court's order and are not opposed to them constructing a toilet. If the court allows them, we will honour it."
Chaudhary denied having clashed with the Senmas. Senma, on the other hand, said, "They claim that our entire house is an encroachment on village gauchar land. We have been living here and have been paying Gram Panchayat's tax since 1966. Our houses were built with help from government's Dr Ambedkar Awas Yojana." When The Indian Express visited the village on January 31, one local Chaudhary community member who requested anonymity conceded that the group, led by Vijay Chaudhary, was creating hurdles for Senmas in getting the toilet constructed. "They are being harassed, but since Vijay is from our community, we cannot come out in the open against him." Lakshmipura, a hamlet, falls under Bhandu Gram Panchayat. Ami Patel is the village sarpanch. Her husband, Jayantibhai Patel, is also a member of the gram panchayat. Jayantibhai said, "They (Senmas) are facing problem in constructing toilet.
The Chaudharys have moved a PIL before HC for alleged encroachment of village gauchar land by Senmas and many other families of the village." "Lakshmipura is away from our village and we can't intervene every time some issue occurs there," he added. Mehsana DDO, S K Langa, said he was aware of the issue. "It has been going on for the past 3-4 years. We have been trying to get it resolved. We have offered the family to build toilet on gamtal land and give keys of the same to them, but there's an ego clash.
The recently elected president of Mehsana District Panchayat is from Bhandu constituency itself. I've requested him to resolve the issue as early as possible." – See more at: http://indianexpress.com/article/cities/ahmedabad/dalit-family-cant-build-toilet-due-to-upper-caste-opposition-in-mehsana/#sthash.wN17v9kz.dpuf
uf