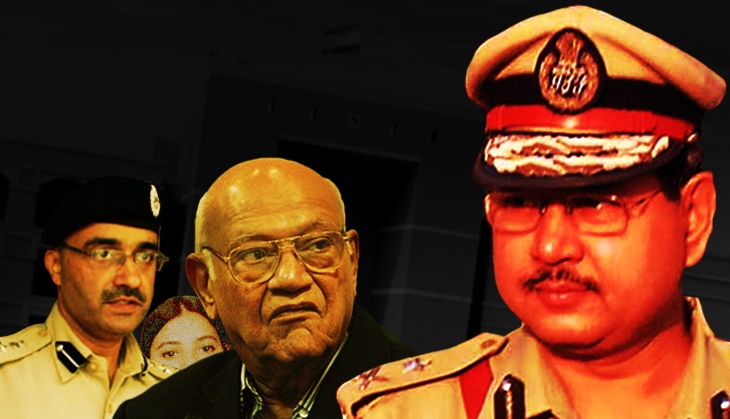 Arya Sharma/Catch News 
In a role reversal, two former Gujarat policemen have shouldered a public cause that civil rights groups gave up on without a fight.
Rahul Sharma, the former IPS officer hounded by the Gujarat state for exposing the then Narendra Modi regime's complicity in the anti-Muslim carnage of 2002, has petitioned the Gujarat High Court against the appointment of the murder accused PP Pandey as the interim Director General of Police.
Sharma has filed the PIL on behalf of Julio Ribeiro, the former supercop who served in Gujarat in the 1980s.
Pandey was appointed DGP on 15 April. He has the dubious distinction of being the first murder accused police chief in India. Pandey is charged with involvement in the staged encounter killing of Ishrat Jehan in Ahmedabad in June 2004. He is currently out on bail.
"When DG Vanzara, another Ishrat killing accused, returned to Gujarat, Pandey was in the welcome party "
Just days before his elevation, Pandey attended the "welcome ceremony" for DG Vanzara, the retired DIG accused in Ishrat Jahan and Sohrabuddin Sheikh fake encounter killings who was recently allowed by a special CBI court to enter Gujarat after many years.
One would have expected civil rights groups to decry Pandey's appointment, but they kept quiet, save for a few murmurs. Gautam Thaker, secretary of the Gujarat chapter of People's Union of Civil Liberties, merely complained that the law and order machinery should not have been entrusted to such a person. He, however, indicated that the PUCL may consider joining Ribeiro's PIL.
The PIL, which will be heard by a division bench led by Chief Justice R Subhash Reddy next week, questions the government's wisdom to pick a murder accused police officer as the DGP.
Sharma, who now practises as an advocate in the high court, said his main objection to Pandey's appointment is that he will have authority over all the policemen who are witnesses against him.
"Rahul Sharma has been hounded for exposing the Modi regime's complicity in the 2002 Gujarat riots"
While Ribeiro, 87, has clarified that his petition is "based on principle", not "anything personal against the incumbent DGP", Sharma has a bone to pick with Gujarat's establishment, and legitimately so.
The state has gone after him with a vengeance, apparently for taking a "secular stand" during the 2002 riots. Then the SP of Bhavnagar, Sharma ordered firing on a mob that had attacked a madrasa housing more than 200 children. He was taken to task for this by the deputy home minister Gordhan Zadhaphia who told him, "Your ratio of firing deaths is not proper". That is, Sharma's actions had led to the killing of more Hindus than Muslims unlike elsewhere in Gujarat.
Sharma found himself at the receiving end of the BJP regime's ire especially after he submitted a batch of Call Data Records to the Nanavati Commission, which was probing the carnage. The records revealed that Modi's ministers and VHP leaders had been in constant touch with police officers as well as rioters. Sharma was charged with violating norms by the Modi government, only to be cleared by the Central Administrative Tribunal. He quit the police soon after to take up legal practice.http://www.catchnews.com/india-news/gujarat-activists-silent-ex-cops-challenge-pp-pandey-s-elevation-as-dgp-1461854658.html