Chetan Chauhan, Hindustan Times  New Delhi, May 01, 2014
First Published: 00:49 IST(1/5/2014) | Last Updated: 12:58 IST(1/5/2014)
Gujarat's
 developmental model has dominated this election season, thanks to BJP's PM candidate
Narendra Modi
 making it a poll issue and the Congress hitting back with vengeance.
Modi showcased his state's model to project his performance. The Congress called it a 'toffee' model that India does not need. TMC said the West Bengal model was better while Telugu Desam Party said the Gujarat model was inspired by the one it had designed for Andhra Pradesh.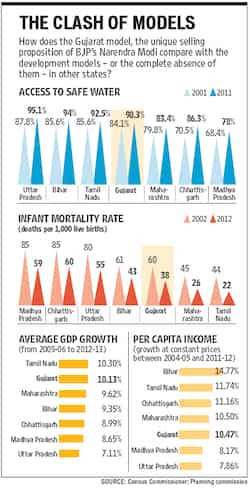 The parties, however, have failed to project more equitable models of development that could be adopted by the next government.
Pranob Sen, chairman of National Statistical Commission, said there is no clarity on the Gujarat model. "There is no development model that can be a template for entire country. It has to be a mix and match as different models deliver different results. One should remember that the Centre frames broad policies and the state implements them. There cannot be one central model of development," he said.
The best way, others said, is for the states to learn from each other's successes and failures. If one looks at state-wise socio-economic indicators, some non-Congress ruled states achieved much more than Gujarat in providing basic minimum facilities to people and in equitable distribution of wealth.
Tamil Nadu and Madhya Pradesh, for instance, provided drinking water facilities to more people than Gujarat between 2001 and 2011. They also did better in reducing infant and maternal mortality rates. Tamil Nadu recorded higher state gross domestic growth between 2005-06 and 2012-13. "Tamil Nadu has done as well as or better than Gujarat," Sen said.
The primary school dropout rates in the traditionally backward and BJP ruled states – Madhya Pradesh and Chhattisgarh – were lower than in Gujarat. A Central government official attributed it to expansion of primary school network in these states and effective monitoring as they had more out-of-school children than Gujarat.
BJP patriarch LK Advani had patted Madhya Pradesh chief minister Shivraj Singh Chouhan and his Chhattisgarh counterpart Raman Singh for their performance, adding they were heading backward states unlike a developed one by Modi. BJP won state assembly elections in Madhya Pradesh and Chhattisgarh in December 2013 for the third consecutive time, like in Gujarat.
Chhattisgarh and Nitish Kumar-led Bihar beat Modi's home state when it came to rise in per capital income. The reason was the low base of per capita income in these two states. Chhattisgarh's annual per capita income rose by 11.16% and Bihar's by 14.77% compared to 10.47% for Gujarat.
Traditionally, the northern states have been laggards in socio-economic development compared to southern states like Tamil Nadu and Andhra Pradesh. A planning commission study of 2012 said that the northern states were catching up on human development indicators by adopting southern success models.
Read more here — http://www.hindustantimes.com/elections2014/state-of-the-states/development-indicators-prick-gujarat-model-hype/article1-1214205.aspx