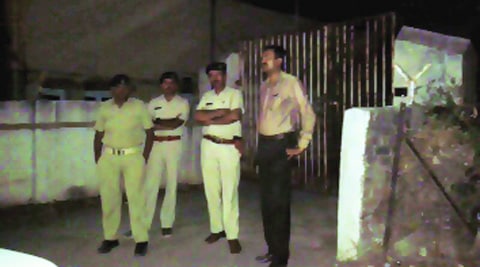 Police outside the bungalow in Bhavnagar on Tuesday. express
In a section of Krishna Nagar, a posh area of Bhavnagar city, a signboard declares the address as "Hindu Sanatorium". It is a predominantly Hindu area — till recently, only three of the 150-odd bungalows belonged to Muslims. A fourth bungalow was purchased by a Bohra Muslim, Ali Asghar Zaveri, in January this year, but he has not been able to move in due to protests by Hindu residents.
For the last two months, the Hindu residents have been holding "Ram Darbars" outside Zaveri's bungalow every evening, gathering there and playing recordings of "Hanuman Chalisa" and bhajans.
VHP leader Pravin Togadia visited the area during the darbar on Saturday. Addressing the gathering, he reportedly warned Zaveri to vacate the premises within 48 hours and asked residents to forcibly occupy the bungalow. An FIR has been filed against him.
When The Indian Express visited the area on Tuesday, two policemen were standing guard outside the bungalow. Zaveri, who deals in scrap from the Alang ship breaking yard, was not around. When contacted on the phone, Zaveri said, "I am out for some personal work and shall call you back when I get free." At his house in the Muslim-dominated Haluriya Chowk area, his mother said he was not home. His office in Bhadevani Street also remained closed throughout the day.
The bungalow next to Zaveri's belongs to the family of Razak Lakhani. While Lakhani is dead, his family continues to live there. Both the Muslim families that owned the other two adjoining bungalows shifted out after the 2002 riots. The remaining residents are mostly Patels, Sonis and Brahmins. The Swadhyay Parivar, followers of the late Pandurang Shastri, also owns a bungalow in the area.
Zaveri bought the bungalow from Kishoresinh Gohil, a hotelier and real estate developer. According to records availble with the deputy registrar's office, the sale of property was registerd on January 10 this year.
"Three years back, I bought the property for my sons for Rs 45 lakh. They did not like it so I put it on sale. I offered to sell it to residents of the area at a lower rate, but nobody came forward. Some months back, I issued a public notice in local dailies announcing sale of the property to Ali. Nobody raised any objection, so we finalised the deal," said Gohil, who is also a local Congress leader and chairman of the Bhavnagar district land development bank.
to help us personalise your reading experience.
"Gohil showed the bungalow to many people but got no buyers as it is believed to be unlucky," said a resident. Neighbours said they came to know that the property, spread over 657 square metres, had been sold to Zaveri when he turned up at the bungalow about two months back.
"We asked him not to buy the bungalow for the sake of peace in the area, but he said he had already bought it and would live in it. There are many religious places in the surrounding area and we thought their food habits may offend us. So we decided to protest and hold 'Ram Darbars' outside the gate of his bungalow," said a garment trader who lives in the area.
"As a matter of principle, I am not opposed to Muslims living in our area. A family has been living among us for the past four decades. But we fear their food habits can offend us, and it may lead to other Muslims buying properties here. That is why I am protesting," said another Hindu resident on condition of anonymity.
"The residents told us they are opposed to a minority community member buying residential property in their locality. This is the reason why they have been holding 'Ram Darbars' outside the bungalow," said Police Inspector Chandubha Dodiya.
Read mor ehere — http://indianexpress.com/article/india/politics/bhavnagar-model-muslim-buys-house-cant-move-in/99/