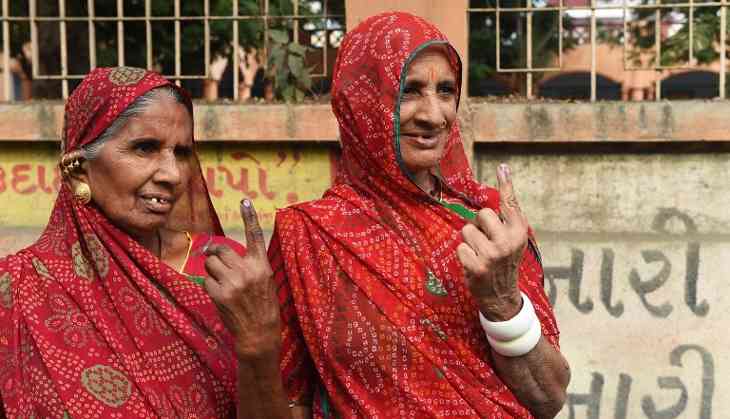 In the Gujarat Assembly elections, over 5.5 lakh people chose to press the button on None of the Above (NOTA), instead of voting for any of the 1828 candidates who were in the fray. This section has been ridiculed by people from across the ideological spectrum.
While a right-wing news website went to the extent of blaming NOTA voters for the BJP's loss, BJP baiter and former IPS officer Sanjiv Bhatt called them "nincompoops" for "wasting their vote".
Former Chief Election Commissioner SY Quraishi, however, said that NOTA has its advantages. For instance, it helps voters avoid reprisal from losing candidates.
NOTA has 2 benefits: 1. It keeps your not voting for any one secret and saves you from potential reprisal from losing candidate. 2. It's better than not going to booth at all, so that no one can proxy for you in your absence. https://t.co/JcSh7iU9sl

— Dr. S.Y. Quraishi (@DrSYQuraishi) December 18, 2017
There is an important social dimension behind why voters chose to take this option. NOTA votes were much higher in Gujarat's Adivasi pockets.
As 5.5 lakh voters pressed the button on NOTA in Gujarat's 182 constituencies, it comes to an average of a little over 3000 NOTA votes per seat.
The total NOTA votes in Gujarat's 27 ST constituencies are 1.12 lakh, an average of 4175 votes per seat, much higher than the state-wide average and 47.5% more than the average for general and SC seats which is 2830 NOTA votes per seat.
However, there are 10 constituencies where NOTA were more than 5000. All these constituencies are either reserved for Scheduled Tribes or are general seats with a significant Adivasi presence.
Danta ST: (Banaskantha district)
NOTA: 6461
Jetpur ST: (District: Chhota Udaipur)
NOTA: 6155
Halol: (District: Panchmahal)
NOTA 6052
ST population: 30%
Chhota Udaipur ST: (District: Chhota Udaipur)
NOTA: 5871
Jhagadia ST (District: Bharuch)
NOTA: 5364
Devgadbaria: (District: Dahod)
NOTA: 5352
ST population: 23%
Jhalod ST (District: Dahod)
NOTA 5265
Sankheda ST: (District: Chhota Udaipur)
NOTA: 5252
Shehra (District: Panchmahal)
NOTA: 5101
ST population: 15%
Khedbrahma ST: (District: Sabarkantha)
NOTA: 5074
Catch had earlier reported that even in the 2014 Lok Sabha elections, Adivasi-dominated Assembly segments reported a much higher proportion of NOTA votes. In the Lok Sabha election, 9 Assembly segments reported over 5000 NOTA votes. All of these are either ST reserved seats or have a significant Adivasi population.
In both the present Assembly election and the 2014 Lok Sabha seats, most of these high NOTA seats were concentrated in the Adivasi pockets in Central and North Gujarat.
Professor Ghanshyam Shah feels that the high NOTA votes in these areas reflects the alienation of Adivasis from the two major political parties and the failure of these parties to take care of their interests.
"The Adivasis feel that the BJP and Congress don't represent their interests…. This alienation, as reflected in NOTA votes, is particularly acute in the Chhota Udaipur area (in Central Gujarat)," he told Catch.
It is possible that some Adivasis in this region, who would otherwise have boycotted the election, are going and casting a NOTA vote to avoid being targetted by cadres loyal to parties or local candidates – a scenario which Quraishi has suggested in his defence of NOTA.
UNDERSTANDING ADIVASI ALIENATION IN NORTH AND CENTRAL GUJARAT
Bhils are the most dominant Adivasi community in Gujarat and are present in three pockets: North Gujarat, Chhota Udaipur and South Gujarat. It is said that the South Gujarat Bhils are closely linked to the Bhils of Khandesh in Maharashtra. On the other hand, the Bhils of North Gujarat and Chhota Udaipur used to come under the domain of Rajput principalities before Independence and many of them were even recruited in their armies, such as the Bhil Corps in the erstwhile Udaipur state.
Therefore, the political mobilisation of tribals in Gujarat was far more effective in South Gujarat. Amarsinh Chaudhary, a tribal leader from South Gujarat, even became Chief Minsiter from 1985 to 1989.
Even in this election, the Congress-aligned Bharatiya Tribal Party, only managed to make an impact in its South Gujarat pocket boroughs of Jhagadia and Dediapada but couldn't make inroads in North and Central Gujarat, despite putting up candidates there.
On the other hand in North and Central Gujarat, Adivasi interests remained subordinated to those of Kshatriya communities. These are also areas which are comparatively backward in terms of healthcare, water supply, roads and other infrastructure. It is for this reason that the alienation among the tribals of Chhota Udaipur and North Gujarat is higher than in South Gujarat.
Voters are not to blame if they are pressing the NOTA button. The blame lies with political parties and independent candidates who fail to represent the interests of voters and yet occasionally force voters to go and vote.
http://www.catchnews.com/politics-news/gujarat-results-nota-almost-50-higher-in-st-seats-it-reflects-adivasi-alienation-92941.html