In Hajipur's two anganwadis, which take in children between six months and six years, untouchability is one of the first life lessons they learn 
At Anganwadi No. 159 (left), meant for Dalit children. (Express Photo by: Javed Raja)A digit separates anganwadis 159 and 160 in Hajipur village of Gujarat's Patan district but the divisions are far greater. Now that's complicated math for a three-year-old. So one morning, a few weeks ago, Manavi Chamar walked towards anganwadi No. 160, lost in conversation with her four-year-old neighbour and friend Suhani Patel. But she was stopped at the gates and asked to go to No. 159.
"Anganwadi No. 159 is for us Dalits. That day, people in the other anganwadi told my daughter to go to her own. She came home and asked me why she couldn't go with her friend to No. 160 and I didn't know what to say," says her mother Pinki Chamar.
Nearly 130 kilometres from Ahmedabad, Hajipur is a village of about 2,000 people. Like in most other villages of Patan, the Patels or Patidars constitute nearly 70 per cent of Hajipur's population. The 40 Dalit houses in the village are spread over two mohallas.
In Hajipur's two anganwadis, which take in children between six months and six years, untouchability is one of the first life lessons they learn.
Anganwadi No. 159 was set up in 1997. Three years later, the Patidars and the Brahmins demanded a separate anganwadi for themselves and moved into the premises of the adjoining primary school. The new anganwadi, No. 160, now shares its space and entrance with the school, the boundary wall of the school separating the two anganwadis.
Around 9 am, Varshaben Rawal, a housewife, reaches No. 160, carrying her two-and-a-half year old son Arya. "Children of Brahmins and Patels come to this anganwadi while the other one is for Dalits. Parents like me would never want their children to sit, play and eat with our children," she says.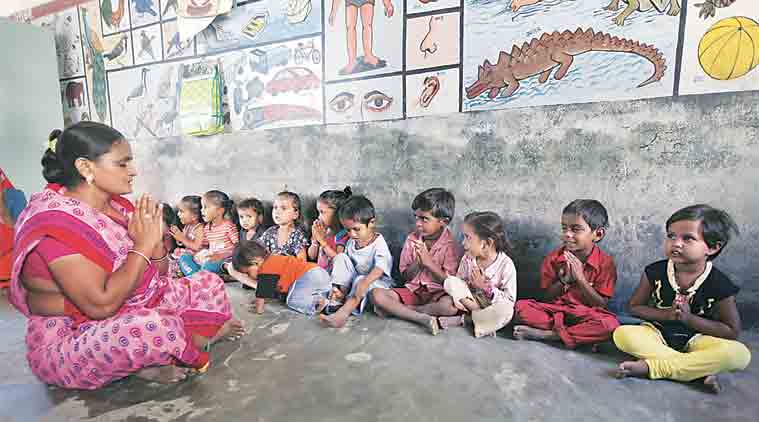 Anganwadi No. 160, meant for others.(Express Photo by: Javed Raja)"My husband is a school teacher and I am a graduate, so I am very particular about these things. After finishing my household chores, I come here and sit with my son to make sure he gets the best of learning and food," says Varshaben, as she follows her son inside the playroom of the anganwadi.
The discrimination in the anganwadis has been brought to the notice of the State Commission for the Protection of Child Rights (SCPCR). On July 11, 2014, SCPCR member Madhuben Senama and her team visited Hajipur and submitted a report to the chairperson of the Commission.
Bharatiben Gadhvi, who took over as chairperson of the SCPCR a week ago, said, "It is true that my predecessor took no action on the report. But I have written to the District Education Officer of Patan and sought a report in 10 days. I will be able to talk only after I get that report."
When contacted, Patan District Development Officer Ratankanwar Gadhvi Charan, whose office supervises the functioning of all anganwadis in the district, said, "I have just joined last week. I am not aware of this issue. I will look into the matter."
Nayantaraben Patel, the anganwadi supervisor for Patan district who is from the Women and Child Development Department, dismissed the presence of two centres in Hajipur as an "old practice". "They have been around since 2000. You'll see separate anganwadis in other places too. Also, since we have to have a centre for every 1,000 population, Hajipur has to have two centres."
Sociologist Ghanshyam Shah, a former national fellow of the Indian Council of Social Science Research, said that while Gujarat has always seen caste divisions, such blatant discrimination in primary schools is a more recent phenomenon. "The lower castes are now ghettoised in government schools as the upper castes prefer private schools. Thus the entire premise of the anganwadi structure and the mid-day meal scheme strengthening the social fabric by bringing together students from all communities has failed in the state," he said.
Inside the playroom of No. 160, Rekhaben empties a bag of plastic toys and puzzles and the children crowd around her. Rekhaben, who in charge of nearly 62 children, is a Dalit. "The parents tell me that I am a good worker and treat their children like my own, but I know my limits," she says.
Around 11.30 am, she stands outside the threshold of the kitchen, where the Gujarati delicacy sukhdi is being prepared, while the parents supervise the cooking.
"We don't object to Rekhaben being around as she does not cook and follows all the practices diligently," says Varshaben.
On the other side of the wall, at No. 159, the centre for Dalits, Ashaben Chamar has come to drop her daughter. "I don't stay back. Bharatiben (anganwadi worker Bharatiben Chamar) takes good care of the children," she says.
Does she want her child to go to the other centre? "No, how can she go there? This is where we are supposed to send our children."
As she leaves, she waves out to her daughter, who is now sitting on the floor with the other children, facing Bharatiben and chanting in chorus: "Gurur brahma, gurur vishnu…" Seconds later, across the wall, at No. 160, children break into the same shloka.
See more at: http://indianexpress.com/article/india/india-news-india/caste-in-the-cradle-separate-anganwadis-for-dalit-children/#sthash.Oesrrnjg.dpuf