Umar Shaikh, a vegetable vendor who played Gabbar Singh, could not, however, be arrested. He fled, along with one of the horses.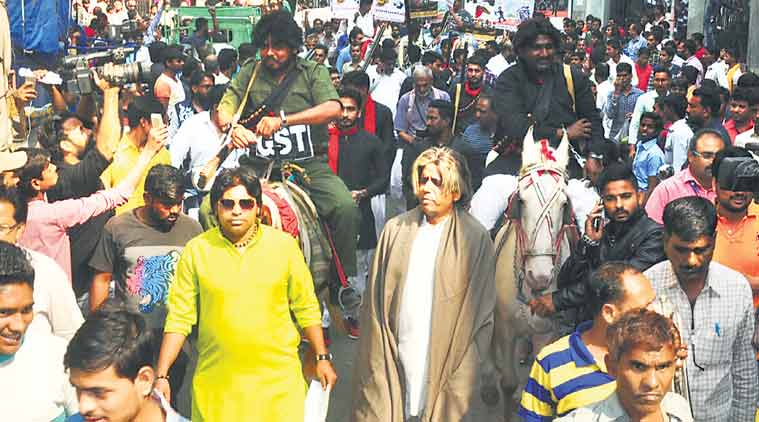 The Congress procession in Surat Tuesday; Gabbar Singh is on horseback, GST pasted on his shirt. (Express Photo)
In an election where Rahul Gandhi has described GST as "Gabbar Singh Tax", Congress workers in Surat took out a procession Tuesday with participants dressed as Gabbar Singh and other characters from Sholay — Kalia, Samba, Thakur — with some of them on horseback, with fake guns and cartridges.
Municipal councillor Aslam Cyclewala of the Congress and four Youth Congress members were arrested. They were booked for rioting because the fake guns and ammunition could "lead to fear among public", the police said; the procession did not have permission from the police either.
Umar Shaikh, a vegetable vendor who played Gabbar Singh, could not, however, be arrested. He fled, along with one of the horses. He had reportedly arranged for the outfits including wigs, the horses, an open jeep and the fake arms.
The Indian Express managed to contact Umar Shaikh on his cellphone.
"I am fond of acting but I don't earn from my hobby. I do solo acts at functions and make a living by selling vegetables from a handcart," Umar Shaikh said. "Councillor Aslam is my friend. He contacted me to play Gabbar Singh, and I immediately accepted. When the police arrived and were arguing with Aslam, I escaped with the horses."
Sambha and Kalia were played by Youth Congress members Krunal Mori and Ashwin Patel. Cyclewala and Youth Congress workers Alim Pathan and Digivijay Chauhan were dressed as other dacoits, flanked by Congress workers holding banners against GST. Some "dacoits" wore handcuffs, as if under arrest.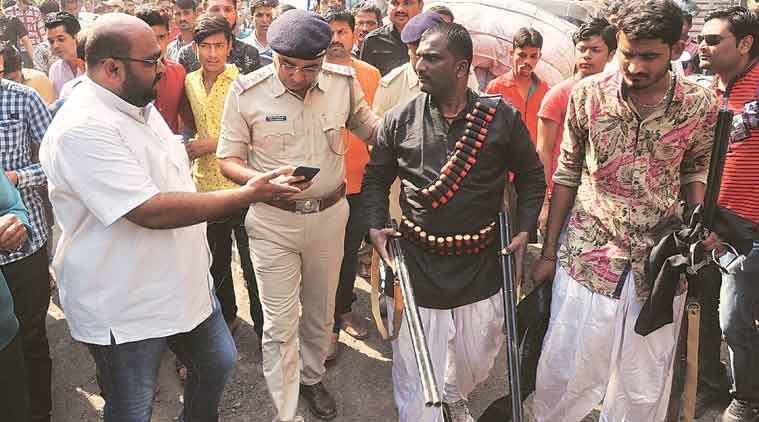 Two of the participants being taken into custody. (Express Photo)The procession passed through Ring Road, part of Surat's textile hub, two days after Union Finance Minister Arun Jaitley had interacted with a gathering of textile businessmen to discuss issues relating to GST. Near Rohit Market at the end of the 1-km route, a team arrived from Salabatpura police station and demanded to see proof of permission. Since they did not have it, the five were arrested, then booked under IPC section 143.
"Textile traders were against GST and even Jaitley, who had come to Surat, did not talk of relief for them," councillor Aslam told The Indian Express while police were leading him and the others away. "Traders have suffered losses and the Centre is doing nothing for them. It was our attempt to create awareness among textile traders, and remind them not to forget GST," Aslam said.
"I thought, why not play famous characters of Sholay. If we had asked for police permission, we were sure that they would not have given it, so we did the programme without permission and have been arrested," the councillor said.
"We have arrested five persons including Aslam Cyclewala who were dressed up as characters from Sholay," said Salabatpura police inspector V J Chaudhary. "They had taken out the rally without police permission. The reason we have lodged a rioting complaint is that they were creating fear among the public, with artificial guns. All of them looked dangerous. We have seized the jeep from the spot, while some of the participants escaped on horses. Many more people were involved in this event. We are getting the names of the others and have sent out teams to catch them."
http://indianexpress.com/elections/gujarat-assembly-elections-2017/for-causing-sholay-scare-in-surat-dacoits-arrested-gabbar-rides-away-4959582/