Shwetang Patel was picked up during a raid, police took his mother to his body the next day.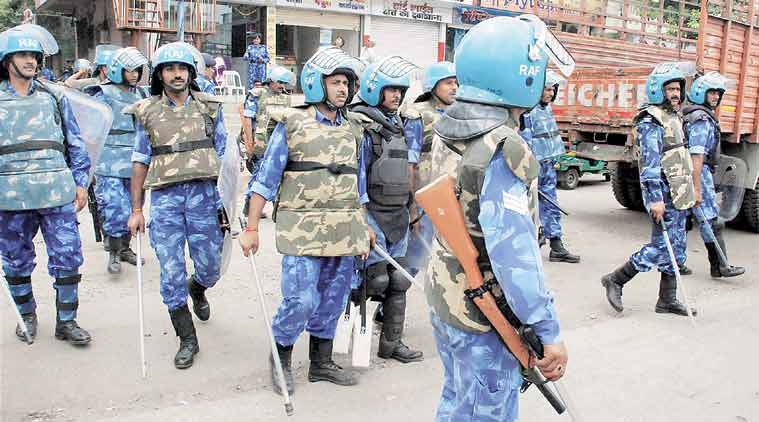 RAF personnel patrol Surat Thursday. Several cities remained tense the day after violence in several Gujarat cities. (Source: PTI)India Colony Road, Bapunagar, swarmed with people Thursday, despite a curfew, while shops remained shut. At the crossing, the charred remains of motorcycles and a bus testified to the violence that had gripped the locality since Tuesday night.
The Patel-dominated locality remained on edge the day after Shwetang Patel, 32, died in police custody. When news of a bus being set ablaze came in, the crowds vanished. Residents of Matru Krupa Society shut their giant entrance fearing fresh violence and asked visitors to leave.
The society was in mourning after Shwetang died of bruises allegedly inflicted by police. His parents have refused to take custody of the body without action on police. Gujarat High Court has directed a panel of five doctors to conduct a fresh postmortem and not to dispose of the body until further orders.
In signs of the violence, at least two dozen cars with shattered windshields and damages were parked in the locality. Some homes also showed signs of having been broken into. Residents allege police had broken into their homes.
Police said Shwetang died on the way to Shardaben Hospital after he fell unconscious in lockup Wednesday morning. His death was one of nine in the state following Tuesday night's detention of Hardik Patel, leader of Patidar Anamat Andolant Samiti.
According to society members, a fleet of police vehicles entered around 11 pm Tuesday in search of alleged arsonists at a police chowki. Dhirubhai Dudhat of the society, which has 225 rows of houses, said the policemen vandalised properties, with one such act captured on CCTV.
Former minister of state for home Gordhan Zadaphia (BJP), who lives in Bapunagar, alleged many incidents of police atrocities. "This is nothing but police terror," Zadaphia told The Indian Express.
Joint Commissioner of Police (Sector-2) Manoj Shashidhar said an inquiry will be conducted after normalcy is restored. "We are treating the incident as a custodial death but it is not that he was murdered by the police. Action will be taken if my men are found guilty," he said.
Shwetang had participated in the Patidar rally Tuesday and reached home by 6 pm. His mother Prabhaben saw her only son in the house around 7 pm. "He left saying he would be near the entrance of the society with friends. He never returned," she said.
"On Wednesday around 2 pm, two policemen in plainclothes came and told me if I want to see my son I would have to go with them to the police station. I went and they made me sign a document," she said.
She said she was then taken to the hospital. "At the mortuary, I saw the face of my son. I broke down, asked them what had happened to him. They didn't reply and tried to force me take the body. I refused," she said, struggling trying to stay composed.
Shwetang's father Naresh Patel, 60, a former textile mill worker, lay on the bed, paralysed chest down for two years. Shwetang was the main breadwinner of the family. Prabhaben, a graduate, takes tuition classes.
Death and damage
9 killed; 6 of them in police firing
1 policeman dead, 44 injured
136 FIRs; 38 in Ahmedabad
107 buses burnt
8 police vehicles burnt, 40 damaged
14 police stations/chowkis set on fire, 12 more attacked
11 govt establishments damaged
(As per police records)
See more at: http://indianexpress.com/article/india/india-others/gujarat-unrest-a-youth-dead-in-custody-a-community-on-edge/#sthash.QRqjvDS6.dpuf