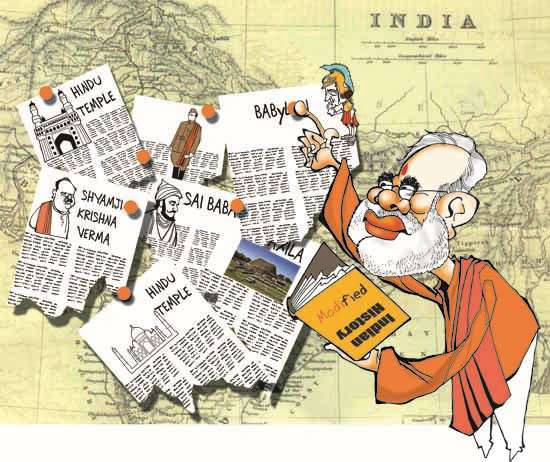 ILLUSTRATION BY SORIT
WHAT IF…
For Seerji By The Sabarmati
Gujjus of the world, unite! And follow Modiji in a fantastic tour across
India
.
Charles Darwin may have convinced the world that human beings evolved from apes. But we in India know better. Our Great Leader Narendra Modi, whom we cover non-stop on TV, has revealed the truth. The full truth and nothing but the truth. All human beings evolve from….Gujaratis! Great leaders like Shyama Prasad Mookerjee may have spent their lives thinking they were Bengalis, but Modiji has discovered the well kept secret that they were actually Gujaratis (just as he discovered this about some people who are lovable puppies but have the inconvenient habit of coming under his car). Those puppies too are Gujaratis because ALL ARE Gujaratis! And like Shyama Prasad, is it not inevitable that the Mukherjee Dada in Rashtrapati Bhawan would be one too? So when the auspicious day comes he will happily swear in Modiji because, under the thick Bengali accent, he is no rosogulla loving Bong but a secret consumer of dhokla and Khakra.
And now that our PM-to-be has turned out to be such an outstanding student of history, it is time to share with him the story of the other Italian connection. We know that Modiji is against "Rome Raj" and wants to keep the nation safe from people who have dubious connections with Italy and Pakistan (in that order). We also know that he has a great vision for Bharat and if he said that Taxila is in Bihar, it is because he is inspired by the Akhand Bharat ideology of the great Guru Golwakar, and in any case, under him, India will soon declare war and over-run Pakistan and Taxila will become part of Bharat Mata. Jai Bajrangbali!
But back to the Italian connection. As a first history lesson, Modiji must learn that those half pants he wore for years, those smart khaki shorts, were inspired by the uniform of the fascists of Italy. A close associate of its founder Dr Hedgewar, B.S. Moonje travelled to Italy, met Mussolini and was so impressed with the military drills that he recommended them to RSS to follow. But then Modiji knows that Mussolini and gang were good Italians, which cannot be said for other Italians…
Now that we have dealt with the fundamentals of creation, origin of man and Italy, we offer some suggestions for what Modiji can say in his great speeches as he travels across India.
Kashmir: Modiji is a brave man so he must go to Kashmir and tell all those terrorists off. Just as he airlifted all the Gujaratis out of Uttarakhand after the quake, he can promise to lift all the Pundits back into the valley. He will literally set the place on fire.
Delhi: Modiji has long cribbed about the rule of the Delhi Sultanate. Now he can depose them and say that the time has come for the true descendant of man (euphemism for Gujarati) to rule from the Lal Qila. But he must take care not to mistake Lal Qila for the popular brand of basmati rice.
Punjab: All Modiji has to do is start wearing turbans. He may not accept headgear from Muslims but he can accept them from Sardars. He can then pretend to be a Sardar and crack Punjabi jokes but he must take care to see that they are not Sardar jokes.
Agra: The credit for the Taj must not go to Shah Jahan. It was built by a Hindu King named Agrasen after whom Agra is named. The VHP has been saying this for years and Modiji went to the same school. He must say this loudly without confusing Agra for Anand.
Kolkata: Modiji must share with the people that Netaji Subhash Chandra Bose was very fond of Shyama Prasad Mookerkee who was born in Gujarat. It was Netaji who encouraged him to start the Hindu Mahasabha to challenge the Nehru dominated Congress. Bengalis in any case believe that Netaji was done in by mysterious forces and Modiji must inform them that their Gujarati brother Shyama Prasad too died mysteriously. The people in this city love conspiracy theories and this should click.
Orissa: All that Modiji has to do here is remind the people that he is a great friend of the corporates like POSCO, Vedanta and all the mining companies and that he will transform their standard of living to that in Gujarat. In return the people here just have to hand him their lands (and give him their vote). Should work.
Andhra Pradesh: The last time Modiji went there, he bungled a bit when he said Jai Telengana and Jai Seemandhra in the same speech. No matter. The next time round he can tell jokes about Tenalirama, a court jester. If he feels the need to be more strident, he can always say that the Charminar was built by a Hindu king. If he wants to woo Muslims he can also say that Sardar Patel (whom he now owns) was not in favour of sending the army to annex Hyderabad. Modiji will in this way reveal that he is a real secularist.
Kerala: We have written a speech for this state: "My dear brothers and sisters, we in Gujarat and Kerala have a great tradition of fishing and trading. Christopher Columbus who had planned to come to Gujarat lost his way and landed in Kerala at Kappad and met the Shahzada Red Indians here. If Sardar Patel was alive he would have sent him packing. Another person called Vasco da Gama also came and met the Shazada Red Indiana." It is likely that after this BJP spokesperson Meenakshi Lekhi will be asked to explain who are the Shahzada red Indians. Being a smart lady she will say "arrey, red Indians, brown Indians all are Indians only".
Karnataka: Since Vijayadashami is a big day for the entire Sangh parivar, Modi must promise to requisition the Mysore palace for all future celebrations and airlift the entire Sangh leadership from Nagpur for this. And just as there is a grand temple at Somnath in Gujarat, he can promise to make lavish refurbishments of the Keshav temple in Somanathapura.
Tamil Nadu: So what if Periyar threw slippers at all the Hindu gods and godesses. Modiji has a friend in Madame Jayalalitha and he can initiate a grand temple scheme that will have idols of both Periyar and Amma. That way he will present his friend as the true inheritor of the Dravida movement.
Maharashtra: Best if Modiji talks only about business in this state. If he mentions Shivaji and mixes him up with the Shirdi Sai Baba (as he is prone to) his friends in the Shiv Sena will turn on him and even Raj Thackeray will have to keep him at an arm's length. We advice the utmost caution in this state.
Here are some myths he can use in Madhya Pradesh and Rajasthan:
there is no village in India where the Pandavas have not spent their vanvaas.
every water-fall flows from the locks of Lord Shiva.
---
With Minu Ittype and Panini Anand. A version of this appears in print