Deepa had gone to Mumbai to attend a programme with Sachin Tendulkar and Hrithik Roshan on Tuesday.
She achieved the feat by winning silver in the women's shot put F53 event at the Paralympics in the Brazilian city of Rio de Janeiro last month.
Paralympics medallist Deepa Malik gets apology from Vistara Airlines after complaint of 'poor handling of wheelchair passenger'
Paralympics medallist Deepa Malik had complained over delay in the flight and poor handling of the wheelchair by the crew.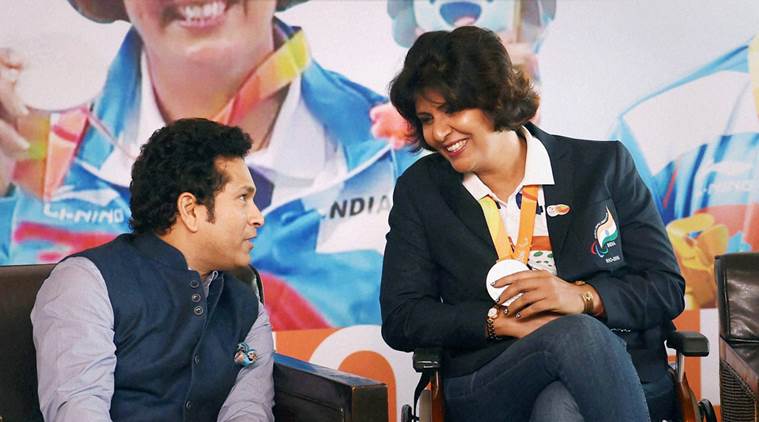 Deepa Malik has received an apology from the airline since then. (Source: PTI)Deepa Malik, who scripted history last month by becoming India's first-ever woman to win a medal at the Paralympic Games, had alleged "poor handling" of wheelchair-bound passengers by Vistara Airlines and also slammed it over its "rude and ill mannered crew". In response, the airline has personally apologised to the Paralympian and assured of better coverage in the future.
A miffed Deepa, who was travelling from Mumbai to Delhi via Vistara flight UK 902, took to Twitter to express her displeasure.
"Very poor handling of wheelchair passenger in De boarding and fragile items. Rude n ill mannered crew. Sad experience. @airvistara (sic)," said Deepa in a series of tweets.
She claimed that she had endured the bad experience while informing her mother on the phone that the flight scheduled to depart at 3:35 p.m. from the Mumbai Airport was delayed.
The 46-year-old, who was confined to a wheelchair in 1999 owing to a spinal tumour, also criticised the airlines for the "lack of training" given to crew members as far as handling wheel-chair bound passengers is concerned.
"Very sad to note lack of training of crew Flight UK902," she said while lodging a formal complaint against Vistara Airlines, which is a joint venture of Tata group and Singapore Airlines.
However, the airlines swiftly responded to the complaint and immediately tendered an apology for her disappointing experience.
The apology letter read, "Ms Deepa Malik, the Paralympic silver medallist is a national hero and like every countrymen, we are immensely proud of her achievements…. We regret that we failed to deliver the standard of service that Vistara pride itself on in this instance. As a team we would like to sincerely apologise to Deepa for her disappointing experience… We are investigating the incident and will take corrective actions to ensure something like this never occurs again…."
Sanjiv Kapoor, chief strategy & commercial officer, Vistara also took to Twitter to issue an apology and promised an investigation into the matter.
Later, she admitted: "Yes, @airvistara was quick to respond and take prompt measures for future… They visited and resolved and also adding efforts to rectify."
http://indianexpress.com/article/sports/sport-others/paralympics-medallist-deepa-malik-slams-vistara-airlines-poor-handling-wheelchair-passenger-3068195/