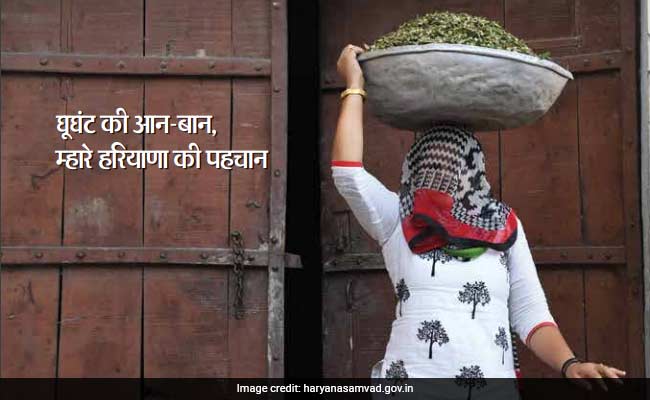 A photograph in a government-run magazine shows a rural woman in a veil. An accompanying message says women behind veil, were Haryana's identity, its pride.
A photo in Samvad magazine says women behind veil, were Haryana's identity, its pride.
NEW DELHI:
HIGHLIGHTS
The controversial ad appeared in Krishi Samvad, a government's magazine
My father battled the same kind of backward thinking: Geeta Phogat
The Congress said ad reflected BJP's "regressive, parochial mentality"
A Haryana government advertisement promoting ghoonghat, or veil, for its women has triggered a backlash against the Manohar Lal Khattar government for what the Congress called, was the BJP-led government's "regressive and parochial mentality". Medal-winning wrestler from the state, Geeta Phogat also spoke out at the mindset that doesn't let girls come out of the veil.
Back in 2015, Prime Minister Narendra Modi had travelled to Haryana's Panipat district to launch the Beti Padhao campaign to educate the girl child in a state that has among the country's worst sex ratio. But a recent issue of the state government's Krishi Samvad (Dialogue with Farmers) magazine targetted at educating its farmers about best practices is advocating quite the reverse.
A back page photograph in this magazine March edition, which had a smiling face of Mr Khattar on the cover page, shows a rural woman in a veil. An accompanying message says women behind veil, were Haryana's identity, its pride.
"The fact remains the regressive and parochial mentality" lies in the thought process of BJP their government in Haryana. Does the Manohar Lal Khattar government not realise that Haryana's women have not only brought laurels to the state but country," said the Congress Randeep Surjewala.
One of them was Geeta Phogat, the 28-year-old freestyle wrestler from the state whose story also inspired the Bollywood blockbuster, Dangal. "We have come from a place where girls should be kept behind a veil, would not be allowed to come out… go to school," she told NDTV.
"My father pulled us out from such a state… helped us reach where we are," the free-style wrestler who won India's first ever gold medal in wrestling at the Commonwealth Games in 2010 said.
It isn't women behind a veil, but women who are coming forward who are Haryana's pride, she added. Like Manushi Chhillar, the young Haryana girl who won the recent Miss India title this year.
For a state that is known for its male-dominated village councils, Haryana not surprisingly has had a poor track record in the way it treats its women. Many aren't allowed to be born. The 2011 census had found only 879 females for every 1,000 males in Haryana, and barely 879 girls for 1,000 boys.
"It is not mandatory that there should be a ghoonghat, and we do not propagate that," said Anil Vij, senior minister in the Khattar government.
"At the same time it is true that this (ghoonghat) is a practice in certain places and to that nobody can have an objection," the Health Minister said, adding that he would have to look into the context in which the advertisement was published.
The veil is often associated with holding women back. One reason why Samajwadi Party patriarch Mulayam Singh Yadav in neighbouring Uttar Pradesh asked women to come out of the veil earlier this year, saying they were equal to men.
http://www.ndtv.com/india-news/haryana-ad-says-women-in-veil-are-its-pride-geeta-phogat-has-a-response-1717806