Around 10.30 pm on Friday, Pradeep, was shot multiple times in a suspected case of patriarchal -killing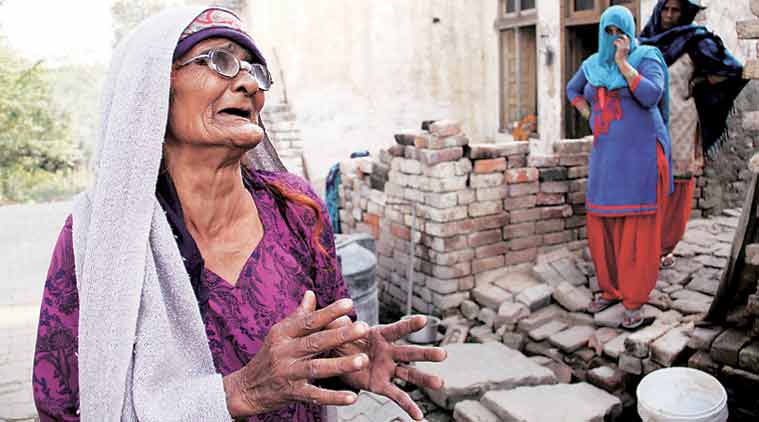 Pradeep's grandmother is the only eyewitness to the three killings in Sonepat, Haryana. (Express Photo: Gajendra Yadav)Right at the end of a road in Ward No. 9 of Kharkhoda in Sonepat district, next to a drain, lies a 10X10 feet room. Two posters, stuck on two of its walls, are the only bright spots in the dimly lit room. 'Love makes all special things possible', say the posters.
Around them and all over the floor are blood spots.
Around 10.30 pm on Friday, the owner of this room, Pradeep, was shot multiple times in a suspected case of honour-killing. The alleged assailant, the brother of his upper-caste wife, also killed two of Pradeep's family members and left two injured. Pradeep's nine-month pregnant wife Sushila, who was shot, went into labour. She and the baby are now out of danger.
Eighty-year-old Dhan Khaur, Pradeep's frail grandmother, is the only eyewitness to the attack. Sitting on the doorstep of her one-room, tin-roof house, adjacent to Pradeep's, Dhan Khaur says, "Pradeep had come over for dinner and returned around 10 pm. We were all woken up by the sound of gunshots. Later, a man barged into our room and started firing at my son and his wife. My grandson Suraj tried to protect them, but they fired at him too. It was all over in less than 10 minutes."
Among those killed were Pradeep, his father Suresh (60) and his mother Sunita (45), while Suraj (21), who is physically disabled, was injured.
Pradeep's sister, who lodged the FIR, said two men knocked at Pradeep's door and opened fire the moment he opened. She says they shot him five times. "Sushila held him and asked the men to leave. She was shot in the waist. I spoke to her briefly, while she was being taken to hospital," says the sister. The family doesn't want her name revealed.
Sushila was taken to the PGIMS in Rohtak along with Pradeep. She gave birth to a boy.
Police have confirmed that the post-mortem report matches the shootings as described by the sister.
Less than 20 km from where Pradeep's body lies and where Sushila gave birth is Rohtak's Pandit Neki Ram Sharma Government College, where the two first met six years ago. They were both undergraduate geography students.
"Pradeep's father was a daily wage labourer. However, he made sure that his son and daughter completed their graduation. Both of them were very bright students in school. While Pradeep did his bachelor's in geograpy, his sister graduated in computer science," says Pradeep's uncle Jagdish, adding that the family didn't know about him falling in love with Sushila, who is a Jat.
The family says they only got to know four years back, when Sushila went missing "and her family came to the village threatening to kill us". "We looked for Pradeep and found he was missing too. Both had eloped," says Om Prakash, Pradeep's eldest uncle.
Pradeep's family members say that afraid of Sushila's family's reaction, the couple were on the run for one and a half years, changing their location frequently. "They registered their marriage in court, and lived in secret under police protection. For some time, they stayed in Chandigarh and later on the outskirts of the city. Pradeep feared that if he returned to the village, all of us would be attacked," says Om Prakash.
Two years ago, hoping things had cooled down, they moved back to Kharkhoda. The family says the birth of their daughter, Priya, gave them hope. "Pradeep started working in a private firm in Saidpur. Six months after Priya's birth, Sushila's brother Monu visited her. This was the first time someone from her family had come to see her since the wedding. On Raksha Bandhan, Monu started staying back, and he also joined the family this time for Diwali," says Om Prakash. "We thought some members of Sushila's family had started accepting her and things were getting back to normal."
Police believe it was Monu, 23, who lives with the rest of Sushila's family in Birdhana in Jhajjar district, who led the killings on Friday night. "Eyewitnesse accounts and our investigation show one man was driving the SUV (in which the men came) and another man shot dead the three. It is very clear one of them was Monu," says Kharkhoda SHO Inspector Rajpal.
Monu, according to police, is a repeat offender, facing trial in at least 17 cases of murder and dacoity. "He belongs to the Ashok gang (a local gang). He started visiting his sister's house in the last few years," a police official said.
Pointing out that there appeared to be no financial dispute, the official added, "Prima facie it is a case of honour killing."
Police also believe that the SUV used in the attack was stolen. The car had gone missing from the area a month back. "A similar car has been seen in the Dadri area. We will soon make arrests," a police official said.
Courtesy: The Indian Express-