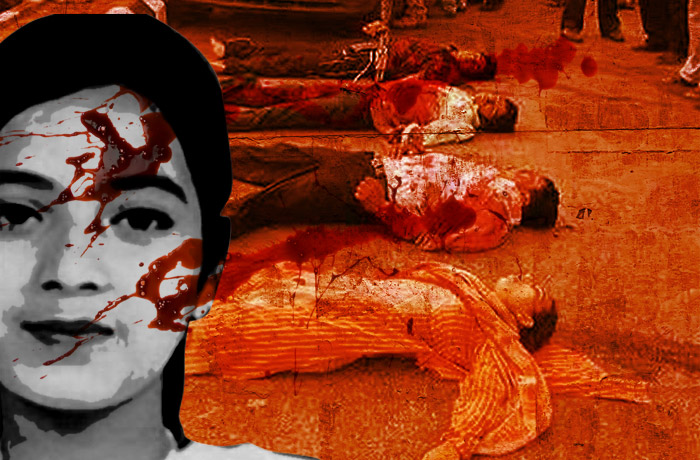 CATCH NEWS
The disclosure
David Headley has reportedly revealed that Ishrat Jahan was with the Lashkar-e-Tayyeba

But some say prosecutor Ujjwal Nikam "prompted" him to name Ishrat

Questions are being raised over the validity of his testimony and his pardon
More in the story
Did prosecutor Ujjwal Nikam prompt Headley?

Do the claims add up?
Q. (Public Prosecutor): Is there a women's wing in the Lashkar-e-Tayyeba (LeT)?
A. (David Headley): Yes.
Q. (Public Prosecutor): Who is the head?
A. (David Headley): The mother of Abu Aiman
Q. (Public Prosecutor): Are there female suicide bombers in LeT?
A. (David Headley): No, I don't know
Q. (Public Prosecutor): Can you name a suicide bomber?
A. (David Headley):I cannot name.
Q. (Public Prosecutor): Was there a botched up operation in India?
A. (David Headley): There was a botched up operation which I learnt while Zaki Ur Rehman Lakhvi was talking to Muzzammil Bhat. Later I asked Muzzammil and he told me there was a female member of the LeT who was killed in a police shootout at a naka (picket). Exact place I cannot recall.
Q. (Public Prosecutor): I gave you three options. Noor Begum, Ishrat Jehan and ((xxx))
A. (David Headley): Ishrat Jehan
On one side we have a self-proclaimed and proud fibber of a public prosecutor, one who has no compunctions in spinning yarns about Ajmal Kasab's demands for biryani, to hasten his execution. On the other side there is a double agent who built his career on deceit and subterfuge, slipping with ease between Lashkar-e-Tayyeba and CIA and ISI in between.
Together Ujjwal Nikam and David Coleman Headley will tell us the "truth" about Ishrat Jahan. The truth based on hearsay, elicited through a juvenile game of multiple choice questions, from an approver who has been granted pardon in exchange for a "full disclosure" about Pakistan's complicity in 26/11. This is the lowest grade of evidence, if one even chooses to call it that.
The disclosure, based on hearsay, was elicited through a juvenile game of multiple choice questions
Firstly, the pardon of David Headley is bad in law. Section 306 of the Code of Criminal Procedure clearly states that tender of pardon to an accomplice is to be accompanied by his detention in custody until the termination of trial, unless he is already on bail. And here, Headley has negotiated his pardon sitting in the custody of the Americans. Will we ever know the exact terms of the deal that was struck? We can however grasp its broad contours, if the above cited exchange is anything to go by.
Secondly, our courts have deemed the testimony of an approver – a "self confessed traitor" to be unreliable unless corroborated by other material evidence. (Lal Chand And Ors. vs State of Haryana on 25 October, 1983; AIR 1984 SC 226)
Also read – Innocent teen or terrorist? Who was #IshratJahan & why she had to die
Ishrat Jahan's encounter
The material evidence that we do have is this: the arms recovered from the car in which Ishrat and others were travelling were in pristine condition. There was not a drop of blood on them in the midst of blood and gore, pointing to the fact that they had been planted post facto; that the pistol planted in the car did not match the cartridges; that there were no bullet entry points on the left side of the car though there were exit points on the right side, implying that the occupants had been shot at through the windows.
This itself calls out the bluff of the original FIR registered by GL Singhal, that the first police party was 66 feet away in a depressed ground, and the second police party was 33 feet away, lying down when they engaged the 'Lashkar terrorists'. Surely, the bullet trajectories should have been upwards, rather than inclined downwards as the ballistic reports showed.
The material evidence is the Tamang Report, the enquiry conducted by the metropolitan magistrate, and submitted in 2009, which clearly says that Ishrat Jahan was killed in cold blood and that there was no proof to connect her with Lashkar or any evidence showing that she was an assassin on way to kill Narendra Modi.
Headley's pardon is bad in law. According to CrPC Section 306, he has to be detained till the trial ends
In November 2011, a Special Investigation Team (SIT) told the Gujarat High Court that the encounter was fake, leading the court to order the filing of an FIR. The CBI which then took over the case recorded the 161 and 164 CrPc statements of a number of police officers detailing the role of police officers at the apex of police establishment, an official of the Intelligence Bureau, as well as the communication between these officers and "kali daadhi" and "safed daadhi", whose approval they sought.
Though the CBI did not chargesheet Amit Shah or any other political leader in this case citing lack of evidence, questions about kali daadhi and safed daadhi remain. DG Vanzara's letter alluding to encounters being "conscious policy of the state" and the spurt of phone calls between the then Minister of State for Home, Amit Shah and Vanzara around the time of the encounter, as demonstrated in the call detail records, reinforce the oral evidence of police officers.
Loose ends
And thus, we begin to understand why Nikam is so keen to lead Headley towards Ishrat, literally prising her name out from his mouth. This is a trial for the carnage in Mumbai in November 2008. Ishrat had been killed four and a half years before "26/11" and has no bearing on the trial underway. Ishrat is not a co-accused in this case.
Recall the brouhaha over a portion of Headley's testimony to the NIA, which was said to have mysteriously disappeared from the final statement. When it appeared equally mysteriously, national security experts had a field day tweeting and flaunting Headley's long winded and convoluted reference to Ishrat's Lashkar affiliations.
Tamang Report says Ishrat was killed in cold blood and there was no proof to connect her with LeT
Except in the their haste and excitement they forgot to see that this portion contradicted the rest of his testimony. While in the NIA statement, Headley spoke of meeting his handler Muzzammil in 2002; in the so-called excised paragraph, he claims to have met Muzzammil in 2005 through Zaki ur Rehman Lakhvi.
There is a reason why Ishrat's ghost as a Lashkar operative needs to be conjured again and again. There is a sincere belief in the security and political establishment that once they are able to "prove" that Ishrat was a terrorist – in absence of any material evidence – her custodial killing can be justified, and perhaps even be turned into political capital. But the only straw they can manage to clutch is a double agent's hearsay.
http://www.catchnews.com/india-news/headley-on-ishrat-when-a-fibbing-prosecutor-interrogates-a-shady-double-agent-1455204458.html