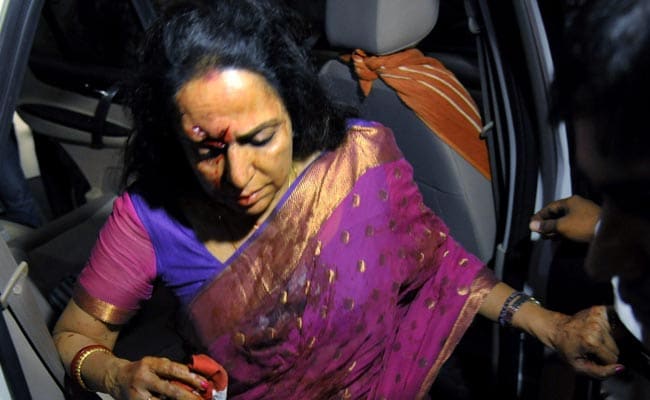 MUMBAI: 
 Actor-turned-politician Hema Malini has been criticised for leaving the site of an accident involving her Mercedes and a
Maruti Alto
last Thursday, in which a two-year-old was killed. In
tweets
today, she blamed the child's father for not following
traffic rules
.
hema on her tweets says
My heart goes out to the child who unnecessarily lost her life and the family members who have been injured in the accident. How I wish the girl's father had followed the traffic rules – thn this accident could have been averted & the lil one's life safe!
The two-year-old girl was killed instantly and her six-year-old brother is in the Intensive Care Unit or ICU at a Jaipur hospital with fractures in both arms and both legs. They were travelling in the Alto with their parents and another relative; all of them were injured.
Witnesses at the site of the accident in Dausa in Rajasthan said that Hema Malini, who was injured on the forehead, was driven away to Jaipur soon after the car crash in a private vehicle by a local BJP leader. Her assistant who was travelling with her, and the driver of her Mercedes also left with her.
Insensitive MP ignored to help the injured. A little girl Sonam died in the accident. She was just three years old. Apart from that four people were injured seriously but Bharatiya Janata Party MP Hema Malini did not perform her basic duty. She did not help the others who were injured in the same accident. On the other hand, insensitive Bollywood actress went to the hospital instantly.
The driver was arrested later in the night and has been booked for culpable homicide not amounting to murder. He has been granted bail.
REACTING TO HEMA TWEETS, FATHER OF THE GIRL WHO DIES SAYS TO ANI NEWS
My fault? There is no other way to go on that road.I even switched on indicators-Father of girl who died in Dausa accident on Hema Malini
She is a big name but must atleast think before speaking-Father of girl who died in Dausa accident on Hema Malini
Instead of blaming me had my little girl been taken to Hospital with Hema Malini she could have been saved-Father of the girl