Programme could have caused viewers to delay or forgo treatment, raising 'an appreciable risk of harm', says media watchdog Ofcom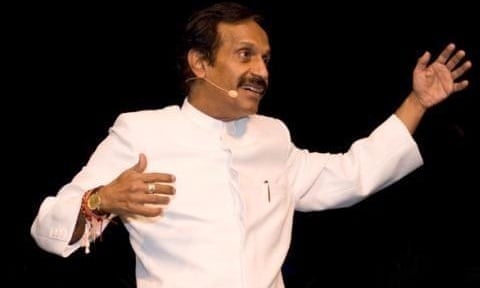 Jasper Jackson
A Hindi-language TV channel has been fined £25,000 for providing misleading medical advice for treating cancer and hernias on a yoga show.
Media warchdog Ofcom said claims made on Yoga for You – broadcast on the Zee Network's Lamhe channel – by presenter Dr Pankaj Naram could lead cancer sufferers to delay or forgo treatment.
In particular it said the claim that Dr Naram had "75,000 cancer patients" who had been told by hospitals that "they won't live for three months" were living normal lives 15 years later were especially dangerous.
Ofcom usually restricts fines to broadcasters that have breached its rules repeatedly, or when a breach is particularly serious. Asia TV, which held the licence for Lahme, did not have a history of breaches, but Ofcom said the potential for harm was serious enough to warrant a fine.
The ruling said: "Ofcom found that the claims made in the programme amounted to medical advice and as a result some viewers with serious medical conditions might not seek, forgo, or delay conventional medical treatment on the basis of what they had seen.
"Therefore, as a result, there was an appreciable risk of harm to viewers who actively followed the alternative treatments promoted in the programme."
The ruling also expressed concern about Dr Naram's recommendations of specific remedies, saying as there was no evidence they were effective it represented a "appreciable" risk of causing harm to viewers.
Asia TV apologised for the "human error" that had led to the broadcast, saying it was aware that the content was unacceptable.
The company said it had removed Dr Naram's show – which is made in India – from its programming and held reviews and training programmes for staff. At the end of March it stopped broadcasting the channel entirely.
Ofcom said the unusual step of fining the channel made clear the seriousness with which it takes the broadcast of medical advice from people who lack qualifications, particularly in regards to cancer.
The last fine handed out by Ofcom was for £100,000 to the Discovery Channel for repeatedly broadcasting unsuitable and violent material on TV before the watershed during the school holidays in a show about female serial killers.
http://www.theguardian.com/media/2015/jul/29/hindi-tv-channel-fined-cancer-cure-claims-yoga-show-ofcom?CMP=share_btn_link