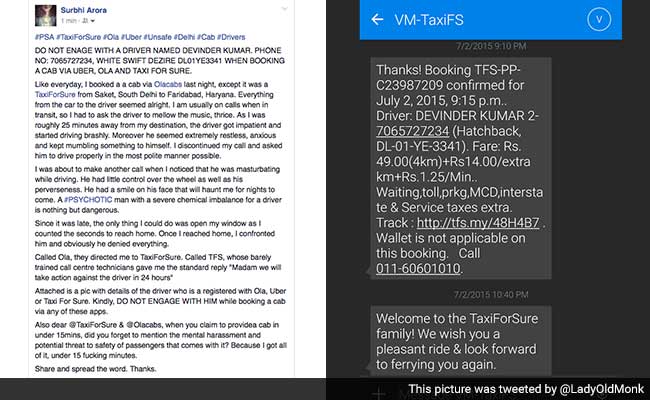 NEW DELHI: 
 A woman has accused a driver of app-based cab service TaxiForSure of indulging in obscene acts while driving her last week from Saket in South Delhi to Faridabad, a suburb.
The woman detailed her ordeal on social networking sites Facebook and Twitter on July 3. However, she is yet to file any complaint with the police.
In her post, the woman demanded that action be taken against the driver, Devinder Kumar, saying that should be sent to jail.
"We have not received any complaint in this regard and will act after we get a formal complaint from the victim," said a senior police officer.
On her Facebook page, the woman wrote that she had dialled Ola Cabs and a TaxiForSure cab came to pick her up. Ola, another tax-hailing app, had acquired TaxiForSure in March this year.
The woman alleged that while she was busy on a phone call during the ride, the driver played music on high volume following which she requested it to be "mellowed".
"When I was about 25 minutes away from my destination, the driver got impatient and kept motioning something to himself. I asked him to drive properly… I noticed he was masturbating while driving," the woman said in her Facebook post.
She said that she confronted the driver when she reached her destination.
"He (the driver) had a smile on his face that will haunt me for nights to come. A psychotic man with a severe clinical imbalance for a driver is nothing but dangerous," she said in the post.
She also said that when she called Ola Cabs to report the incident, she was directed to TaxiForSure whose call centre executive told her that "action will be taken against the driver in 24 hours."
In her tweet, she said that she met two representatives of TaxiForSure who informed her about the termination of service of the accused driver. "So I met 2 reps frm @TFSCares at my office today who ensured they've fired the driver in question (sic). My only question to them: Is it enough?" she said on the micro-blogging site.
"The incident was regrettable. We have terminated the driver. He has been blacklisted by our company," a spokesperson for TaxiForSure said.
The alleged incident came weeks after a 21-year-old woman passenger accused a driver of Uber, another app-based cab service, of "trying to kiss and molest" her.
http://www.ndtv.com/delhi-news/woman-in-delhi-accuses-taxiforsure-driver-of-offensive-act-779252