May 19, 2014 10:01 IST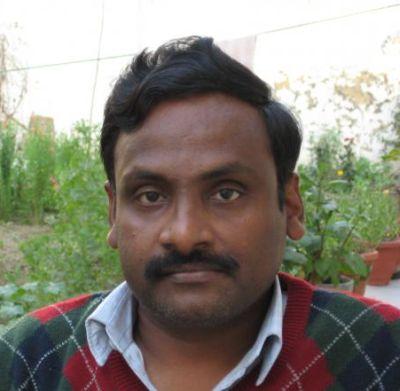 'He is in a wheelchair, his joints are swollen and he is in great pain.'
'This arrest has been timed very well — the students are undergoing exams and so they cannot stage protests.'
A Ganesh Nadar/Rediff.com speaks to colleagues and students of the polio-afflicted Delhi University Professor G N Saibaba, who was arrested on May 9 for alleged Naxalite links. The professor is now lodged in Nagpur jail and threatening to go on hunger strike to protest the 'mistreatment' by jail authorities.
The police claim that Professor G N Saibaba's name cropped up when they were interrogating Hem Mishra, a Jawaharlal Nehru University student, who was arrested last year for alleged Naxalite activities from Gadchiroli district in Maharashtra.
Professor Saibaba has had polio in both his legs since he was a five year old. He cannot raise his hands above the elbow level and is confined to a wheelchair. He has been a teacher for many years, and is well-liked by his students.
Some students say Professor Saibaba had predicted that he would be arrested, since the authorities do not like anyone having a different opinion of the State.
"He is in a wheelchair, his joints are swollen and he is in great pain. How can they call such a man a threat?" asks Karen Gabriel, a colleague.
Professor Saibaba's disabilities, the police claim, are not an impediment to anti-national activities.
"He is being targeted because of his opposition to 'Operation Green Hunt' (that the paramilitary forces launched in Bastar, Chhattisgarh," Gabriel alleges. "It is not a combing operation. It is an evacuation operation. They have emptied 600 villages in that district and forced the tribals out of their homes. They have taken over the land, the rivers and the forests."
"They want to get their hands on the minerals there. This area will now be free for mining and other industrial ventures. This is against the Forest Act, it is against the Constitution," he says.
"They have come up with this silly statement that they will leave six feet of earth on top and dig below. They will hollow out the earth," Gabriel adds.
Professor Nandita Narain, president, Delhi University Teachers Association, says, "His brother visited him in Nagpur jail. They have put him in an egg-shaped cell with no electricity. There is an Indian toilet which he cannot use because of his disability. He suffers from hypertension, but his brother was not allowed to give him medicines."
"The universities in the country are the last bastions of freedom of speech and those too are being assaulted now," Professor Narain adds. "The authorities are scared of the intellectual elite because we bring tribal problems to the nation's attention."
"Since they cannot bribe intellectuals," she says, "they are using the police to silence them."
"We have a forum against war on the people. Saibaba was an active member there. He also pointed out irregularities in university appointments when SC/STs (scheduled castes/scheduled tribes) did not get appointed in spite of reservations," says Gabriel.
"This arrest has been timed very well — the students are undergoing exams and so they cannot stage protests. The election process is on and so there is no one to take a decision," he says.
"We are in between governments. By the time the new government settles down he would have spent a lot of time in jail," rues Gabriel.
Both the teachers and the Communist students unions have condemned Professor Saibaba's arrest and have demanded his immediate and unconditional release.
The Delhi Students Union has not commented on his arrest so far.
Meanwhile, Saibaba's family fears since the university has suspended him, they will be asked to vacate their home.
Image: Professor G N Saibaba
A Ganesh Nadar/Rediff.com in New Delhi
Read mor ehere- http://www.rediff.com/news/report/delhi-university-professor-arrested-alleged-naxalite-links/20140519.htm?sc_cid=fbshare