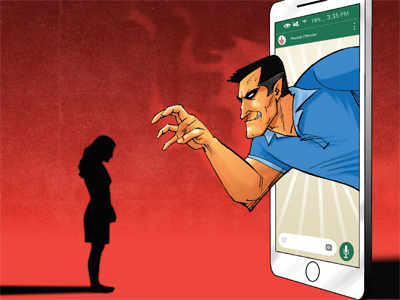 ILLUSTRATION: ASHISH ASTHANA
By Sarah Waris
He was a renowned senior journalist. I was flattered by his praise for my work. Then it got weird.
Last week, Sarah Waris, a twenty-four-yearold freelance cricket writer spoke about being stalked and sexually harassed by a senior cricket journalist. In her Facebook post that quickly went viral she refrained from naming the well-known male journalist. The immediate fallout of Sarah's post was that the journalist accused of harassment has since had his accreditation cancelled by the BCCI and other boards around the world.
Here, Waris writes why she chose to go public, and the dilemmas she faced as a young professional woman taking on an established senior colleague.
It began with a simple Facebook message last June when I shared an article I had written on the complete lack of any excitement about an India-Pakistan match at the Women's Cricket World Cup. Within an hour of my posting this piece, a well-known senior cricket journalist responded with words of encouragement, congratulating me on my work and asking me to carry on writing with similar passion. He then proceeded to ask for my WhatsApp number, which did not raise any hackles as that's also a platform where we, in the fraternity, often exchange ideas and opinions.
In fact, I was rather chuffed. While a few senior journalists had showered me with praise before, this man, so well regarded internationally too, was in a different league. He was lavish in his praise for my writing, saying I could get into any of the international media organisations with ease, and that he would personally fast-track my entry into any media website of my choice. The excessive flattery should have been a red flag but at that moment, I was simply delighted to be recognised for my writing.
There was silence for a few months after that initial flurry of praise, and then in February this year, he got in touch with me again promising me the moon if I moved from Kolkata to Bangalore where he lives. A full-time job with the International Cricket Council, or a job at any of the top cricket websites headquartered in Bangalore could be mine, he suggested.
I declined, letting him know that I freelanced out of choice and not compulsion. By now, I was also taken aback with his persistent efforts to get me to move to Bangalore.
The February conversation was the start of a series of conversations, offers and revelations from him. He started with volunteering to edit an article that I had written. From there he went on to talk about more intimate things, his past peccadilloes, describing himself as a "man slut." He talked about his encounters with women in great detail even as I kept thinking: "That's too much information."
I was weirded out but still unsuspecting. Possibly because I thought I had a sense of the man from reading all his writings. I would always try and steer the discussion back to cricket. For instance, I would ask him questions like which of the hundred Test matches he had covered stood out in his mind but he would respond briefly trying to steer the conversation away from cricket. So there we were, the two of us, desperately trying to row the boat in different directions.
He gave me nicknames such as "Harami Muslim Girl". My Whatsapp display pictures were "wicked" to him.
One day he asked me: Did I indulge in anything "wicked?"
"Why not?"
"Did I have any intentions to?"
"Did I feel guilty indulging in them?"
"How could I lead a chaste nun's life?"
Rather belatedly, his intentions became clear to me and as soon as that happened, I stopped responding to his calls and messages. But after a few days, he wrote to introduce me to a certain Mahreen Hasan — a writer working on a book and keen to interview me because most Muslim women were reluctant to answer her questions openly. The male journalist and this Mahreen both hoped that I would help her out.
This is when things started getting creepier still. After sending me the initial outline of her proposed work, Mahreen sent me the questionnaire, but instead of giving me time to fill it up, she struck up a conversation on Hangouts. Her questions were pathetic, and her description of sexual acts/fantasies cringe-worthy. She attempted to make me open up about my sexuality, and by describing her experiences with a hand shower, she hoped I would share my experiences too.
I am a naturally observant person and I began to observe uncanny similarities between Mahreen and the male journalist. For instance, whenever he would make an off-colour remark, the male journalist would follow it up with a particular smiley. I realized that Mahreen would do exactly that when she would make an observation about sex from her purported questionnaire. I began to notice greater similarities between the language used and the tenor.
Another clue was Mahreen's email ID. The address was an "incognito" one, which meant that it was anonymous. Now, someone who is writing a book tends to mail from their official ID. It had been a few weeks since we had been introduced but she was hardly ever interested in the book. One day I casually asked her why her email address was not an official one, to which she said that women feel more comfortable sharing details if they know they will be confidential. Then Mahreen gave the game away by saying, "I created this ID ten years ago."
She had earlier told me that she was 28 years old which would then mean that she had been a writer from the age of 18. It dawned upon me that the male journalist and Mahreen were indeed one and the same person.
What a game! What a creep!
Luckily, I have a number of really close friends in some of the biggest sports media organisations and I told them about how this journalist used a fake account, posing as a female to lure women. Sharing this bit led to shocking revelations. I wasn't the only one to encounter 'Mahreen'. She had been introduced to another female sports journalist as a physiotherapist. Chameleon-like, 'Mahreen' would change her profession and identity depending on who she was talking to. I even got in touch with one woman journalist whom 'Mahreen' had messaged back in 2011. That proved to me that this male journalist had a pattern of sly, predatory behaviour and that he has been at it for some time. Maybe the silence around his behaviour had been due to fear of what he, in his position of power, could do to a fledgling journalist's career.
But when he messaged a good friend of mine a few months ago, asking her to meet him in Kolkata during the IPL matches is when I felt something needed to be done. I had warned my friend about him and she took all precaution but what, I wondered, about poor innocent women who had no one to warn them about this man's behavior? After all it's so easy to fool women, given his reputation as a senior sports journalist.
I thought if I wrote a post on social media without naming him, he would realise that his game was up and that we were on to him. I have chosen to reveal my identity because hiding behind a pseudonym gets you nowhere. People won't take you seriously as there's no skin in the game. I had not done anything wrong, I had nothing to hide. Also, I have a great support system so I had faith that I would be alright.
My post has since gone viral. Journalists from New Zealand, Australia, England, West Indies and of course India reached out to ensure my safety and to offer their support. The biggest names in the field, idols whom I look up to, praised my efforts in making this public and instead of the matter dying there, the issue just gained momentum. After my letter to the BCCI pointing out his behaviour, they cancelled his accreditation and he has been suspended from the other Boards as well. Respected websites have cancelled their contracts with him and last I heard, children in Russia were requesting sites to stop him from publishing any football pieces as well.
It was then that I realised how fair and ready the fraternity is to ensure a safe and professional working environment for all concerned.
We have all refrained from unnecessary drama of naming and shaming. There have been no blame games and everyone in the fraternity now knows that women can raise their voices and that they are heard. If this can deter other predatory professionals, this will have been worth it.
https://mumbaimirror.indiatimes.com/others/sunday-read/how-i-stood-up-to-my-sexual-predator/articleshow/64993666.cms