Nodeep comes from a family of vocal women activists associated with Left groups. She joined Mazdoor Adhikar Sangathan soon after she got a job at a bulb factory in Kundli.
TARAN DEOL 24 February, 2021 8:00 am
Muktsar (Punjab)/Kundli (Haryana): Flags of the Bharatiya Kisan Union fly on several houses in Gandera village in the Sri Muktsar Sahib district of Punjab. Of the many houses that stand on the outskirts of the village, one sports a sticker that reads in English: "50 per cent of Indians are in farming. Save the farmers, save the nation. Abolish farm laws."
This used to be the home of Nodeep Kaur, the 24-year-old Dalit labour rights activist who has been pitchforked from the anonymity of rural Punjab to global headlines after she was arrested on charges of attempt to murder, theft and extortion from the farmer protests at the Singhu Border on the outskirts of New Delhi on 12 January. Nodeep Kaur has been in Karnal jail on these charges for over a month now, although she has received bail in two other cases against her on charges of criminal intimidation and another count of extortion.
Nodeep has approached the Punjab and Haryana High Court for bail, and the case is set to come up for hearing Wednesday.
The world's attention had been drawn to Nodeep's case because of a tweet by US Vice-President Kamala Harris' niece and lawyer Meena Harris on 6 February. Harris had alleged that Nodeep was arrested, tortured and sexually assaulted in police custody, repeating allegations that were first made by Nodeep's family.Video Player is loading.
This is a modal window.The media could not be loaded, either because the server or network failed or because the format is not supported.
The allegations of torture and sexual assault have been denied by the police in Sonepat, Haryana, the district where she was working and where she was arrested from.
Nodeep's older sister Rajveer is angry that her sister's case received little attention before Meena Harris' tweet. "Why is it that we have to wait till someone related to the US Vice-President tweets about my sister's arrest? Are instances like these not wrong till they get global attention?" she said to ThePrint.
Yet, the family has not lost hope, and is proud of the fight Nodeep is fighting. And not without reason.
They are a family of vocal women activists associated with Left-leaning organisations — mother Swarnjit has been an active member of the Punjab Khet Mazdoor Union (PKMU); Nodeep is a member of labour rights union Mazdoor Adhikar Sangathan (MAS); older sister Rajveer is founder and president of the Bhagat Singh Chhatra Ekta Manch (BSCEM); while youngest sister, Harveer Kaur, is with the Punjab Students' Union.
---
---
Bhagat Singh-inspired Leftist family
Punjab has had a strong Left tradition, and although the Communist parties have not done well in the state electorally since the late 1970s, the tradition "remains extremely potent" according to experts.
Mother Swarnjit explained: "We have been extremely active participants in protests related to labour rights and attacks on Dalits. I have taken all my six children to protests since they were young. They have had really good teachers — this is why today they know the difference between right and wrong and raise their voices when needed."
Historically, the Left movement has had a strong presence among the farmers and labourers of Punjab, through active kisan and mazdoor unions.
Swarnjit was part of one such union, the PKMU, that has 5,000 members and focuses on issues related to livelihoods and caste discrimination. With a leadership largely belonging to the landless Dalit community in Punjab, PKMU was founded in 1993 by Lachman Singh Sevewala and Jora Singh Nasrali to follow the thoughts of Shaheed Bhagat Singh, and during her association with it, Swarnjit raised her voice to fight for rations, pensions for the elderly, and employment under MGNREGA.
Gulzar Singh Goria, national council member of the Communist Party of India and general secretary of the PKMU, stated that while he has been tracking Nodeep Kaur's case, he was not aware that she's the activist daughter of a former union member.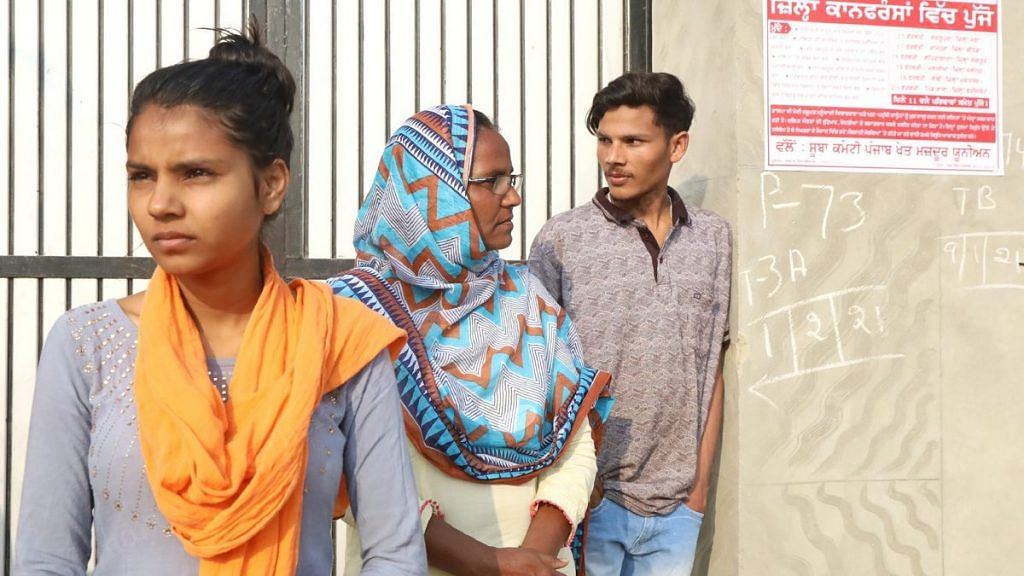 Swarnjit's youngest daughter Harveer said: "It is by going to such protests and reading about their relevance in India's history that I understood the concept of inequality based on caste and economic conditions. We were taught in school that we are now an independent country, but as I grew up and faced inequality based on my caste and economic conditions, it made me realise that the fight Bhagat Singh was fighting is not yet over. I have got a chance to be Bhagat Singh."
The PSU, of which Harveer is a member, was created by Darshan Khaira a.k.a. Darshan Baghi and CPI leader Avtar Singh Malhotra in 1963 and has been called the most powerful student organisation the state has ever seen. At its peak, according to a 2019 report in The Tribune, the PSU "swayed educational institutions in the state, clashes took place between the police and students and the government accepted the demand to hold student council elections". It was also known to be closely aligned with the Naxalite movement.
Rajveer's BSCEM, meanwhile, was formed by students from various departments of the Delhi University in 2018. The body's general secretary Nishant Anand told ThePrint: "The organisation addresses issues of discrimination based on caste, economic conditions and speaks out about the current political environment of the country. We believe in Bhagat Singh's ideology and are a Left-leaning organisation."
MAS, the organisation Nodeep was part of, is also Left-leaning. It was founded in 2016 by labourers who work in the Kundli Industrial Area, with Shiv Kumar, its president who has also been arrested on the same charges as her. It has about 60-70 members.
Why Nodeep went to work in Kundli
Nodeep's family lives in a small brick-and-mortar house in a lane adjacent to a large field of crops in Gandera village. Swarnjit is the only permanent resident here as her six children — four daughters and two sons — come and go depending on work or education. Her husband Chakdeep Singh is currently working in Telangana as a combine harvester operator, and does not come home for long periods of time.
Nodeep passed class 12 from a school in the village after several gaps and difficulties because of the family's financial condition. One of her younger brothers has given up his studies to support the family.
At one point, in 2014, the family was even forced to move to Telangana, soon after it was given statehood. But the financial crunch was not the only reason — Rajveer recalls that in 2013-14, her mother had raised her voice against the alleged rape of a 13-year-old Dalit girl from their village by upper caste men. "My mother has fought a long fight for Dalits in Punjab. But after this incident, the environment in our village became very hostile, which is another reason why we moved to Telangana," she said.
The whole family, barring Chakdeep, returned to Punjab just days before the Covid-induced nationwide lockdown was announced on 24 March 2020. With no work opportunities, money had dried up.
In October, Nodeep found a job with FIEM Industries, a light fixtures and bulbs manufacturer, in Kundli Industrial Area in Sonepat district, Haryana, just across the border from Delhi. She moved there in November and assembled light bulbs, said Rajveer, adding that her sister was also driven by a desire to study at Delhi University.
In Kundli, Nodeep soon joined the MAS and started campaigning for labour rights, later joining the farmers' protest at Singhu Border. Rajveer alleged that FIEM Industries asked Nodeep to quit her job for being involved with these protests, but the company denied this and said she left of her own volition.
"Nodeep worked here only for roughly 15 days in October-November. She then left of her own will — she was not asked to leave. There is no issue of non-payment of salaries here at FIEM — we have paid everyone that has worked for us," Rakesh Sharma, a manager at FIEM, told ThePrint.
---
---
Issue of labourers' payments
In the past one month, Nodeep's arrest and alleged custodial torture has made her what her friends and supporters call, a symbol of 'kisan-mazdoor ekta'(farmer-labourer unity); her posters can be seen at the farmers' protest site at Singhu Border. The tent is mostly deserted, with only some farmers from Punjab using it to sit or sleep in.
"Since the arrest of Nodeep Kaur, fear has set in. Labourers are being extremely cautious to avoid the police, who keep doing the rounds around the MAS tent, hoping to pick up members," said Raj, who hails from Uttar Pradesh's Azamgarh and has been working in the Kundli Industrial Area for four years.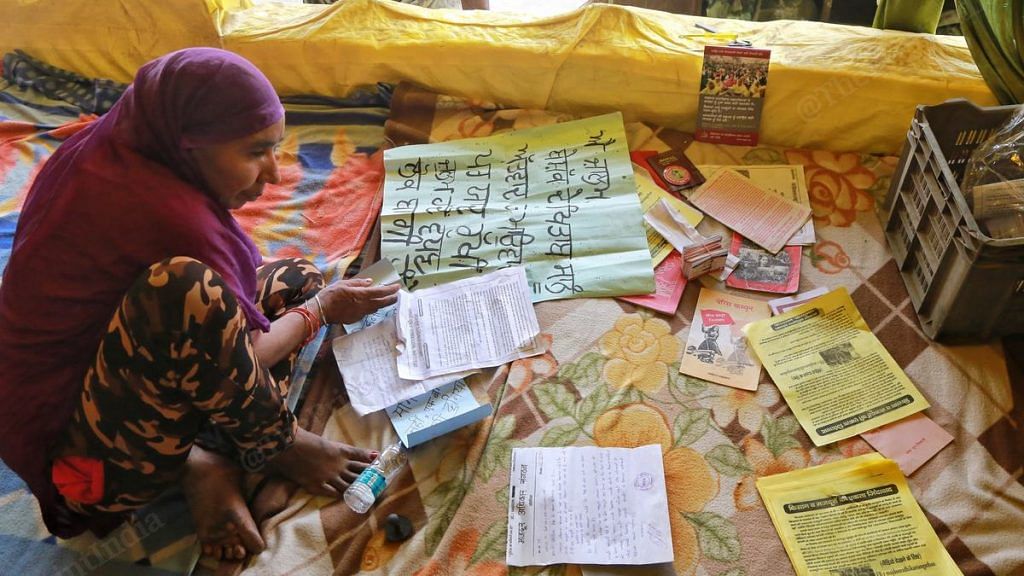 The MAS tent was set up around 20-25 days after the protesting farmers reached the outskirts of Delhi from Punjab and Haryana on 25 November, in order to voice the grievances of labourers working at factories in the Kundli Industrial Area. Members would go from one factory to another, demanding the release of salaries that were allegedly unpaid. So far, salaries of 300 workers amounting to Rs 5 lakh have been recovered, a register maintained by the MAS claims.
Dheeraj Chaudhary, an executive of the Kundli Industrial Association (KIA), under which between 1,800-2,000 factories are registered, denied claims of salaries being withheld.
What happened on 12 January?
Nodeep and Kumar, Rajveer said, have been at the forefront of what she called the fight against the "continuous harassment of workers by factories at the KIA".
In the bail plea filed through counsels Arshdeep Singh Cheema and Harinder Deep Singh Bains, Nodeep has said that she was falsely arraigned as accused in an FIR lodged under various sections, including attempt to murder. The plea alleged that Nodeep was "targeted and falsely implicated" in the case as she was successful in generating massive support among local labourers for the farmers' protest, which annoyed the administration and "a plan was devised to stifle the protest".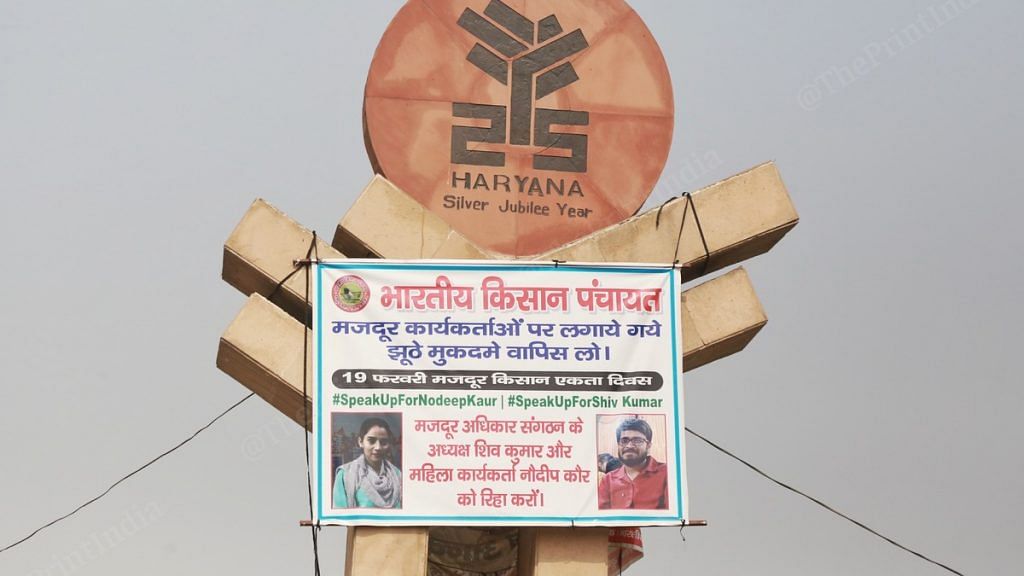 Narrating Nodeep's version of events leading to her arrest on 12 January, the plea said she and MAS members marched towards a factory demanding payment of pending wages to some workers, but were manhandled by a group formed by the Kundli Industrial Area owners' association. Soon, a team from Kundli police station led by the SHO reached the spot, and grabbed Nodeep by her hair and dragged her to the side, the plea claimed.
This angered the protesters and the situation became worse when the police resorted to lathi charge. A scuffle ensued and Nodeep tried to pacify the situation, but to no avail, the petition said.
The plea also alleged that Nodeep alone was caught and arrested by police officials, and "beaten, tortured and suffered multiple injuries". It added that she was taken to the police station in the absence of any woman police officials and was beaten up.
Sonepat police officers had claimed that a police team was attacked with sticks when they reached the site, and some policemen sustained injuries in the incident.
KIA denies allegations
Rajveer alleged that the KIA has had problems with MAS, and would send a quick response team (QRT) to deal with the union — something that also found mention in Nodeep's bail plea.
However, KIA executive Chaudhary said: "The role of the QRT is to ensure the security of industry workers — especially women. Some of the QRT personnel are armed with licenced guns for self-defence purposes."
KIA president Subhash Gupta has been quoted as saying: "We have been robbed a lot of times. Our generators have been stolen and intruders have tried to get in. That's the reason why we keep guards… They also saved us from the flag-carrying, slogan-raising group of people."
Gupta denied claims about the QRT attacking workers. "They wanted to unionise and threaten us," he had said.
(With inputs from PTI)