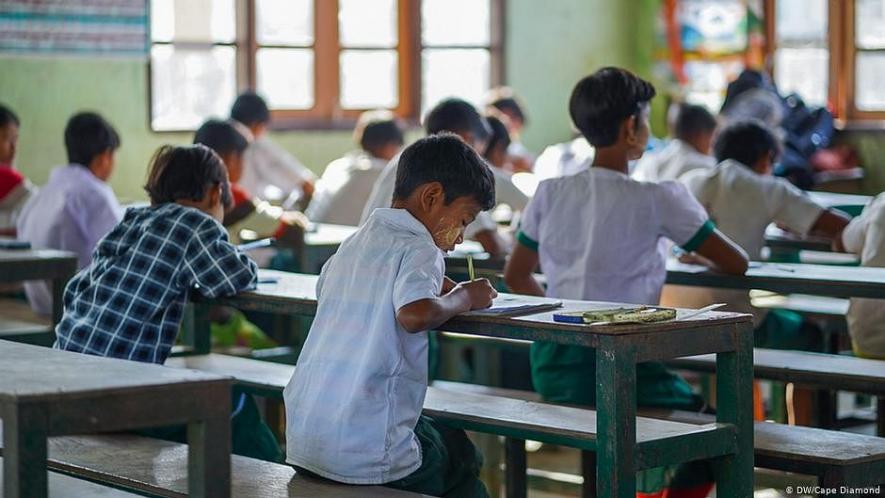 Representational Image. Image Courtesy: Social Media
India must reassess school textbooks so that the country stops perpetuating old hierarchies through the education system.
The first-of-a-kind study of textbooks taught in the government schools in Odisha has discovered a strong bias against the oppressed castes in school curricula. The findings corroborate, with evidence, what many have said: School curricula erase Dalit and non-elite caste histories and lived experiences.
A research group comprising ISI Bengaluru and IIT Hyderabad experts analysed ten literature and social sciences textbooks taught to classes IV to VIII in Odisha schools. It found that only three of ten books ever mention Dalits, or only five per cent of the total pages that present Indian social life. The finding underlines the near invisibility of Dalits in our school curricula.
Textbooks, especially for the humanities, formally open up the world for learners. That is why what they include is as important as what they exclude. In other words, the silences in our textbooks hold lessons for teachers, students, families and society.
Autobiographies such as Om Prakash Valmiki's Jhoothan and Kancha Ilaiah Shepherd's Why I Am Not a Hindu speak volumes about the struggles of first-generation learners who belong to underprivileged families and communities. Students from disadvantaged backgrounds experience culture shocks when they enter formal schooling and find no familiar voices in what they are supposed to learn. Now it is clear that even government-approved textbooks let them down. Mostly, the dominant caste is the norm in their school texts. The stories in their textbooks do not have a single character who resembles their intimate ones.
Though the study focuses on schools in Odisha, there are hints in it that the situation in many other states is no different. The absence of Dalit characters distances the texts from reality. It may also teach students to adopt a hierarchical approach in social interactions. In India's social life, which is based on exclusion, notions of purity and pollution get enforced with (overt and covert) violence against the less powerful. The study refers to school texts in Gujarat, which call the caste system benign. In Rajasthan, too, caste is described as a good system based on professional differences.
When late Atal Bihari Vajpayee was the Prime Minister two decades ago, textbooks were re-written to depict Muslims and Christians as "alien villains". At the time, there was tremendous resistance against introducing these biases. The journalist Stephen Bates had written in the newspaper, The Guardian, about how a social studies text in Gujarat called the caste system the ideal way to build society. "Of course, their [lower castes'] ignorance, illiteracy and blind faith are to be blamed for lack of progress because they still fail to realise the importance of education in life," the book noted.
If more studies are undertaken across states, rampant biases in curricula against castes, communities, religions, and genders will emerge. Already, the fourth annual Global Education Monitoring Report by UNESCO from 2020 showed how women and girls are under-represented in school textbooks the world over. They are also shown in more traditional roles. There are fewer images of women in texts compared with males. Women are represented in "less prestigious occupations" or as "passive and introvert". The silver lining is that many countries are attempting to remove gender stereotypes by, for example, showing men and women share the household chores.
Will India go the same way is the question. In 2019, the NCERT issued a circular announcing the culling of three chapters from its Class IX history textbook under a policy to rationalise courses. The topics were clothing and caste conflict, cricket history, and the impact of colonial capitalism on peasants. This would mean that the struggles of the Nadar women of Travancore in the early 19th century to wear upper body clothes to cover their breasts, or the discrimination against the talented cricketer Palwankar Baloo to lead the Indian cricket team as he was a Dalit, would not be spoken of in textbooks.
A 2019 study of how caste was communicated through textbooks for Class 6 and 10 students has found some improvements compared with twenty years ago. Today, NCERT textbooks address caste in a more explanatory way. The author of the study, journalist Sumit Chaturvedi, credits the National Curriculum Framework (NCF) 2005 and the Draft Learning Outcomes for elementary education, a document prepared by the NCERT in 2017, which spoke of sensitising students towards caste. Yet, Chaturvedi also notes some problems. The books focus on vulnerable caste groups and their lived experience, whereas dominant caste identities or the logic of the caste system is not interrogated. The perception is also created that caste is an issue of the vulnerable only, which supposedly indemnifies the dominant castes. Third, he notes, the books still allow the youth to claim they are "casteless".
Though caste reinvigorates itself over time, it is often taught as "history", a thing of the past that has no relation to or continuity with what happens today. It allows the dominant castes to distance themselves from recognising that caste-based exclusions and violence are an existing malady. It thus facilitates denial of the lived experiences of the Dalits and perpetrates violence against those who experience caste discrimination and bias.
Maybe some answers can come from the experiences of another democracy, the United States. While India is debating caste and its impact, the United States is discussing race and its attendant biases. The Guardian recently studied some private schools, especially Christian schools, to reveal a sinister tendency. The history taught at these schools is not only inaccurate but also racially biased.
The newspaper's review of dozens of textbooks produced by the popular Christian textbook publishers Abeka, Bob Jones University Press and Accelerated Christian Education found slavery described as "black immigration". Some of the books say that the South African anti-apartheid crusader Nelson Mandela helped move his country to a "radical affirmative action" system.
The problem with how these books frame both slavery and affirmative action is evident. Slavery refers to the transatlantic trade in humans which brought the first enslaved blacks to the United States starting in the 16th century. However, "immigration" is an entirely voluntary decision to cross national borders. Further, affirmative action connotes positive steps to increase the representation of historically excluded sections of society, such as women or persons of colour, in education, jobs and culture. Its radical avatar could involve preferential selection based on gender, race, ethnicity, etc. However, the opponents of affirmative action conveniently stigmatise the whole idea by calling it "racist, sexist", and so on. In other words, these American textbooks are part of attempts to sanitise slavery and stigmatise the historic anti-apartheid struggle in South Africa.
The intense ongoing conversation about race and equity in public schools naturally raises uncomfortable questions about the deafening silences on race in America. Private schools, which receive thousands of dollars in public funding, are whitewashing slavery and project Native Americans as lesser individuals, and blame the Black Lives Matter movement for "sowing racial hatred". The parallels with India and its struggles with caste are not hard to find. Both India and America need to introspect on their school courseware so that the historically excluded do not continue to be sidelined, whether today or in the future.
The author is an independent journalist. The views are personal.