As the probe into the Bulli Bai & Sulli Deals cases progresses, two alt-Right groups that mushroomed in India's digital ecosystem have begun clashing online.
Bismee Taskin 10 January, 2022
New Delhi: The Hindu Right-wing in India was so far seen to be a monolith, with all its believers sharing and propagating the same ideas under the larger Hindutva umbrella. The Bulli Bai app controversy, however, has blown the lid over the fault lines within this group.
As the investigation into the case progressed over the last week, two alt-Right groups that mushroomed in India's digital ecosystem between 2014 and 2016, after the Narendra Modi government came to power, have come into focus
Named 'Trads' and 'Raitas', these online groups are populated by Hindu Right-wing individuals, who stand for 'Hindu Rashtra' and Hindutva, but differ significantly on the degrees of 'extremism' they propound.
The Trads (short for traditionalists) are hardcore 'protectors' of the Sanatana Dharma, who are seen to be highly radicalised and believers in the notion that Prime Minister Narendra Modi is 'soft' on Muslims and Dalits. They also espouse an upper caste supremacy.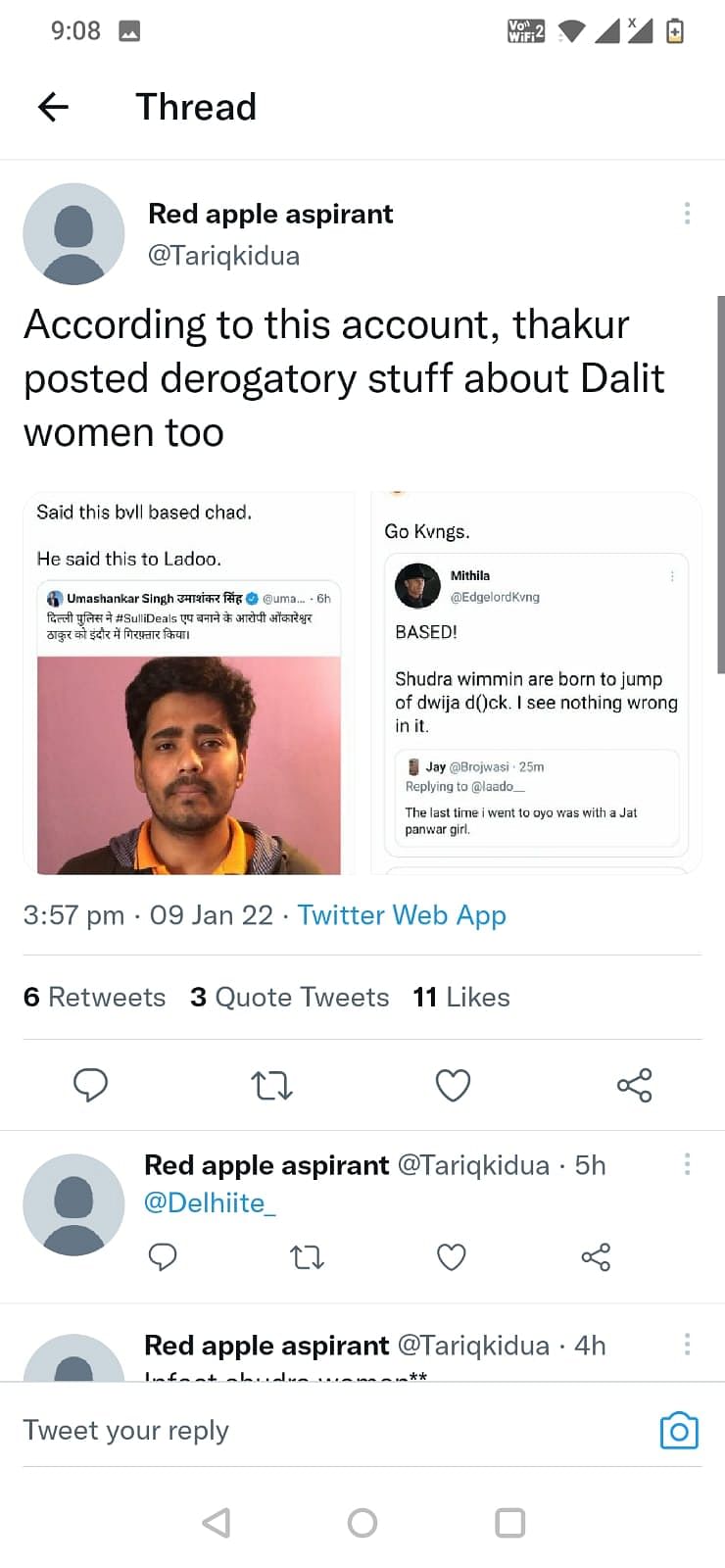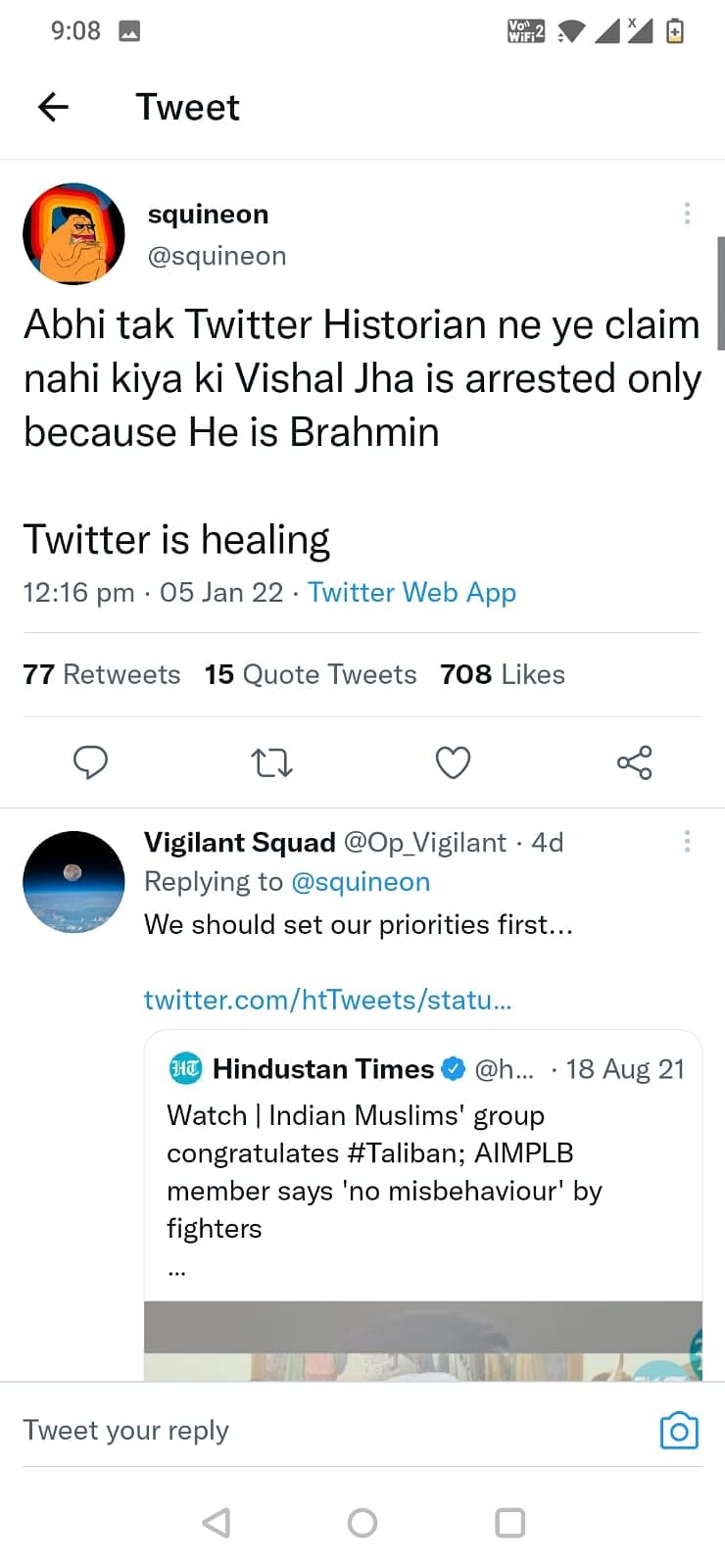 The Raitas (phonetic pronunciation of Right-wing and a pun on the 'raita failana' idiom, which means to make a mess) are comparatively progressive, pro-development, pro-Dalit rights and hardline supporters of PM Modi and his policies.
While the Raitas accuse the Trads of being anti-Dalit and anti-Hindu, the Trads believe the Raitas are too 'liberal' and 'Westernised'.
In this dogfight between the two groups has emerged a radical ecosystem that is now throwing up perpetrators of targeted harassment.
According to the Mumbai and Delhi Police, the alleged perpetrators of the Bulli Bai and Sulli Deals apps — Niraj Bishnoi (Bulli Bai 'creator'), Aumkareshwar Thakur (Sulli Deals 'mastermind'), Shweta Singh, Vishal Kumar Jha and Mayank Rawat — are Trads. They have been arrested from different locations across the country over the last week.
Both the apps sought to 'auction' Muslim women. While Sulli Deals was reported last year, Bulli Bai hit the spotlight last month. Originally hosted on software development provider Github, the two apps have been shut down.
As the controversy over the issue deepens, ThePrint surveyed Telegram groups, Twitter handles and Instagram accounts of those who claim allegiance to these groups, and spoke to their members, to understand the activity in this developing ecosystem, the shared beliefs, as well as the disagreements.
---
Also read: 'Introvert', 'very religious': Family of Sulli Deals accused say he's trapped in a conspiracy
---
What the groups do
ThePrint accessed two Trad and Raita groups each on messaging platform Telegram, and inspected various handles on Twitter.
Not unlike most online groups in the country, these two discuss and share books, videos and reports on several shared interests: The Vedas, Hindu mythology, Hindutva, PM Modi's policies, casteism, women's rights, Muslims, Dalits and world politics.
However, beyond this, these groups are fairly unlike others in their conduct.
Trads use particularly lewd content — across Twitter and Telegram — to attack 'Islamists', Raitas, 'commies' and even Dalits, labelling them as termites, frogs, and cockroaches. The group's lexicon, including its name, is seemingly drawn from the American alt-right.
The objectionable content shared by Raitas mostly includes politically inspired morphed memes and those targeted at Trads.
Trads mostly keep photos of Lord Ram, Lord Hanuman, Japanese anime characters and memes as profile pictures. No such trend was observed among the Raitas. Importantly, individuals in both groups communicate only through fake Twitter handles.
While the Trads pivot more on the Hindu religion and their duty to protect it, often seen using the salutation 'Jai Shri Ram' and 'Ram Ram', the Raitas focus more on critiquing the ruling government, and discussing India's politics, economy, women's rights and Dalit equality.
Trad accounts also use memes to hit out at PM Modi, often with the hashtag #MaulanaModi, to question if he would do anything to 'protect' Hindus. Meanwhile, Raitas hit out at Trads saying no government action makes this group happy. They also say that Trads 'dislike' the PM 'due to his caste'.
Usually these groups discuss ways to demean and insult Muslim women including activists, journalists and researchers through morphed images and videos. It was in one such group, 'Tradsmahasabha', in which Bishnoi, Thakur and some unidentified persons "decided to create the Sulli Deals app", according to Delhi police sources.
"On Trad groups, they shared objectionable lewd content like memes, morphed images that are anti-Muslim, anti-Dalit. They also speak for Sati, are against women rights, and discuss ways to hit out at minorities. They are extremists," said a source in Delhi Police.
---
---
What they say about each other
Speaking to ThePrint on condition of anonymity, a Raita member called Trads a 'xenophobic cult' that is anti-development and dislikes PM Modi if he pays homage to B.R. Ambedkar, speaks about Dalits, or Muslim women.
"They have a problem if Modi ji wishes on Eid or Christmas. Raitas also want a Hindu Rashtra, but they don't hate Muslims. Trads want Modi to not do any sort of appeasement, and not rely on Dalit or Muslim votes and comprise mostly of upper caste Hindus. They even target Hindu women, they are so scared that they don't even complain," he said.
"Trads support violence and extremism. They don't care about Modi, but only about extreme Hindutva, they make open calls for genocide of Muslims and taking away the rights of women and other minorities. More than Hindu supremacy, they believe in Brahmanical patriarchy," he added.
"They mostly consist of Brahmins… They distort facts to suit their narrative. This Bulli Bai, Sulli Deals was done by them. They share vile Islamophobic content," he said.
However, a Trad member said in a messaging group that if anyone who puts "Sri Ram above Modi is a Trad, I am proud to be called one". A second Trad member hit out at PM Modi's alleged vanity, saying that he only takes action when someone tries to "harm cameraman Raju, the only person Modi ji cares about".
Since the Bulli Bai probe began, many Trads have removed their digital footprints and submitted warnings in Telegram groups not to share anything with journalists.
"Trads hate Muslims. But interestingly a lot of them include women. They won't accept anything that goes against their ideology," the Raita group member quoted above said, adding that the 'extremists' group also hits out at the Rashtriya Swayamsevak Sangh (RSS)-Bharatiya Janata Party. For instance, memes and abusive language was used for RSS chief Mohan Bhagwat when news broke that his blue tick on Twitter was removed, in June 2021.
The Sulli Deals and Bulli Bai arrests, which has deepened the divide between the two groups, was the most recent point of contention in their messaging groups.
Raitas celebrated the arrests of Bishnoi and others, calling them out on Twitter and other platforms. They also called for the arrest of Trads, saying they have brought a bad name to the Hindu Right-wing community.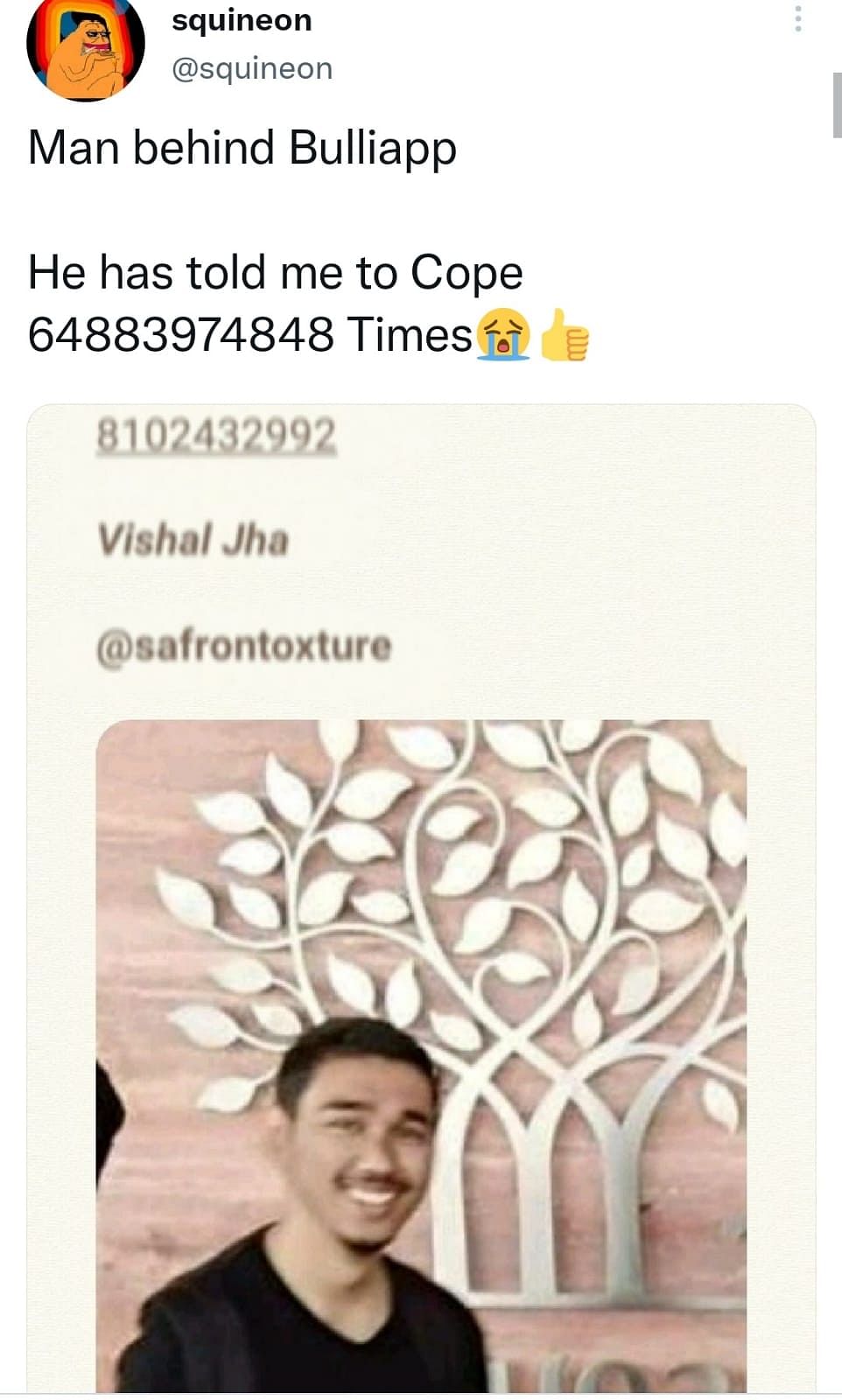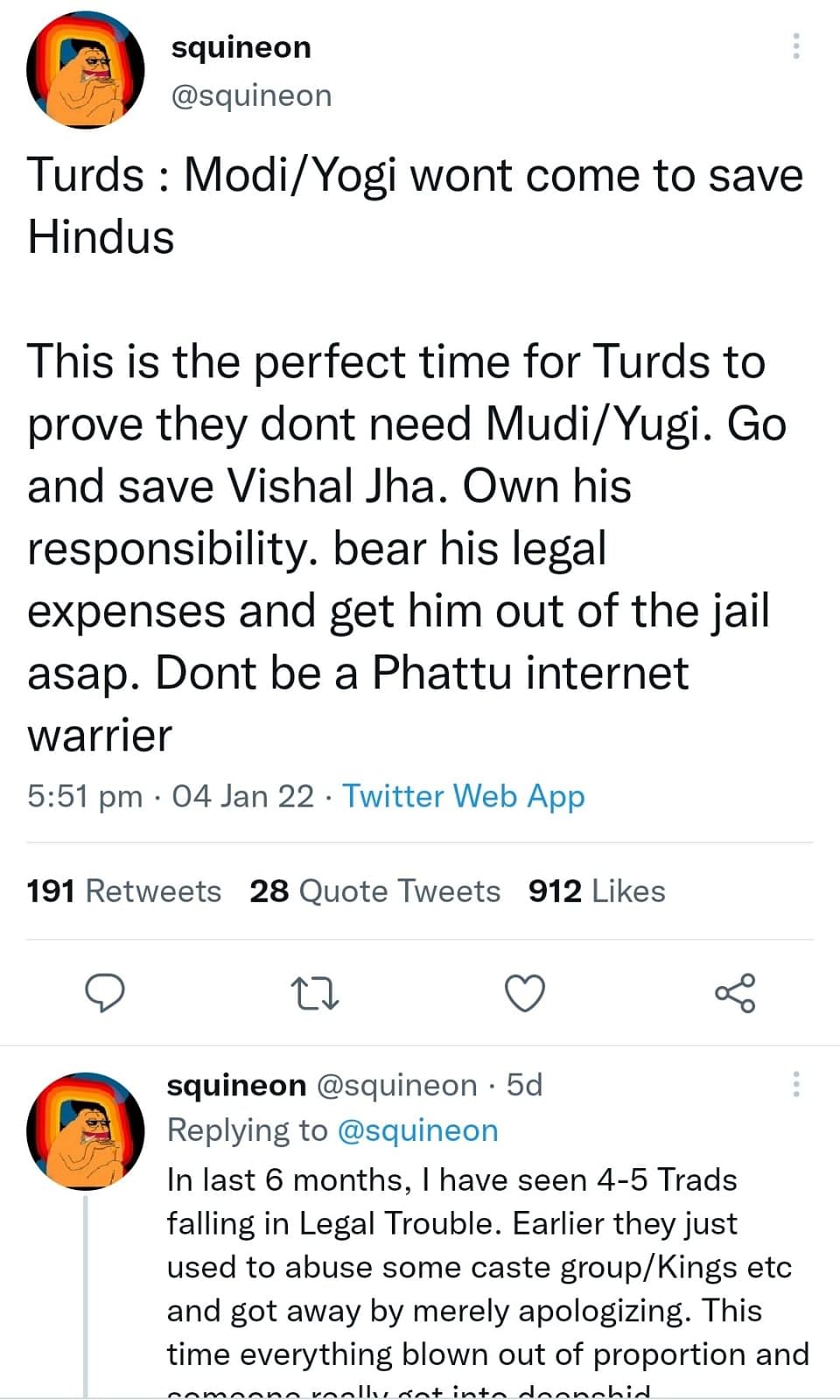 Trads, however, claimed that the likes of Bishnoi aren't a part of their group. They also said that the Raitas have broken the Hindu unity and aren't aware of the consequences.
Differences emerged after Kashi Vishwanath project began
According to a source, who claimed to be a part of both Raita and Trad groups, the differences first started to widen after several temples in Varanasi were demolished for developing PM Modi's pet Kashi Vishawanath corridor.
Explaining the core differences, the source said one of the main points of difference between them is "ICM" — short for inter-caste marriage.
"Trads are strictly against inter-caste marriages. They are, however, highly educated and spend most of their time reading about religion, and other academic stuff. They might not be completely anti-Dalit but are anti-Ambedkarite, and even hit out at PM Modi. Raitas are considered as woke liberals by them but their internal war is only limited to the internet currently," the source said.
"At the end, both only care about a Hindu Rashtra and that the Sangh Parivar stays in power. But otherwise both target non-Hindus," he said.
(Edited by Amit Upadhyaya)
courtesy the Print