As the Indian PM honours the author of the country's constitution, the social and political inequality that
Ambedkar
campaigned against is as rampant as ever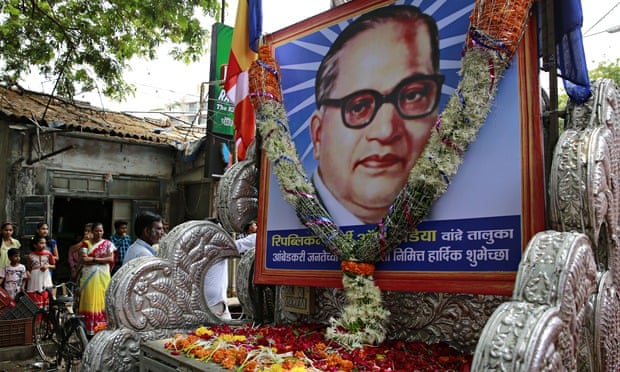 Dr BR Ambedkar was born 124 years ago on 14 April, and Google has honoured him with a doodle – a fitting gesture. Ambedkar was a fierce advocate of education and knowledge, and he would have enjoyed the gamut of information technology. Of the oppressed castes of India (dalits), Ambedkar wrote: "Education is the greatest material benefit for which they can fight."
Born into a dalit family, Ambedkar, by dint of raw talent and determination, earned the best education, including a PhD in economics from Columbia University in 1927. Learning had earned him a place in the heart of his community, which saw in his success their possibility. As India's first minister of law in Jawaharlal Nehru's government, Ambedkar authored the 1950 constitution, which gives pride of place to education as the pathway for dalit freedom.
What irked Ambedkar as much as the oppression experienced by dalits, was the way in which politicians used dalits for their own ends. The Congress party, the main vehicle for India's freedom movement, was tinged with Hindu supremacy as far as Ambedkar was concerned. Condescension toward the grievances of the dalits moved Ambedkar to argue that they should take an independent attitude and form their own political group rather than allow themselves to be used in the struggles for someone else's gain.
None of Ambedkar's initiatives worked to break the hegemony of the Congress and its leader, Gandhi. Yet, Ambedkar's push oxygenated a dalit politics to the left of the Congress, which germinated in fits and starts in the years that followed.
During Ambedkar's life, the Hindu right was simply not powerful enough to endanger the growth of independent dalit politics. Ambedkar nonetheless warned his comrades to stay clear of that platform. In 1923, Ambedkar captured the essence of the Hindu right, as a "purely political" movement "whose main object and aim is to combat the influence of the Muslims in Indian politics." To do so, Ambedkar wrote, the Hindu right has to "preserve its political strength," for which it must "maintain social solidarity, and its way to maintain social solidarity is not to talk about caste or untouchability."
On 25 January 1949, Ambedkar said that while the Indian constitution stipulated the equality of all people before the law, all people were still not equal in two senses: "On the social plane we have in India a society based on the principle of graded inequality which means elevation for some and degradation for others. On the economic plane we have a society in which there are some who have immense wealth as against many who live in abject poverty."
The contradiction between legal and political equality and social and economic inequality lay at the heart of Ambedkar's worries about India's future. "On 26 January 1950, we are going to enter into a life of contradictions," he noted perceptively. "How long shall we continue to live this life of contradictions? How long shall we continue to deny equality in our social and economic life? If we continue to deny it for long, we will do so only by putting our political democracy in peril."
These are questions for today. Their perceptiveness indicates why Ambedkar is still essential for India – not merely as figure to celebrate, but as a political philosopher for our current struggles.
http://www.theguardian.com/commentisfree/2015/apr/14/india-ambedkar-abhorred-politics-narendra-modi?CMP=share_btn_link