I could never become Modi's yes-man'
April 29, 2014 14:24 IST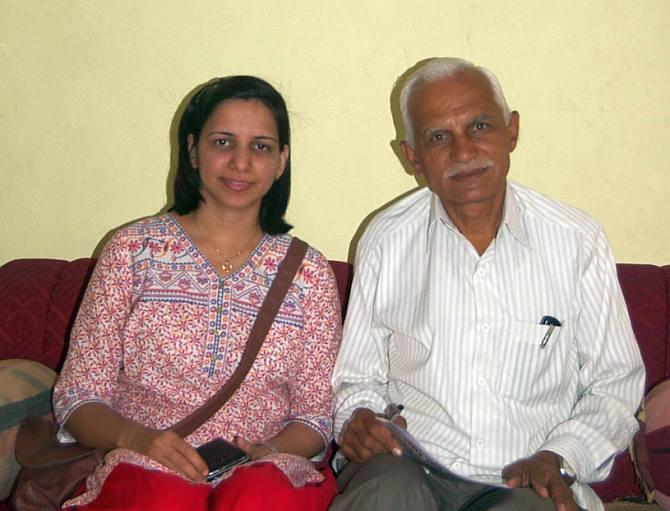 To get such articles in your inbox
'Corruption is rampant in every office in the state from the villages right up to Gandhinagar. I have witnessed all these issues first hand.'
'Before Narendra Modi became chief minister Gujarat had a debt of Rs 25,000 crore to Rs 30,000 crore. Today it is Rs 180,000 crore. There has been six-fold jump in public debt in Gujarat in the last ten years.'
'Every child born in Gujarat owes a debt of Rs 30,000 today. How can you call this development? Look at how high taxes are in Gujarat. Look at the condition of our public health system. There are not enough doctors or nursing staff in government hospitals; not enough teachers in schools and colleges.'
Once described by Gujarat Chief Minister Narendra Modi as a 'gentleman', Dr Kanubhai Valabhai Kalsaria, a three-time Bharatiya Janata Party MLA from Mahuva, is now contesting the Bhavnagar Lok Sabha seat as an Aam Aadmi Party candidate.
Dr Kalsaria, who has to his credit more than 100,000 kidney stone and benign prostate operations, apart from successful agitations against the state government, tells Prasanna D Zore/Rediff.com why he fell out with the BJP's prime ministerial hopeful.
Your opponents call you an outsider. You have been a three-time MLA from Mahuva and you are contesting this Lok Sabha election from Bhavnagar.
This is a very wrong interpretation. Actually, I am an insider here (laughs) because my district is Bhavnagar. Mahuva has always been deeply connected with Bhavnagar.
During my terms as an MLA I had always raised questions about the welfare of not just Mahuva, but the entire (Bhavnagar) district.
Despite being a three-time BJP MLA you are contesting this election on a Aam Aadmi Party ticket against the BJP. What prompted you to contest against the BJP?
Everybody knows I am against the policies of Narendrabhai Modi and there is no personal enmity here.
His policies are anti-farmer, anti-poor, anti-maldharis (nomads) and anti-villagers. I was never convinced he would change his policies.
There was no other option left for me, but to fight these policies and the man behind such policies.
Is your fight against the Gujarat chief minister?
Since he is the planner of these policies, in that sense, yes. But I am not fighting against the person.
I am not fighting against him in Vadodara or Varanasi (the Lok Sabha constituencies from where Narendra Modi is contesting this election).
I am only fighting against the representative of his party, a candidate, who supports such anti-people policies.
What are the issues you are canvassing for in Bhavnagar?
If the farmers are saved, the state will be saved, the nation will be saved and it will even help the world too.
If the farmers are happy, everybody will be happy.
We have to provide water for irrigation to the farmers of Saurashtra; we should not snatch their lands which Narendrabhai's policies do.
On one hand, we talk about protecting the cow and by a sleight of hand we are snatching away that very same cow's bread and butter by taking away the land of farmers.
What are the issues over which you defer with or oppose Narendra Modi? What made you think you could not work with the Gujarat chief minister?
First and foremost, his anti-farmer policies. His failure to provide Narmada Dam water (from the Sardar Sarovar Project) to the farmers in this dry and rain-deficient region. The SSP waters have reached only the periphery of Saurashtra.
The state administration is de-commanding land for special investment regions and special economic zones that would have otherwise helped store Narmada waters. One would have thought of bringing more land under the command area for water reservoirs, but they are doing exactly the opposite.
Another big issue is the forcible acquisition of land meant for gauchars (shepherds and their cattle).
Corruption is so rampant in every office in the state from the villages right up to Gandhinagar (the state capital).
I have witnessed all these issues first hand.
Some examples…
Let me give you the biggest example of them all and I have been at the receiving end of it.
For commissioning the Nirma cement plant in Mahuva a vast water body was shown to be a wasteland.
What went wrong between you and Narendra Modi?
I was never so close to Narendrabhai as some people think as I was to (Modi's predecessor as chief minister) Keshubhai Patel. As per my observations and understanding I knew politics is always a mix of good and bad and we have to tolerate both qualities of people.
But when this hazardous plant (the Nirma cement project) that would have affected 5,000 families led the government to declare a water body as wasteland, I could tolerate it no further. That was what I fought against.
But he (Modi) never yielded an inch or appreciated my fight for the rights of farmers and Kolis (fisherfolk) as just and equitable.
He never accepted that farmers were being hurt. I knew then that I had to fight till the end.
It was God's grace; it was the Supreme Court's grace that we were successful in the Supreme Court. Otherwise I don't know how terrible the situation might have turned. How bloody would have been the fight, I do not know.
Were the farmers of Mahuva prepared for a bloody fight?
They were never to submit (to the Gujarat government's policies). They were to fight till the end. We were all prepared to fight till the end in a peaceful, Gandhian, manner.
Do you see no good policies being implemented for the people by the Gujarat government led by Narendra Modi?
(Only the) show is good. In the long run, Gujarat's economic and agriculture will be completely damaged by the policies of the state government. People do not understand this.
That is why they are very much impressed by the image, the external image.
Internal damage is not yet visible to the people of Gujarat.
What is the insider's view then? You have been an elected member of the Gujarat assembly thrice. You have seen Narendra Modi's working from inside. What are your impressions of the man?
(The Gujarat government is) only one-man show. If we become yes-men (of Modi) it is alright.
But in every policy, every initiative, I could never become Narendrabhai's yes-man.That is why I fought against him (when it came to opposing Nirma's cement plant in Mahuva).
Personally, I have never cared for any position or money, but had I become a yes-man like others I would have got so many benefits. But I never hankered for power or profits.
I didn't take any benefits whatsoever from the government of Gujarat and that was the reason I could stand up to Narendrabhai when the situation was called for.
Before Narendra Modi became chief minister Gujarat had a debt of Rs 25,000 crore to Rs 30,000 crore. Today it is Rs 180,000 crore.
There has been six-fold jump in public debt in Gujarat in the last ten years.
Every child born in Gujarat owes a debt of Rs 30,000 today. How can you call this development?
Look at how high taxes are in Gujarat. Look at the condition of our public health system. There are not enough doctors or nursing staff in government hospitals; not enough teachers in schools and colleges.
Everybody can see how arrogant the chief minister has become after his third consecutive victory.
What changed your impression about Narendra Modi?
It started when I began my fight against Nirma. Till then things were just carrying on.
But when I started my agitation against Nirma my interactions with Shri Narendra Modi started deteriorating.
What happened? How did he treat you?
Once, before I became the MLA for the third term I had a heated meeting with him. He told me that Medha Patkar is better than I am.
I didn't say much (to him) because I knew my fight was for the benefit of the farmers.
He told me that if we have to go for development then we must get above playing caste politics because those farmers of Rajula (an assembly constituency next to Mahuva where Dr Kalsaria led an agitation to get back 10 hectares of farmland acquired by the state government) were of my caste (Dr Kalsaria is an Ahir).
Before the Nirma agitation he had alleged that I was fighting only for the interest of my caste, not for development or for farmers.
Despite our differences he gave me the ticket for the third time to fight from Mahuva.
Then the Nirma agitation happened and he wasn't very pleased and convinced about my stance.
When I took up the fight against Nirma, no member, no farmer belonged to my caste. All the farmers were from the Koli community.
This agitation was to save 4,500 hectares. In Rajula, I fought for only ten hectares. Since it was in my constituency, it was my humble, moral duty to fight for my voters.
I jumped into the agitation and let God decide the result. I fought against the state government without thinking about the results. Finally, I quit the party.
Are you saying that Narendra Modi only looks after the interests of corporates and not farmers or gauchars?
Not just me, but the world knows now. Not just (Arvind) Kejriwal or the Aam Aadmi Party, but the whole world knows now he is the man only for the corporates.
We are not against corporates, but (policies that favour) only corporates is not good.
Modi's policies are destroying the daily livelihoods of farmers, gauchars, mazdoors (labourers)…
What about Narendra Modi's links with Gautam Adani? Rahul Gandhi and his sister Priyanka Vadra allege he has links with the businessman.
I fully agree with them when they say that Modi has given undue benefits to him (Gautam Adani) at the cost of the people of Gujarat.
In my fight for the welfare of farmers I have visited many places in Gujarat including Kutch. We have done cycle yatras of Kutch and Jamnagar (where Reliance Industries runs the world's biggest oil refinery) to oppose government policies that benefit only corporates.
We had protested against the Special Investment Region policy that affected the farmers of Mandal-Becharaji where the government wanted to acquire 10,000 hectare of farmland for industrial purposes.
The Modi-Adani link is very much obvious if you go to Kutch. Thousands of hectares of land was given (to Adani) at a token rate. The people there are terribly unhappy, but could not get rid of it (the Adani Special Economic Zone, power plant and port run by the Adani Group in Kutch).
The Ambanis are next to the Adanis when it comes to corporates getting largesse from the state government.
Aur yeh Nano (the Tata project in Anand) ka bhi toh hain. Isko bhi aise hi de diya hai (the land to the Tatas was also given at a concessional rate).
Land that could have fetched thousands of crores of rupees to the government was given away free.
Aur aise chhote-mote toh bahut hain (There are many more smaller industrialists who have benefitted from government policies). These are only the big fish.
Image: Dr Kanubhai Valabhai Kalsaria, the Aam Aadmi Party candidate for the Bhavnagar Lok Sabha constituency, with his daughter Dhruti. Photograph: Prasanna D Zore/Rediff.com
Prasanna D Zore/Rediff.com Bhavnagar
Read more here — http://www.rediff.com/news/interview/ls-election-former-bjp-mla-on-narendra-modi-and-his-anti-farmer-policies/20140429.htm