'If you question the police you become an anti-national and that is ridiculous.'
'Either you say we live by the Constitution or you say the State will not follow the Constitution.'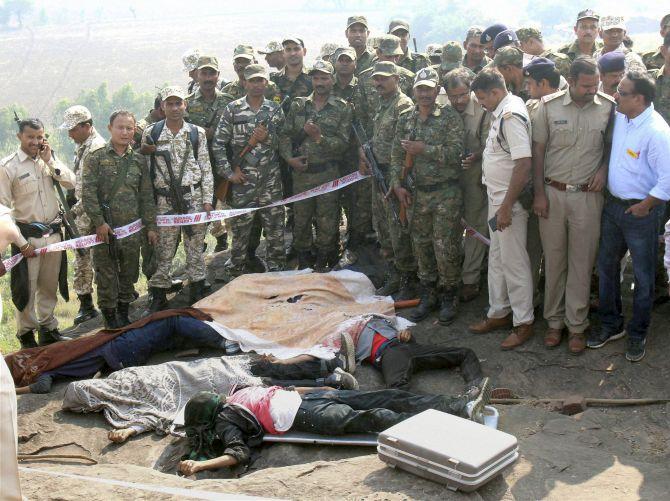 IMAGE: Policemen with the dead bodies of the SIMI undertrials who were killed in an encounter at Acharpura village on the outskirts of Bhopal, October 31, 2016. Photograph: PTI Photo
Against the backdrop of the killing of eight SIMI undertrials in Bhopal after they escaped from a high-security jail on Monday, October 31, Rediff.com's Syed Firdaus Ashraf spoke to Mihir Desai, the distinguished lawyer.
Desai, below, left, fought the custodial death case of Khwaja Yunus, who was arrested under the Prevention of Terrorism Act for his alleged involvement in a 2002 Mumbai bomb blast case.
The police claimed that Yunus had escaped while being escorted to Aurangabad in January 2003, but a CBI probe showed this up to be false and that Yunus had been murdered in police custody.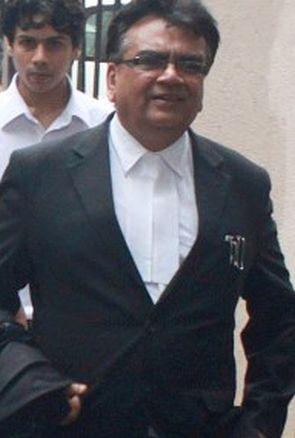 What is the stand taken by courts in the killing of suspected terrorists in such circumstances as the one in Bhopal?
The courts have never approved of such killings.
When there is a real encounter, not a fake one like the present case, then it is a different matter.
Otherwise, there is no question of approving killings.
What is your offence?
a. If you have killed the prison guard, then you will be charged for the murder.
b. If you have merely escaped, you will get enhanced punishment which you will have to suffer. That's all.
Why do you feel the Bhopal killings was a fake encounter?
From the videos online you can make out that those people were unarmed. These videos were never refuted by anybody.
I have not come across an independent report saying that these eight men were armed. The villagers are saying they were not armed.
So what did the police do? They murdered them in cold blood.
To my mind, on the basis of what has happened until now, it appears like a fake encounter.
What does the law state on how to deal with an escaped convict?
There is a legislation which, unlike the government, states that we should not believe the police story.
The Criminal Procedure Code requires that every case of encounter death has to be independently investigated. Not just cases which are suspicious, but every case.
This is not my law or the Supreme Court's law, but the legislature's law.
If the police version was to be believed, why has the legislature enacted this law which says that every encounter has to be investigated independently?
Both the Bharatiya Janata Party and the Congress voted for this in Parliament.
The truth may be anything, but since 1868 when the CrPC was brought in, there is a section in it which says that any confession made to a police officer cannot be believed.
If the law says you cannot believe whatever the police say, then why is the government saying that we need to believe the police?
The law is very clear. Forget what happened in Bhopal. The law says the police version cannot be believed and this law has not been changed. It further says that every custodial and encounter death has to be independently investigated.
If that is the case, why is the government insisting that we need to believe the police version?
Why are they being praised today without an inquiry being set up?
I do not know what will come out tomorrow in an independent inquiry, but I smell a fake encounter.
Union Minister of State for Home Kiren Rijiju says asking questions about the Bhopal encounter is not good.
Then change the law.
I am asking questions that the law allows me to ask, so who is Kiren Rijiju or anybody else to tell me not to question?
Which law specifies what needs to be done in case of encounter deaths?
Section 176 of the CrPc (external link) as amended in 2005.
Secondly, on September 23, 2014, in the case filed by the People's Union for Civil Liberties, then Chief Justice of India R M Lodha said that in every case of police encounter deaths there has to be a mandatory registration of FIR and an independent inquiry done by the CID or any other independent agency.
The police may be right or wrong, but there has to be an independent inquiry.
And combined with this amendment to Section 176 of the CrPc, every custodial death has to have an independent inquiry done by a judicial magistrate.
The point I am making is that the legislature and the Supreme Court in the PUCL versus State of Maharashtra case agreed that there can be cases of fake encounters. Therefore, all these cases need to be investigated impartially.
Therefore, the demand that we must believe the police version because the police are saying so is incorrect.
The police may be right or wrong, but challenging them does not mean you are anti-national.
It means you are only following the law.
Do you believe the police claim that the undertrials escaped using toothbrushes and utensils to pick the locks, etc?
It sounds unlikely.
One knows that at times security is very lax. It is difficult for me to say what exactly happened inside the jail.
It may not be a toothbrush, but some jail authorities may be in connivance.
These things need to be investigated. I will not be able to say whether there was a jailbreak or not.
When does the law authorise the police to shoot to kill?
You must never shoot to kill.
You must only shoot to ensure that the person is immobilised.
That is the practice, and one needs to follow that. But this never happens.
These things (shooting to kill) normally happen in fake encounters. Policemen never get hurt and every one (of the accused)is hit above the chest.
Look at what happened in Mumbai during the '90s. If (encounter specialist) Daya Nayak and all were so good, these policemen should have been posted on the border.
More problematic is that there are people who are supporting fake encounters. They are saying even if it is a fake encounter, so what? That is the argument.
You question the police and you become an anti-national, and that is ridiculous.
What is the legal recourse available to the families of those killed?
They must insist on an inquiry and they can file a case of murder against the policemen.
Of course, nobody will register this case, so they will have to go to the court to get it registered.
According to you, do the Bhopal killings qualify as extra-judicial killings?
At present it looks like that. I don't want to come to any conclusion because as a lawyer, until I see all the documents, it is difficult to answer, but from all appearances it looks like (extra-judicial killings).
Some of the accused had broken out of jail earlier and therefore the fear was that they would have carried out more terror activity after their escape.
But they were never convicted of any crime although they were charged with multiple crimes.
I don't know under what law they were arrested, but in all likelihood they were arrested under the UAPA (Unlawful Activities Prevention Act) which is similar to TADA and POTA.
In that case, they will remain in jail for years together without being found guilty and just because someone is running away from jail, it is not proof of his guilt.
People run away from jail a number of times, and I am not justifying it, but that cannot be seen as proof of guilt.
If tomorrow I am put behind bars under UAPA in some false case and I know I will be in jail for 10 years, I will run away whenever I get a chance, whether I am guilty or not guilty.
Whatever I have read, I found that in a number of cases, these accused were found not guilty and in no case were they found guilty.
In such a situation, if they run away, they will face a longer prison term when they are caught.
So the question that I am concerned about is, no matter what happened, the Constitution says that a person is presumed innocent until proved guilty.
If we are going to go by the police version or the army version, then why have a judiciary?
Let the police decide whom to give punishment to.
The fact is that the Constitution needs a judiciary and that means you cannot go with the police version.
In my experience, I have seen the police filing false charges on so many and for me to say whether someone is guilty or not is not possible.
I can understand the angst of the people and I am not disputing that, but the people should understand if someone is arrested and branded a terrorist, it does not make him a terrorist.
By the same logic (Bharatiya Janata Party President) Amit Shah should have been declared a murderer the day he was arrested. Why wait for a trial?
I don't see such logic to be correct. This jingoistic nationalism, I have real problems with it.
The general perception is that since the undertrials were accused of terrorism it was okay for them to be killed.
Even if they were convicted of terrorism, they had the right to live unless they were given death sentences.
In this case, they were not even convicted. Even if they were convicted, it is for the judiciary to decide whether they should be given death sentences or not.
Either you say we live by the Constitution or you say that the State will not follow the Constitution.
In which case why should anybody else follow the rule of law?
Remember, the State is supposed to set an example, to show people how the rule of law works.
The State cannot set an example by going beyond the law and killing people, but expect the people to follow the rule of law.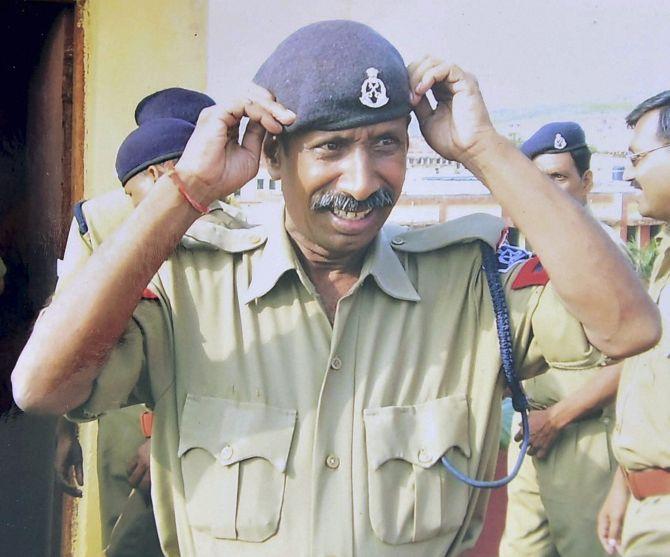 Is there excess focus on the SIMI undertrials, and not enough sympathy being shown to Ramashankar Yadav, left, the prison guard who was murdered by them?
That is not correct. Sympathy in what sense? How do you show sympathy?
Organisations who work on human rights start acting when they find there is something which requires to be questioned.
I feel that the person who died in prison, his family must be given protection, a job and compensation which I feel the government will do. I agree with that.
I am right now concerned with the rule of law.
http://www.rediff.com/news/interview/lawyer-mihir-desai-i-smell-a-fake-encounter/20161103.htm