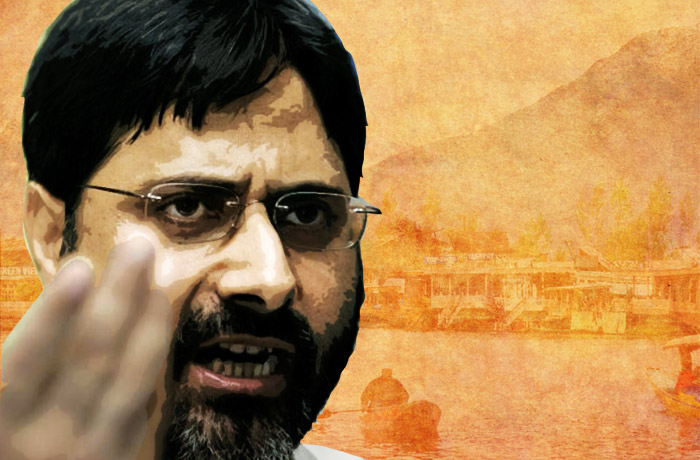 CATCH NEWS
The case
Like the JNU students, SAR Geelani has been charged with sedition
His daughter Nusrat laments there has been very little outcry in his support
The struggle
For Geelani and his family, the stigma didn't end even after his acquittal in Parliament Attack case
He has always been a soft target for the right wing forces and the police
More in the story
What is the case against Geelani?
What Nusrat went through as a child
How the arrest of her father changed her life
SAR Geelani was arrested in the early hours of 15 February, barely 3 days after the arrest of JNUSU president Kanhaiya Kumar.
He was arrested in connection with an event organised at the Press Club protesting against the hanging of Afzal Guru.
Even though Geelani has also been charged with sedition, his case hasn't received the same attention as the sedition case against JNU students Kanhaiya Kumar, Umar Khalid and Anirban Bhattacharya.
In a conversation with Catch, Geelani's daughter Nusrat laments that there have been no major protests in Geelani's support and even many of those who #StandWithJNU seem a little wary of standing with Geelani.
Now in her early 20s, Nusrat recalls seeing her father arrested when she was a child and the stigma they had to face even after his acquittal in the 2001 Parliament attack case.
Some excerpts:
Even though the sedition case against your father, Dr SAR Geelani, isn't very different from that of the JNU students, why aren't many people talking about him?
Yes the attention has largely been on JNU. There have been no protests demanding his release, as there have been for Kanhaiya Kumar and the other JNU students. There is no doubt that the JNU students have been wrongfully arrested. But my father's case is no different.
Perhaps people are wary of coming out in his support as he is a Kashmiri Muslim. And the fact that he was an accused in the 2001 Parliament Attack case makes him a soft target. Given this stigma attached to his name, people don't want to fight for him as they fear a backlash.
If freedom of speech is under attack in JNU, the same goes for my father's arrest as well
No matter how ardently we deny it, the fact remains that a Kashmiri Muslim with a dissenting voice will always be seen as a potential national security threat. This is embedded in our psyche and is perpetually reinforced by a section of the media.
The fear of state backlash is another major factor.
But when it comes to the right to free speech, you can't be selective. If freedom of speech is under attack in the JNU case, the same goes for my father's arrest as well.
Tell us more about the the Press Club event because of which he has been arrested
He was detained on 15 February, 5 days after the public meeting at the Press Club in Delhi. Besides sedition he has also been charged with criminal conspiracy and unlawful assembly.
This isn't the first time such an event has taken place. It has happened a number of times since Afzal Guru was hanged in 2013. So it is difficult to understand why the state has decided to take action this time.
The Delhi Police lodged a suo moto FIR after watching a news item in prominent Hindi news channel, which also played a major role in raking up the JNU controversy.
Till now, the police has not come up with any evidence of anti-national activity at the press club event.
You said that Dr Geelani has been a soft target. Why has that been the case, even though he has been acquitted by the court in the Parliament Attack case?
The media trial of my father continued even after his acquittal. And he has also been a constant target of right wing groups.
ABVP has attacked him and disrupted his programmes on a number of occasions. They say that he was behind the Parliament Attack but got away. Isn't this hypocrisy? In Afzal Guru's case, they say that due process was followed and we must respect the verdict of the court. But when it comes to my father's acquittal, their respect for the court's verdict vanishes.
How old were you when he was arrested? How was it growing up in such circumstances?
I was 8 when he was arrested. He was in jail for nearly 2 years, 22 months to be precise. Even though his acquittal was a huge relief, our ordeal didn't entirely end there. Whenever we went to the market or a public place with him, people would pass comments, calling him a "traitor" or a "terrorist". We would prefer going out without him. Even he preferred going out alone, so that we don't have to face these attacks.
In February 2005, he was shot at outside lawyer Nandita Haksar's office…
Yes, 5 bullets were fired at him, 2 are still there in his body and couldn't be removed.
ABVP says respect the court verdict on Afzal Guru, then why don't they respect my father's acquittal?
Who do you think was behind the attack?
There was a news report in 2013 that said it was the handiwork of Chhota Rajan's aides. But I don't think it was followed up.
The attack on Kanhaiya outside the Patiala Court premises indicates that often authorities turn a blind eye to such attacks. In Kanhaiya's case, the goons were allowed a free run and the police did nothing.
Was it the case against your father and all that you went through in your childhood that motivated you to become a lawyer?
Yes, certainly. As a young child, I closely saw court proceedings in the Parliament Attack case. Not just my father, I came face-to-face with many other cases of political prisoners, of people being arrested under trumped up charges. This is what drove me to take up law.
Did you or your family ever think of moving back to Kashmir?
My father wants to stay in Delhi and fight here. He has his job and he wants to continue with his activism, especially for political prisoners. But I want to go back to Kashmir and work there. I want to fight for victims of human right atrocities and wrongful arrests.
We have suffered, but I don't want to be known as a victim. I want to be known as a fighter. http://www.catchnews.com/india-news/i-stand-with-jnu-but-will-jnu-stand-with-my-father-sar-geelani-s-daughter-1456923474.html