I won't have the government dictate my fitness choices, especially if they are linked to religion, nationalism and patriotism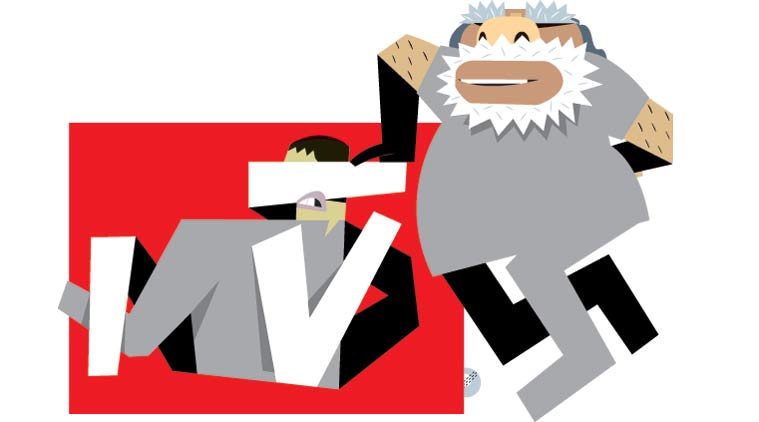 It is insulting to both the practice and the practitioner to have it thrust down in this manner. And to impose it on those who do not want to do yoga or have no interest in it is worse. (Illustration: C R Sasikumar)
My first serious and lasting encounter with yoga took place in Colombo, Sri Lanka, in the stately building of what used to be the Imperial Bank, now State Bank of India, as non-ashram as it can get. It was the year 2001. Narendra Modi, who would become chief minister of Gujarat later that year, wasn't yet a household name. And Baba Ramdev was nowhere on the horizon.
In the grand hall with its high ceiling, where bank staff toiled over the books under long-stemmed fans from another era, I had asked one of the managers, an Indian from Bangalore, how he managed to look so fresh even at the end of a hard-working day. Suryanamaskars, he said. "You should try it out. I do 12 everyday, and it makes me feel as light as an idli". Six sets before he dropped his daughter to school and six after he returned. It did not take minutes to tie up. His wife, an accomplished yoga practitioner and teacher, would teach me from the following week.
It was a two-week course, in their terrace flat on top of the building, with a panoramic view of Colombo port. I would show up at 7 o'clock every morning, with a special permit to enter what was then a high-security zone with multiple checkpoints and soldiers barking for ID proof. The Sri Lankan president's house was a two-minute walk from the bank. For an hour every day for the next 15 days (weekends excluded), she taught me the basics — breathing techniques, standing and sitting postures, as well as prone ones — on their carpet with a clean white sheet spread over it. On some days, I allowed myself to be persuaded to stay for breakfast — dosai or pesarattu — over which the husband and wife would narrate yoga stories.
She saved the suryanamaskars for the last two days. The sheer grace of the movements as one posture flowed into another in the series of 12 hooked me forever. The following year, I saw a yoga mat for the first time, in a supermarket in the United States. It was for $15, and I bought it immediately. For the next 10 months, in an Ivy League campus on the east coast, I learned more yoga from a Canadian who was training to be a teacher and was desperately looking for students to practise her stuff.
The green rubber mat was a preciouspossession when I came back to India in 2003. There were already deep footprints where I kicked off the suryanamaskars at the head of the mat, and a set of toe marks at its foot, where I pushed my feet back through my 12 sets. I clutched on to the mat, praying for its survival, even as I looked for a replacement in Chennai, which I found only four years later. Since then, I have burned more yoga mats than I can remember. I continued to learn all the while.
In Pakistan, my teacher was a Swiss woman, a committed practitioner who later travelled to Chennai to attend training classes at the Krishnamacharya Yoga Mandiram. Some of the other students at her class were Pakistani women. She brought to her practice and teaching a precision and perfection that was, well, very Swiss. At a yoga studio in Chennai, I did 108 suryanamaskars early on a New Year's Day, and again on the summer solstice that year, with some 50 other people from diverse backgrounds.
We had practised together for two months. I also wangled a few classes from the great Krishnamacharya's son, T.K.V. Desikachar, unashamedly taking advantage of him being my neighbour. I combined yoga at times with Pilates, and at times with a running regimen. Many a time, I find myself folding up in a padmasana almost involuntarily. But I am not going anywhere near my yoga mat on June 21 — because I won't have the prime minister or the government of India, or any politician, dictate my fitness (or wellness, if you like) choices on that day or any other, especially if they are going to link them, overtly or insidiously, to religion, nationalism, patriotism and morality. It is insulting to both the practice of yoga and the practitioner to have it thrust down in this manner. And to impose it on those who do not want to do it or have no interest in it is worse, because it can only give yoga a bad name, as it has in the last few weeks, and turn something beneficial into a divisive issue.
Yoga flourished all over the world much before Modi decided he was going to popularise it. Some of the most committed teachers of yoga are in the US, where learning it has been in demand from the 1960s or even earlier, after the violin maestro Yehudi Menuhin introduced the legendary B.K.S. Iyengar to his friends, decades before urban middle-class India discovered it on TV with Ramdev. In China, people have been practising yoga for at least two decades.
When Iyengar visited there some years ago, he was stunned by how many followers he had. Yoga has never needed a day declared by the UN to be special or recognised internationally. Prime Minister Modi's attempt to usurp yoga as one of his diplomatic coups for Indian soft power is quite the illusion. Yogis know that. – See more at: http://indianexpress.com/article/opinion/columns/i-wont-do-yoga-tomorrow/2/#sthash.1b9lRpYa.dpuf