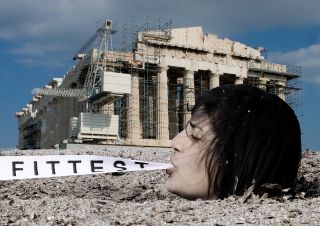 Saving Iceland would like to draw its readers attention to a currently ongoing exhibition by art collectiveAngeli Novi, comprised of artists Steinunn Gunnlaugsdóttir and Ólafur Páll Sigurðsson who both have strong ties to Saving Iceland. Sigurðsson was the founder of Saving Iceland and both of them continue to be active with the network today. You Can't Stand in the Way of Progress is the collective's first extensive exhibition and is on show at The Living Art Museum (Nýlistasafnið) in Reykjavík.
At the heart of the exhibition, which consists of audio, video and sculptural pieces, is a 20 minute long film in Icelandic and English, bearing the same title as the exhibition. Around 30 people were willingly buried alive during the making of the film, which was shot this year in Greece and Iceland. Soundscapes were created by Örn Karlsson in collaboration with Angeli Novi.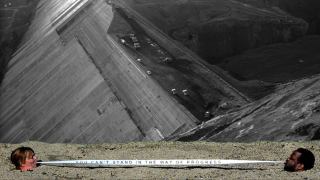 Corporate green-wash and the Kárahnjukar dams play a key role inYou Can't Stand in the Way of Progress. In one of the film's scenes, the 700 m long and 200 m high central Kárahnjúkar Dam is digitally blown up by the very same explosion that blew up the Dimmugljúfur canyon in March 2003. The first destruction of the 200m deep canyon, which was carved out by the 150 km long river Jökulsá á Dal, played a strategical key role in the conflict about the power plant's construction, and was meant to signify the government's determined intention to steamroller Iceland's eastern highlands in order to produce electricity for the US aluminium corporation ALCOA. As environmentalists warned from the beginning, the construction has turned out to have devastating environmental, social and economical impacts, and contributed also heavily to Iceland's infamous 2008 economic collapse.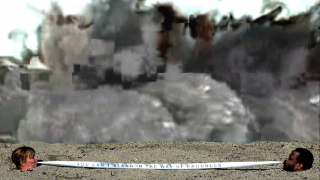 Asked about the cinematic blast, artists Gunnlaugsdóttir and Sigurðsson said: "It was particularly pleasurable to blow up the image of the dam that has now become the main symbol of corporate power abuse and ecocide in Iceland." Sigurðsson  added that it was "Very appropriate to use for our purpose the same film footage that was used by the Icelandic government in 2003 to dash people's hopes of saving the Kárahnjúkar area from deeply corrupt forces of corporate greed and governmental stupidity. These same forces have learnt nothing from their past crimes and mistakes and are now lining up for taking power next year in order to continue their destructive rampage through Icelandic nature."
A press release  from The Living Art Museum states the following:
Angeli Novi create a kind of a kaleidoscopic time machine, examining the plight of generations which, one after the other, become tools and puppets of economic and historical structures. Through symbolism and imagery, Angeli Novi examine the ideological backdrops of these structures, the variously substance-drained core values of occidental culture, as well as as the reoccurring themes of doctrines and clichés in the societal rhetoric, necessary for society to maintain itself.
You Can't Stand in the Way of Progress opened on 29 September and will run until 2 December. The Living Art Museum is located on Skúlagata 28, 101 Reykjavík. The biographies of Gunnlaugsdóttir and Sigurðsson can be read here below.
____________________________________________________________
Steinunn Gunnlaugsdóttir was born in Reykjavík in 1983. She received her BA degree from the Icelandic Academy of the Arts in 2008. Steinunn uses diverse media and has exhibited her works in conventional as well as unconventional spaces. An exposing and at times humorous view of society characterizes her works. Among Steinunn's most recent works are Thou Shalt Not – Woman of the Year, shown in the Akureyri Art Museum, 2012; The Great Escape with Katrín Ólafsdóttir, shown in the 111 exhibition space in Berlin, 2011; and It's Fun to Attack the Parliament with the intrum justicia collective at the Sequences Art Festival in Reykjavík, 2011. Steinunn frequently collaborates with artists, academics and political activists. She has also been an active graffiti artist during her practise. Documentations of her graffiti have been presented in international books, magazines and websites on graffiti.
Ólafur Páll was born in Reykjavík in 1960. He is a writer and filmmaker. Ólafur is a literary scholar and holds a MA degree in film directing from Northern Media School, Sheffield Hallam University from 1997, and another MA degree in screenwriting and screen research from London College of Printing and Distributive Trades in the UK from 1995. During his thirty years of film making he has written, directed and produced a number of short films in the UK and Iceland besides working as a second unit director in the UK. His works deal in experimental and narrative film making with a strong slant for surreal black comedy. His collection of poetry, Fried Swans, was published in 1989 and The Muzzled Tongue Case was published in 1983. From the late 70′s Ólafur experimented with text and audio cut-ups, audio loops and noise works, presented during a number of performances in the 80′s. He has written a number of screenplays for both feature films and short films. Ólafur has also written several screenplays in collaboration with author Guðbergur Bergsson, for instance the feature length screenplay Sick Souls, for which they received a development grant from the Icelandic Film Centre in 2001.
Alongside their artistic practice, both Steinunn and Ólafur Páll have been involved in political activism. In 2003, Steinunn stayed in Palestine where she worked with both Israelis and Palestinians fighting against the Israeli state occupation of Palestine. In 2006 she took part in one of the action camps organized by environmentalist network Saving Iceland against the ALCOA aluminium corporation and the construction of the Kárahnjúkar dams in Iceland's eastern highlands. She has since then taken an active part in the struggle against the destruction of Iceland's wilderness. During the winter of 2008 and 2009 she participated in a number of protests and performances related to the collapse of Iceland's economy, and in April 2009 she was involved in the political squatting at Vatnsstígur in the centre of Reykjavík. She was also one of the so-called Reykjavík Nine, nine individuals who were brought to court by the Icelandic State in 2010, accused of attacking Iceland's parliament during a protest in December 2008. The nine faced imprisonment between one year up to lifetime but were eventually all acquitted of the main charges.
Ólafur Páll is co-founder and was for a while, the manager of environmentalist organization Nature Watch. In 2004 he founded the international environmentalist network Saving Iceland in order to resist the destruction of Iceland's highlands for energy and aluminium production. Ólafur Páll initiated the incorporation of the emphasis on social issues  in Icelandic environmentalists' struggle, as well as putting anti-capitalistic and anti-nationalistic standpoints at the heart of the fight against heavy-industrialization. Since the foundation of the network's website, www.savingiceland.org, he has been on the page's editorial board, organized a number of eco-protest camps in Iceland and a good number of direct actions across Western Europe, alongside informational meetings about the consequences of heavy industry and global capitalism. In 2007, together with the Saving Iceland network, Ólafur organized a weekend long international conference in Iceland, titled Global Consequences of Heavy Industry and Large Dams. He has played a key role in developing the Icelandic environmentalist movement's arguments against corporate and governmental green-washing when it comes to the aluminium industry's global impacts, the destructive impacts of large dams and the exploitation on an industrial scale of geothermal areas.
Related articles